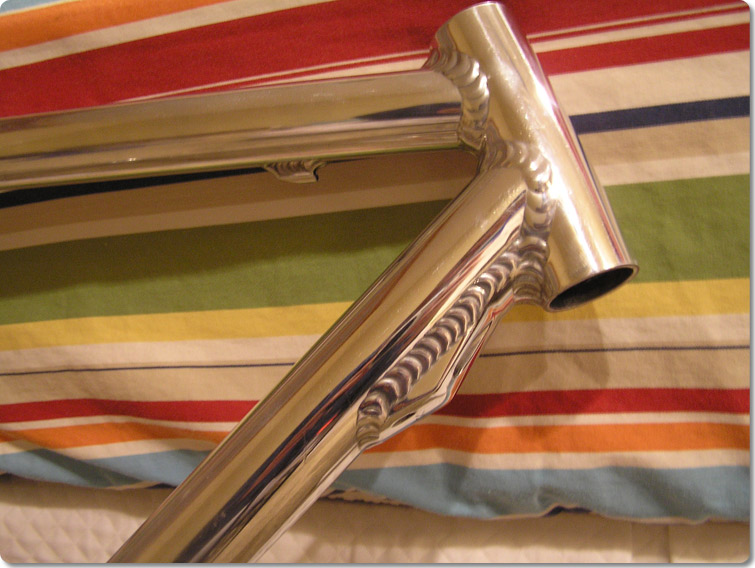 The 1989 Chequamegon Fat Tire Festival was sponsored by American Bicycle Manufacturing of St.Cloud, Minnesota. They had a display where one could try out their bikes. I took a Comp-Lite for a spin and immediately liked it. I was serious enough about riding that it was time to go from a mid-line bike, a 1987 Trek 850 to a high-end bike. I tried out many different bikes but liked the Comp-Lite better. When I was in Madison, Wisconsin there was a Klein dealer. I had heard they were nice bike and gave one a try. Within two hundred yards, I knew that the Klein it would be. While I didn't buy an American, I've always had a soft spot for them. They went out of business in the mid-90's so I missed my opportunity to get one. In 2005, I saw a Comp-Lite for sale and knew that I had to get it.

Americans use a slightly smaller tube with fatter walls and aren't quite as stiff as Kleins. That is a good thing to some and not to others.
They were known for their polished and anodized finishes. The finish on this one was a little cloudy when I bought it, but after an hour with aluminum polish it looked like a mirror.

American Bicycle is also known for their very high quality welds. There are other bikes that have welds of a similar fashion, but few can match these for looks. Kleins hide their welds by their smooth nature, American's say, "look at this." Take a look at those welds above. They're beautiful.

The parts on this bike aren't all unified in the sense they aren't all from the 1990 model year but they're all from the 1990-93 time period. One thing to note is that the stem is an American stem. They sure did make some nice stems.
| | |
| --- | --- |
| Frame | 1990 American Comp-Lite |
| Fork | Bontrager Comp |
| Stem | American 120mm |
| Bars | Syncros Ti |
| Grips | Grab-Ons Mtn-1 (nos) |
| Cranks | White Industries 175 |
| Rear Derailleur | XT M737 |
| Front Derailleur | XT M737 |
| Cassette | XT HG90 |
| Chain | HG91 |
| Bottom Bracket | Shimano BB-72 |
| Pedals | XT M735 |
| Brakes | Suntour XC-Pro (nos) |
| Brake Levers | XT M735 |
| Shifters | XT M732 7/8 spd. Thumb Shifters |
| Headset | XT M732 1" Threaded (nos) |
| Saddle | Selle Flite |
| Seatpost | Concept 26.8mm |
| Hubs | XT M737/738 32h |
| Rims | Mavic 231 |
| Tire | Timbuk2's |
| Skewers | XTR M900 |