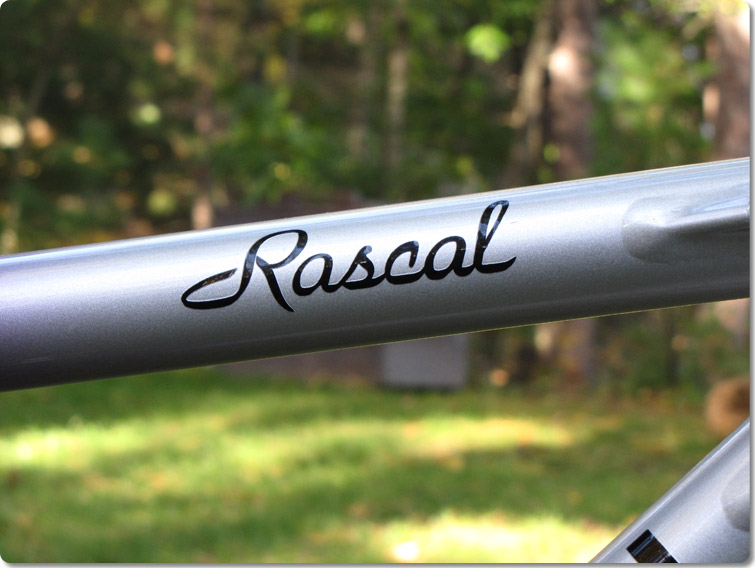 This is a 1993 Rascal and it rides like a dream. It doesn't ride any better than the Attitudes but my first impression of riding this bike was how good the handling and ride were. Oh, it might have had something to do with riding a low-end bike all winter and taking this out on a pleasant spring day riding a nice bike for the first time of the year. It was like a new world opened up as it almost seemed as if I had forgotten how great a bike can be. The Rascal is the same as the Attitudes from behind the headset. Instead of using an oversized 1 9/16" pressed-in headset, this uses a standard 1" headset.

This bike is a rara avis (rare bird in my collection) as it is one of the few that is actually complete. It's been said that the chance that a given bike is complete is inversely proprotional to the number of bikes you have and that is certainly true with me. The fork is a repaint. After searching for over ten years for an original one, it was time to give up. It's a correct for fork from a 1992 Rascal, so at least that is right. The Syncros ranks were painted in a linear fade pattern when the fork was done. Originally they were a matte black powder coat. They were a little beat up, so it no big loss for the original color.

There are a few dings in the paint but nothing serious. The parts are in generally good shape and are no real defects. One part of note is the green Grafton brakes. I'm told this is from a special production run and are quite rare. I picked them up from a guy who could only find three brake arms so he sold me a pair and threw in the third arm for free. Six months later a package arrived at my door that contained the fourth brake arm. So yeah, thanks Mike!
| | |
| --- | --- |
| Frame | 1993 Klein Rascal in UltraViolet Fade |
| Fork | Klein Spinner |
| Stem/Bar | Klein Mission Control |
| Bar Ends | Syncros Steerhorns (nos) |
| Grips | Grab-Ons Mtn-1 (nos) |
| Cranks | Syncros Revolution 175 |
| Rear Derailleur | XTR M900 |
| Front Derailleur | XTR M900 |
| Cassette | XTR M900 12-32 |
| Chain | HG91 |
| Bottom Bracket | Klein |
| Pedals | Suntour XC Pro |
| Brakes | Grafton (rare green color) |
| Brake Levers | Pauls Love Levers |
| Shifters | XT M732 7/8 spd. Thumb Shifters (NOS) |
| Headset | XT M732 1" Threaded (nos) |
| Saddle | Selle Flite |
| Seatpost | Richey 27.2*350mm |
| Hubs | XT M732 32h |
| Rims | Mavic 231 |
| Tire | Timbuk2's |
| Skewers | Ringle |