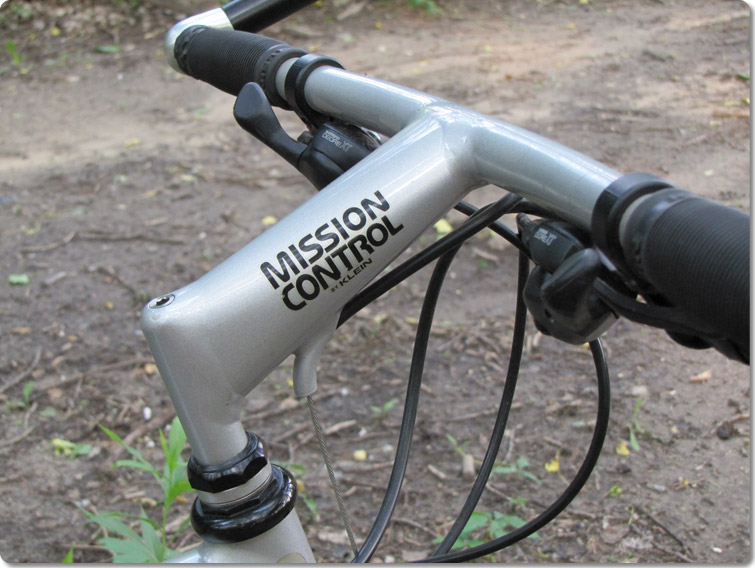 I was already up to seventeen bikes when I saw this one on the local craigslist. I really didn't need another bike was it was priced pretty reasonably and at least from what one could see from the pictures in the ad, looked to be in very good shape. The guy was only about twenty minutes away, so why not have a look?

Upon arriving, the bike was in even better shape than expected and it seemed likely I'd be leaving with it. I took it out for a spin and everything worked perfectly. So that was that and this was bike number eighteen.

It was a completely stock 1993 Rascal and as you can see from the "Test Bike" sticker it was used as a demo. It's in nearly perfect condition with the exception of the seat post (some of the anodization has worn off due to changing seatpost height). The tires still had some nubs on them and there wasn't a single chainsuck or chainslap mark on the bike. My guess this bike has less than fifty miles on it and probably never saw dirt. Take a look at the picture of the pedals. You notice nary a scratch on them and the cranks. It was only demoed and has been sitting for over fifteen years. There were a few scratches from storage but nothing serious. This bike is very, very nice. It had some oily dirt on it from storage and the rims needed to be polished but about forty-five minutes of cleaning it up and lubing the chain, derailleurs, and bolts and it looked as good as it did in the early nineties.

One thing that doesn't look good is the pictures but it's all that I have for now. More to come in the future.



| | |
| --- | --- |
| Frame | 1993 Klein Rascal in UltraViolet Fade |
| Fork | Klein Spinner |
| Stem/Bar | Klein Mission Control |
| Bar Ends | Onza |
| Grips | Klein |
| Cranks | Shimano M730 |
| Rear Derailleur | XT M735 |
| Front Derailleur | XT M735 |
| Cassette | Shimano HG90 12-32 7 spd. |
| Chain | HG91 |
| Bottom Bracket | Klein |
| Pedals | XT M735 |
| Brakes | XT M735 |
| Brake Levers | XT STM095 combos |
| Shifters | XT STM095 combos |
| Headset | XT M732 1" Threaded |
| Saddle | Avocet O2 |
| Seatpost | XT M732 27.2*350 |
| Hubs | XT M732 32h |
| Rims | Sun Chinook |
| Tire | Klein Death Grip 2.1 |
| Skewers | XT M732 |