Somewhere in Between:
Well, I wasn't quite sure what to call this chapter. I was somewhere in between the West Coast and Fiordlands...so that is what I'll call this chapter.
---
January 29
I left Fox Glacier for Wanaka with Jason, a medical intern from England. He was taking a "last fling" before he had to get a job and never have fun again. When people ask him medical questions he would say, "My last assignment was in the gynecological section. Still want my help?" We got along well and enjoyed the drive with its hills and lakes on the way. He had reservations at the Wanaka Backpackers and I didn't. I liked this place the moment I saw it, it was right on Lake Wanaka. I had to go to an industrial grade hostel in the middle of town. Jason invited me over and cooked me a good meal (my motto being, "Anything for a free meal"). Later on Jason and I played Trivial Pursuit with three Aussies. Jason was pretty smart and I've always been good at trivia. The Aussies told us they weren't rocket scientists and we should have been kicking their behinds, but we weren't. The hostel had the Australian version of Trivial Pursuit with questions like, "To whom is the equestrian statue on the main square in Alice Springs dedicated?" The Aussies would be saying, "Oh, oh, I know!" but we would be totally clueless. Eventually we won, but only by one point. Thank goodness for those science questions.
January 30-February 1
I moved over to the Wanaka Backpackers, but Jason was going to Queenstown. I rented a bike and took a long ride outside of town. It had been well over a month since I had been on a bike, far longer than I'm used to. It was a good feeling to be out riding once again. Wanaka is what Queenstown used to be 20 years ago. A town on a lake ringed by hills without obscene amounts of development. It's a great place to relax. Just sitting and watching the world go by.
The next day I rode out of town to Mt. Roy. This is a fairly steep track; it's an 8 km trail with a 1.5 km vertical climb. The ascent never stops, it's a grind all the way up. I met three women, Anna, Uli, and Karen from the hostel at the top. We could see forever with snow capped mountains on all sides and below lay Lake Wanaka. I felt very strong on the way up. My conditioning had returned and I would be ready for whatever came next.
The following day I relaxed on the lakeshore for a good part of the day with two Dutch women I had met hitching several times in the last weeks. Wanaka is a good place just to sit. The next day Gunther, a cook from Germany, and Anna wanted to go to a maze on the outside of town. Anna and I both have a fair amount of education and knew of certain methods of solving mazes, but there were a few tricks in the maze that rendered our education useless. Consequently, it took us longer than expected. Gunther finished well before us. I won't forget Gunther's beaming face as he said, "I finished first and I am the dumbest!"
February 2
I enjoyed Wanaka, but it was time to be moving on for Queenstown. With the exception of hang gliding and the start of the Routeburn Track, there was nothing about Queenstown that interested me. It took me four rides to get there and it turned out to be faster than the bus and much more interesting. My first ride was from an older couple in a rented campervan who thought it would be fun to pick up someone adventurous enough to hitchhike. I tried to convince them to get rid of the camper, buy backpacks, and hitch around. They just smiled. One of my rides talked to me about the U.S. legal system. He mentioned the case where a woman spilled coffee on herself and won a million dollars from McDonalds and talked about the O.J. Simpson case. I was surprised how much he knew about this. Actually there were many times during my trip that people brought these two subjects up. The Kiwis had a surprisingly good knowledge of many aspects of the U.S. If you were to ask the average American about NZ, they wouldn't be able to locate it on a map, much less know anything about it. My third ride was with a father and young daughter. We didn't talk to each other very much. It wasn't that they were unfriendly, rather their van didn't have a muffler.
On the last ride I was surprised when a single woman picked me up. This just wouldn't happen back home. The woman stopped at the Kawarau River bungee jumping site to watch. While watching it, I was a bit afraid. I consider myself afraid of heights. Yes, I'm a hang glider pilot and I've cycled on a three foot wide trail with a 900 foot drop to the side. However, in my eyes, if you are riding along a 900 foot cliff and feel any apprehension, that's being afraid of heights. I arrived in Queenstown and realize that it's everything that I thought it would be and I had little reason to be there.
February 3-7
I called the hang gliding place this morning and I couldn't go as the winds were coming from the wrong direction. With nothing else to do I went bungee jumping. It is about the same cost as hang gliding and it really bothered me to be afraid of something relating to heights. I go to tallest jump, the Pipeline in Skippers Canyon. I look down from the suspension bridge. It is 104 meters and yes, it's pretty damn high, but I'm not worried.
We jumped in order of our weight. I weighed 11 stones and some change. I watch some people go before me. They count down from 5 and you are supposed to jump on 1. There's one woman who takes several countdowns before she jumps. I would never let that happen to me.....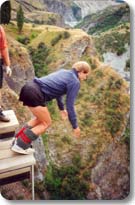 They call my name and I get into a barber chair where the crew tied up my feet. I see how they attached me to the bungee cord and think, "This isn't the most secure way to tie someone up." Once tied up, I hop outwards on a platform so that my toes hang over the edge. As I stand there the thought in my mind was, "I can't do this, I can't do this, I can't do this...." When I'm 1300 meters up in a hang glider, I'm so high up that I don't really have a sense of scale. One hundred meters is a height that I can comprehend. I came here because I was afraid and if I backed out now, then I would always view myself as a wuss. They start to countdown from 5. I take a breath and jump. The first thought I have was "Too late to change it now." The next thing that hits me is how fast the acceleration of the fall is. In physics class I learned that objects in a free fall accelerate at 9.8 meters per second squared. I now have a much greater appreciation of what that figure really means.
It was a strange feeling to be in a free fall and to see the ground approaching. On the other hand, it was a good feeling to feel the bungee cord start to resist my fall. I bounced back up 3/4ths of the way and had a feeling of vertigo at the very peak of the bounce and then it was "Oh my!" as I fell back towards Earth. I bounced a number of additional times before I was lowered into a boat in the river below. It was a real thrill and I'm glad that I did it, but at $130NZ, I think once was enough.
The next day Queenstown really started to grate on me, even though I had been there for only a day and a half. Hang gliding didn't work out either. The following day the weather still wasn't cooperating for flying and my journal entry read, in it's entirety, "Another crappy day in Queenstown."
The day after this I was finally able to go hang gliding off of Coronet Peak. There were a number of new things for me that day. New glider, harness, launch and landing sites, and foot launching from a mountain site. I was a bit nervous about the launch. I steady the glider, take two or three steps, and I was airborne. The launch could not have been any easier or more gentle.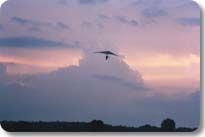 I enjoyed the flight and the mountains were really something to see from 700 meters up. There were a few problems with my landings on the first and second flights. On the third flight I stalled on the landing and broke a downtube (part of the steering mechanism) on the glider. It isn't that unusual to break a downtube, but it was the first time that I had done this. I was frustrated and the wife of the owner was bitching at me over a harness zipper that had broken upon launch. I was fed up with it all and wanted to leave. One of the pilots wouldn't let me go saying, "You're not going to leave here on a bad note." It was very nice of him to make sure that the day eventually worked out. We figured out that I was apprehensive on the landings and was not approaching it correctly. It took three of us an hour to fix the down tube. I went back to the top of the mountain for my fourth flight. The flight was beautiful as I silently glided over the mountains. I managed a perfect no-stepper landing directly in front of the people who helped me earlier. Afterwards, we swapped tales as hang glider pilots do after a day of flying. A good way to end the day. Some people think that hang gliding is a really gonzo sport. It really isn't, rather it's about serenity, and that is how I felt when I was flying over the mountains.
Today (the 7th) I tried to get on the Routeburn track, but couldn't due to the limitations on the number of people allowed on the track. I would have to wait until tomorrow. I was really getting tired of every place in town calling themselves, "Your Adrenaline Headquarters!" (and they always used an exclamation point). Sheesh, how much adrenaline can a person have? Queenstown was really starting to annoy me.
I went to Department of Conservation (DOC) office and said to them, "Get me out of this town for the day." They recommend a few trails in the hills above town. The hike was nice and I knew that I would be starting the Routeburn Track the next day, so things worked out.