To The Coromandel Peninsula:
I headed towards one of the nicest parts of the North Island, where I would meet two people from a land of the far northern reaches.
---
April 8-10
I had read in my guidebook about Beethoven's Hostel. It said that you would either love this place or hate it. I figured it would be worth a try. The owner of the hostel was a total flake. Not that this was necessarily a bad thing, though more than a day or two of him can really be annoying. I met an American, Siggy, from San Francisco that day. Back home she was a guide who led van tours of the U.S. Hmm....another American that I got along with. I was worried that this was starting to be a trend. We went out to see the town in the afternoon and didn't come back until late that night. Wellington wasn't my favorite town in NZ, but it certainly wasn't the worst either.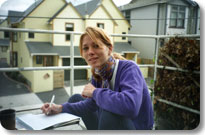 I didn't really do much during the next day. I was particularly unhappy and felt very lonely. I missed being on the South Island. That evening I sat in a dark bedroom by myself. Chris, a Dutch woman, saw me sitting alone. She talked with me for a while and said that she had to leave as she was going stargazing. I enjoy stargazing and asked if I could come along. She grabs her star map and off we go to see Orion. We went to a park and start talking about everything under the stars. I know a bit (just enough to get me in trouble) about the stars and cosmology. We talked about how the universe was created and how it might end. We discussed life on Earth and other planets, of God, and of what we are doing on this wonderful little planet. We also talked of fate and destiny. She said to me, "I've been carrying this star map around for two months and I've never used it. The first night that I take it out, I meet someone who knows everything about the stars. I believe it was destiny that we met." Ok Chris...keep it coming! I started to feel a bit better than I did earlier in the evening. I don't know how long we sat in the park, maybe 3-4 hours. However long, it was good time. Eventually we went back to the hostel and topped off the night with a hot chocolate.
The next day I wandered around Wellington with Chris and a few others. Chris carried a small tape recorder that she used to make tapes to send back home. This is a good idea as tape recorder doesn't take up much space and you can speak your letters. Chris gave me her tape recorder and asks me to tell her family about our stargazing. This is something that I'll think about for my next trip.
April 11
I enjoyed my stay in Wellington, but it was time to move on towards Tongariro National Park. I said goodbye to Siggy and Chris and start hitching north out of Wellington. The weather started to look bad and I could see the rain coming, but just as I was about to get wet, I got picked up. My first ride was from a professor on his way to give a speech in Palmerston North who bought me lunch. I had to do the requisite, "Oh no. I could never accept lunch" three times. Once a person insists three times, it's ok to accept. He even bought me an ice cream cone for dessert, though I didn't refuse that three times. My second ride brought me from Palmerston North to Highway 30, where I started to walk. I noticed that cows were fascinated by me today. They would come from all over the field and walk up to the fence as I would walk by. They would follow me down the road and once they got to the fence that prevented them from following me further, the whole herd would start mooing. I know that cows are sometimes curious and will watch you, but today was different. It happened at five different farms. I looked at what I was wearing and there wasn't anything unusual and my pack looked the same as always, my pants zipper wasn't open...I couldn't figure it out. However I do look back fondly on the one day that I was a God to the Cows. I'll never achieve such a hallowed appointment again.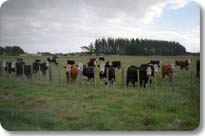 My third ride got me to the town of Bulls. I walked to the outskirts of town where I started to feel a bit hungry. Dried spaghetti was in order. As I was crunching along a guy from Wellington picked me up. He drove 170 km/h and if someone were driving 130 km/h he would say, "Why do these people drive so slow?" The fact that the speed limit was 90 km/h didn't seem to matter. We didn't crash and he did get me to Turangi pretty quickly.
I stayed at the Bellbird Lodge that evening. I put my stuff in the room and hung some of it out to dry and went out to do a bit of grocery shopping. When I got back the owner had put all my stuff back in my pack and moved me to another room. Next morning I couldn't find my damn towel. I grab two small towels from the owner's stock. What is it about my towels that I keep having to buy new ones? With the exception of my towel, it was a nice place. Lots of kitchen and recreation space. I talked to people about whether to do the several day hike or just the one day Tongariro crossing. I was kind of anxious to get further north, as my time in NZ was sort of coming to end...sigh.
April 12-13
I got up early and decided on the one day crossing. This is a very odd place; it was like a moonscape. The forms of the rock were quite severe and nothing lived in the area. It took me two hours to climb to the top of Mt. Ngauruhoe, which is a dormant (for now) volcano with a nearly perfect cone shape with slopes of 40 degrees. It was interesting to see cracks in the rock that spewed a sulphurous steam. I've seen this from a distance in Italy, on the island of Stromboli near Sicily, but it was quite strange to see it up close. The crater at the top was much larger than I was expecting and a bit odder too. It only took about 20 minutes to get down. I could run down the volcano since I wouldn't lose control of my speed because of the soft, dark ash on the slope.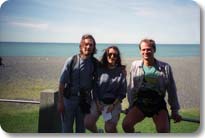 I crossed a flat area with steam coming out of the ground. I got very close to the ground and couldn't see where the steam was coming from, actually it was coming from everywhere, which made it look like it was coming from nowhere. I really liked the Crossing at it was quite unique. At the end of the track while waiting for a bus, I met Istvan and Isabelle, a Belgian couple who lived in Switzerland. They were pretty nice and on their way to Napier. I wasn't sure where I was going next, but Napier sounded as good as any place, so I caught a ride with them. We spent a bit of time together in Napier that night, a good time was had by all and we topped the night off over some hot chocolate. The Stables Lodge Backpackers didn't have many people staying there and I had a room to myself that night. That was a nice change.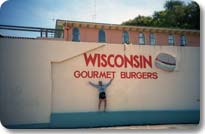 The three of us wandered around Napier for the afternoon. Isabelle says that if I got to Rotorua, I should stop in the Fat Dog Cafe where they have great (both tasting and size-wise) hot chocolate. Napier was severely damaged by a 1931 earthquake. The town was rebuilt in an Art Deco style. It's nice to be in a town that has some character rather than looking like every place else. Istvan and Isabelle were heading south and I was heading north, so they drove me outside of town to a good hitching spot and we said goodbye. I wasn't sure where I was going, but I hitched north and would see where I ended up.
I caught a ride with a couple from Hamilton. They offered me a ride to Hamilton but I decided to get off where the road split, one fork went to Hamilton and the other to the Coromandel peninsula. So I headed north towards the Coromandel Peninsula. That night I ended up in Rotorua, which wasn't really my plan, but there I was.
May 14
I made some arrangements for a rental car. They asked where they should drop off the car. I said, "At the Fat Dog Cafe." I went there and savored the hot chocolate and wrote postcards. It was every bit as good as Isabelle had told me and it certainly was the biggest cup that I had to date. I wasn't sure where to go for the day and I ended up in Hamilton to see Gareth. I pick up a few hitchers on the way. I hitched a lot during the last few months and now is the time to pass the favor on. I spend part of the day with Gareth. We talked about going to Raglan on the West Coast, but I decided that Raglan would have to wait as I would be going to the Coromandel Peninsula.
Since I would have a car until I left NZ, I wouldn't be hitching anymore. It bothered me. I had a great time hitching. I never knew who would pick me up next and everybody I had met hitching was kind to me. It never occurred to me a few months ago when I started hitching how hard it would be to quit. It's so weird, even now as I write this, to think I would miss that part of my trip, but I really did and still do.
April 15-18
I started the drive to the Coromandel Peninsula, soaking up the countryside and stopping in towns along the way, just checking things out. What was I checking out? Nothing in particular, whatever was there. I picked up a few hitchers here and there, stopping liberally for ice cream along the way. I happened to pick up two Norwegian women, Shannon and Sunniva. They were doing an eight month trip around the world together. They had just started hitching and hadn't even had time to put their packs on the ground when I came by. If I had driven a little faster earlier in the day I wouldn't have seen them. Sometimes it's funny how differently things could turn out if some little detail had been different. I guess that's the way life is and sometimes it works to your benefit. Picking them up would turn out be a good thing.
They seem nice enough and we drive along. We get to a turnoff and I say, "If you want to continue up the east side of the peninsula, you can get out here. I'm going to [the town of] Coromandel. I hear the Tui Lodge is a good place and you're welcome to come." They seem to be happy enough to go to Coromandel and we stopped at some kauri groves on the way, where I taught them about epiphytes. If you know what an epiphyte is, you'll have a chance to win one of those luxurious prizes I've spoken of. We had a good evening and decided to go to Fletcher Bay at the very tip of the peninsula.
The next morning we goof off around town riding bikes, before we leave for Fletcher Bay. I offer to buy the groceries if they would cook (while not quite as good as a free meal, I still didn't have to cook). They say, "Great, we have a recipe that we've been waiting to try." So we get our grub and head off for Fletcher Bay. The pavement ended and we were on a very narrow and winding dirt road for 50 km. We get to the hostel wondering if they have room for us. It's the end of the season in the middle of nowhere, they had plenty of room--we were the only guests. Shannon and Sunniva do the cooking and made a great meal. We go stargazing and hang around playing card games. It was a most enjoyable evening. S&S are kind of concerned about getting to the Bay of Islands area in time to do some fruit picking so I told them I would drive them to Thames and save them the time hitching, so we decide to stay longer.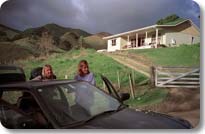 We woke up to a beautiful morning. It was a warm fall day and there wasn't a cloud in the sky. What did we do today? Absolutely nothing. We didn't eat breakfast until 11:00 when we took our food out on the porch that overlooked the ocean. I recall breakfast so clearly. I don't know what it was about it that was so pleasant, but I remember it well. Later we sat down by the ocean and did nothing but sit. We had the feeling that we were at the end of the world, as if there was nothing beyond the horizon and we were the only people on Earth. It was delightfully quiet.
The guy who took care of the hostel was pretty laid back. I asked him what he did here, he said, "Well, yesterday I went paua fishing. Today I went paua fishing and tomorrow I'll probably go paua fishing." Truly a "No Worries" New Zealander if I ever met one. S&S are going to be going to Fiji about a week after I would arrive and we made arrangements to meet. Today was as relaxing as any day on the whole trip. I really had a great time with the Vikings.
The following morning I drove S&S to Thames where they hitched to the Bay of Islands where they would (ugh!) work. As we said goodbye I wasn't sure whether I would see them in Fiji or not, you never know what the future will bring. I hoped we would meet again as we had so much fun.
April 18-20
I drove to Whitianga where I met Gary, Angelique, and her family. There was another wayward backpacker, Ann, who was also staying there. We went to the beach, naturally it rained on us. To stay out of the rain we went to a cafe. It was Ann and Angela versus Gary and I in the card game 500. Since I've never played the game before, we lost 500 to zero. I enjoyed my time in Whitianga. Both Angelique and Gary had a sense of humor similar to mine, so we complemented each other well.
I took off to wander the Coromandel Peninusula. I ended up at Hot Water Beach. This is a place where you can rent a shovel for a few dollars and dig a hole in the sand at low tide. The hole will fill up with hot water from the ground below, creating a natural hot tub, pretty unusual. Later in the day I did a track or two until I wandered into a hostel after dark.
I was aware that today was the last track that I would be doing in NZ. I had done over 40 days of tramping. I had seen and felt so many different things while I was on the tracks. I shared time with friends and wondered at the beauty of nature. Sometimes I felt strong and sometimes I didn't. I felt more alive than ever have and even despaired for my safety. I tramped on the tops of mountains, through rivers, and along the ocean. It made me so happy.