The Dusky Track:
Nuff said.
---
February 20-27
Day One: Starting Off
The Dusky Track is quite simply one of the most amazing walks in the world It's an 84 km track straight through the heart of Fiordlands National Park. The track isY-shaped with trailheads at Lake Hauroko to the south, Dusky Sound to the west, and Lake Manapouri to the north. All of these trailheads are fairly isolated, accessible only by boat or floatplane. The tracks that I had done previously were beautiful, but I wanted something hard. I had heard that the Dusky was the hardest established track in Fiordlands. Perfect.
We didn't get back from the kayaking trip in time for me to do my shopping last night. I'm running around Te Anau at 8:00 in the morning when the stores opened. I needed to buy food, pick up a radio, register with DOC, and get hut tickets. All this before the van left at 8:30. I wasn't able to get a DOC-recommended mountain radio, but then again only sissies need radios on a track. The van meets up with a small boat that brought us on a 45 minute boat ride across Lake Hauroko. Lake Hauroko is long, narrow lake with rocky shores that is 425 meters deep, the deepest in NZ. That's deeper than Lake Superior, the largest of the Great Lakes in the U.S.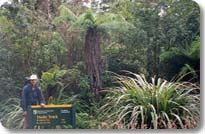 We were dropped off at the trailhead and it was immeidately apparent that this track was going to be something special which would turn out to be true to the very, very end of the track. I head for the hut to finalize things in my pack. Robert, a Kiwi, also does the same. Fifty meters into the trail, I thought, "Eight days on this track? I can live with that." It was wondrous. Surrounded by lots of trees, water, ferns, and mosses. It was a four to five hour tramp that paralleled the Hauroko Burn (stream) to the Halfway Hut. Today I first encountered Uncinia Uncinata, commonly known as hook grass. This is a grass that has a seed with a hook at one end. It's perfectly suited for grabbing onto leg hairs. It uses this strategy to distribute its seeds, like many plants do. The hook was so effective that when you pulled the seed off, it often removed the hair before the hook would release. This was a bit annoying, but impressive from a botanical point of view.
Fiordlands is one of the wettest areas in the world. There are places that get eight meters of rain a year. This isn't 8 meters of snow, but rain, and I would have the pleasure of being in some of these wet places. The mountains of Fiordlands are just off of the ocean facing the prevailing westerly winds. The moisture-laden air has to rise to move past the peaks, where the moisture condenses and falls as rain. There aren't that many places in the world with this combination. That amount of water is one of the things that make this area so unique as I would soon find out.
At the Halfway Hut that night there was Kumi from Japan, Paul, a Brit living in Cyprus and his daughter, Robert, and myself. The keas decided to pay us a visit. We could hear the claws of the bird clink across the metal roof. It would go to one side of the roof and look over the edge at us through the window, then walk to the other side and look at us again. They're really funny birds. The sandflies were thick, both in and out of the hut. Surprisingly this was the only hut where sandflies were a real problem, but as always, come nightfall, the sandflies went to sleep and so did we.
Day Two: Up to Lake Roe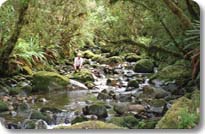 Robert and Paul were surprised that I managed to keep my feet dry the first day, but this would not last long. I was boulder hopping across the wet rocks in a stream and slipped into the water. My feet were wet. I had been initiated. Eventually I started to climb up a ridge that turned very wet. In a few places I was up to my calves in mud, but it was ok as I had to cross many streams, including one where I was up to my thighs in water--that washed me off pretty well. Part of the day there was fog, which highlighted all the spider webs in the forest as the water droplets stuck to them. I was surprised at how many webs there were. Every meter or so there was another one. I guess there are plenty of sandflies for the spiders to eat.
Some of the areas I ran across were even more special than the other places. As far as the eye could see were the mossy hillsides reminiscent of the Lake Mackenzie area of the Routeburn Track. These areas can only be described as gardens. I couldn't place exactly where the garden started or ended, just that I knew that it was different than the trail 1 km before. These areas were so perfect that they looked as if they were laid out by man, but then again they were so perfect that I knew that only nature could create such a place.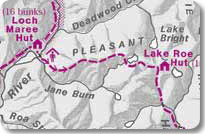 The Lake Roe Hut is in an impressive location. A small stream flowed next to the hut. On one side it overlooked pothole lakes. On the other side were cliffs, beyond which lay Lake Roe. Robert was already at the hut when I got there and shortly afterward Kumi arrived. A bit after that Annemarie from Switzerland and Klaudia from Germany, came from the north. We had quite a pleasant group at the hut. Annemarie's English is quite good (even though she will always claim otherwise) and we had some good-natured verbal sparring. Unfortunately we were joined by some Kiwis, among the few during the whole trip that would really annoy me. I had some of my stuff spread on a bed and one of the Kiwis started to claim the bed. I mentioned that this was my bed and he said, "Where are you from? You don't pay for these huts." I said that I paid my hut fees and so, "Yes, I do pay for these." He asked, "What makes you think this bed is yours?" I said, "Well, the fact that my stuff is spread on the bed might tip you off." He said, "I'm going to sleep here." I said, "Well so am I. So I guess were going to get to know each other quite well tonight." Once I set my mind on something I usually don't back off and I was setting my mind on that bed. Robert heard what was going on and intervened saying, "Craig, why doesn't our group sleep over here and let them have that side of the hut. It would work out better." I hate it when people actually make sense. I have to give him credit for defusing the situation and allowing everyone to save face.
Later on Annemarie took pity on me when she saw me eating dried spaghetti. She made me a warm drink and I shared some chocolate with the group. Annemarie asked me about my future travel plans. I told her that I had an 8-12 month trip around the world planned. My future trip was only getting longer. "Where will you be going?" "I don't know. Que sera sera." All in all, we had a good time in the hut.
Day Three: Hanging out in the mountains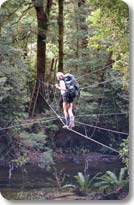 It was a bit misty in the morning and the alpine tussock had an eerie look to it. I waited for the weather to clear a bit. Robert, Annemarie, Klaudia, and I gathered around the table to eat (me going crunch-crunch on my spaghetti). It was getting around noon and about every half hour I would say, "Well, I'll probably have to get going soon, but I'll wait until the weather clears." Annemarie finally looked at me and asked, "What's the real reason you aren't leaving?" I paused a bit...realizing that I'd been caught. Then I confess, "Ok, I'm having a great time with all of you." Then everybody knew I'd be staying for the rest of the day.
We had an interesting group at the hut. Kumi was a nice person, but I really couldn't talk to her much as her English was limited and my Japanese was (and is) non-existent. Robert was one of the tougher outdoors people I had met. He was slender, no more than 70 kilos but tough as nails. He had very substantial boots with a hole in them. He said, "In New Zealand, you don't care whether your boots keep the water out, but whether they drain once the water is in." He was going to spend a few days on the Dusky and then would take off over the mountain tops where there were no trails and head for the Southern Track which parallels the southern coast. Klaudia is a computer programmer like myself. With the exception that she works for an insurance company, she's pretty nice :-). Annemarie and Klaudia were also pretty tough. They had been doing a lot of tramping and did a sixteen day tramp near the Marlborough Sound. I was practically a sissy by comparison, merely an eight day track for me. For the rest of the day we enjoyed each other's company and the surroundings. Everyone else had been to Stewart Island and tramped the 8-10 day Northwest Circuit and raved about it. They told me that it's the best place in the entire country to see kiwis (the feathered kind) and penguins. Annemarie and Klaudia had a kiwi walk right by them. Hmmm...Stewart Island.


Our mob at the Lake Roe hut. I really enjoyed my time with these folks. From left to right are, Mr. Moose, Kumi, Robert, Klaudia, and the Evil Annemarie
Day Four: Down into the Valley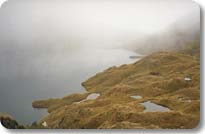 I would have hung around another day, but we had to go our separate ways. Annemarie and Klaudia had to catch the boat at Lake Hauroko, and Robert was waiting for the right weather to leave. Annemarie and Klaudia left late in the morning. Annemarie asked if I wanted to go with them. I thought about it (and maybe I should have gone), but I was determined to do the Dusky and they were heading south and I was heading north. She made me smile and like her even more when she said, "I'm really going to miss you and your spaghetti crunching." Shortly later I said goodbye to Kumi and Robert. I missed everyone, but great things awaited me across the Pleasant Mountain Range. I still keep in touch with some of these folks and after Annemarie read this travelogue she said to me, "I like your story because it made me feel like I did when I was there." I can't think of a higher compliment than that.

I started across a grassy area, where there were many ponds all around. Once again there was an eerie feeling because of the fog. There really wasn't much of a trail, rather I looked for the next pole that marked that way. Sometimes I could get a view down into the valleys, but couldn't see very far horizontally due to the clouds. As I started to descend, the sky cleared a bit. I ran across a beautiful quartz-like white rock that had black veins running through it. I haven't seen anything quite like it elsewhere and nearby was a very strange lichen that looked like a moss, but had a bright white cap.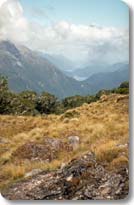 I had been told that there was a beautiful overlook of the valley and the sound not too far ahead, but the clouds were obscuring the view. I sat for a bit and looked at the world around me. I was on an elevated plateau, below me were some ponds and just beyond them were steep drop-offs into the valley. In some ways it felt like being at the end of the world. Unfortunately there were still clouds in front of the sound and the time came to move on. As I started to walk, the clouds opened up and revealed Dusky Sound. I will never forget that sight. All the valleys, the ridges, the ponds, and then seeing the sound snake off into the distance towards the sea...all in one view. This is one of the those times that I felt, "I don't know if life gets any better than this."
I walked on a bit and hit the descent for the day. It was 1000 meters down and very steep. Periodically there was a small level section, but frequently I would be climbing down wet tree roots on a 80 degree slope. After the descent, there was about 45 minutes of relatively level track along the Seaforth River before I got to the Loch Maree Hut. I wanted to go on with the tramp to the Supper Cove Hut, which is on Dusky Sound, which would allow me to avoid the Kiwis that I didn't find appealing. However, I noticed my left knee didn't feel 100%. It wasn't painful or even uncomfortable, but it's best to heed such body feedback, so I opted to stay at the Loch Maree Hut. I cleaned up the hut and then sat in the glorious sun. It was good that I enjoyed the sun, as I wouldn't see it for a few days. The Kiwis arrived later in the day, but had split up so there was only two of them. Later in the day I noticed that I forgot some food at the Lake Roe Hut, including a giant Cadbury chocolate bar with cashews...D'oh!
Day Five: To the Sea
I took off for Dusky Sound this morning. I would be following the Seaforth River to the sea. In order to give my knee a rest I was going to make a day trip out of it and not carry my pack, only taking a little food. The map said that it would take about six to seven hours to get from the Loch Maree Hut to the Supper Cove Hut. I figured that without a pack I could probably do it in four hours each way. This was not correct.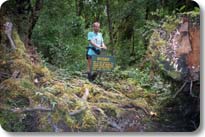 Just out of the hut, the track was quite nice. Later on there were some sections which were relatively flat and plain. This would be the only part of the whole track that could possibly be described as "plain." A place like this kind of spoils you and that term "plain" is relative. On any other track, it would be considered spectacular. I did get got lost a couple of times during the day. I would follow some little indication that the trail goes to the left, not looking up and noticing the bright orange trail marker that goes to the right. Eventually it would lead to nothing and I would backtrack and notice the bright orange marker and think, "How did I ever miss that?"
The closer I got to the sound, the more impressive the trail became. I passed by a beautiful swimming hole under a large waterfall. I didn't want to hike soaking wet, so I didn't go swimming. In reality, I was wet enough that day that it really wouldn't have mattered. In the next few days I would learn to live with being soaking wet all day long. The trailhead is at Supper Cove, which is at the end of Dusky Sound. It was nice to be back on the water.
It took me 5 1/2 hours to get to Supper Cove. This was much longer than I thought. I met Paul and his daughter on the trail earlier and he commented, "On a track like this, it doesn't seem to matter whether you have a pack on or not. It's slow going." I wanted to spend a bit more time down by the water, but thought it best that I head back to make sure that I had plenty of daylight to get back to the Loch Maree Hut.
Day Six: It only gets better
It rained during the night. Something I would become aware of shortly. Luckily the Kiwis weren't tough enough for the track and radioed in to be picked up by floatplane at Supper Cove. It would be quieter from now on and I liked that. The skies were sunny and I was looking forward to a day of great tramping. Immediately out of the Loch Maree Hut the clouds closed in and I ran into mud. Within 15 minutes the trail crossed a flooded area. I didn't know how deep the water was so I took off my pack and crossed the water carrying my pack by only one strap (in case I slipped in the deep water). As I crossed, the water slowly worked its way up my body and when it hit my mid-section, all I could do was let out a "Harumph." The water was so cold that I prayed, "God, I've had a good life...now take me away so I won't suffer anymore." I've never dealt well with cold water. I'm about 5'10" and the water got up to my chest. Yeah, I really don't like cold water, but I learn to live with it. A few minutes later it started to rain and wouldn't stop all day.
Wet and mud was the theme for the day. There was one time when I was walking along and I thought back to how muddy I thought the Yakas Track was, but this was 10-fold muddier. I thought "Mud, no problem. I can handle anything." Quite literally two seconds later I look at my next step and had doubts about it. It was too late as I had already committed myself to that step. The next thing I knew was nearly up to my waist in soupy mud. Oh, did I mention that it had rotting vegetation in it and I smelled this way when I got out? I guess it really wasn't that bad, as I would often have to cross a stream where I would get cleaned off. This wasn't the only time this happened today (or the next few days for that matter). Months later I talked to Annemarie and she asked me, "Why didn't you try and walk around the mud pits?" I said, "Well...ah, I guess I didn't think about that. Besides, there was too much mud, what was the point?" Yes, the rain made the mud pretty prevalent, but the things that I saw that day were so beautiful as to be worth it. The subtle wonder of seeing a fern in the rain is not something easily forgotten. The track followed the Kintail Stream for the day. It really was more like a river since so much rain had fallen. Sometimes the water would flood over the banks onto the track and there were countless rivulets that I walked through. Once again, the moss and ferns were everywhere and thick as could be. The things that I saw were really something to behold.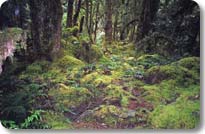 One mistake that I made on this track was not bringing a pair of wool gloves. I usually don't travel with gloves in the summer months, but you live and learn. Periodically the rain would almost stop for a few minutes and I would want to remove my rain jacket. However my hands were so cold that I couldn't undo my pack buckles. I could unsnap the large waist buckle (using the palms of my hands). The smaller chest buckle required my fingers, which I didn't have the use of at the time. So I left my pack and jacket on. For very brief periods, the sun was out even though I was still tramping in a light mist. I would walk with my palms held up to the sun to try and warm them up. It seemed to work, if only a little bit. As I walked through a gentle rain, there was a place today where it was greener than elsewhere. It was one those areas where....I don't know, but it was just different. I can still see this place and remember the feeling of how special it was. The trees, the ferns, and an entire hillside clad in moss. I felt like it was a place that I belonged.
I had to be careful how I tramped because the rocks were very slippery in the rain, so my progress was a bit slow. I crossed an open scree (talus) area. I followed the track into the woods and promptly lost it. I go back and try to follow the track again, no luck. I must have lost the track for the better part of an hour. The map indicated that the track near Gair Loch (lake) was an "area prone to flooding." It was entirely correct. The whole Gair Loch area was nothing so much a water-sodden morass.

I arrived at the Kintail Hut, which was two hundred meters off the track on a spur trail, nestled up against the hillside. It was a tough day, but a good one. Everything, everywhere was green. Shortly after I arrived the rain really started to pour very hard. It didn't let up at all the whole night. Paul and his daughter arrived a few hours after I did. He told me that Kumi had dropped out and called for a helicopter to pick her up from Supper Cove. I was a bit concerned as I was starting to run low on food. Leaving that food at the Lake Roe Hut was a bigger mistake than I had previously thought. Paul had some extra curry kous-kous, neither of which I had tried before. Given my food situation, I gave it a go. It was pretty good, plus it was a hot meal after a cold day. Well, here is another strategy of looking pathetic in order to get fed: Plead Starvation.
Day Seven: Over the Pass
I waited at the Kintail Hut for the weather to clear but it never did. It just kept raining and raining. Occasionally the rain let up a bit and I would think that it was ending, but soon enough it was back to pouring cats and dogs. At noon I figured that this was as good a time as any to leave, so in the pouring rain, I was off. I normally don't wear rain pants when I tramp in the rain if I'm in the forests. However, today I would be crossing a mountain pass so I put them on to keep dry, but they really didn't do much good. Within 15 meters of leaving the hut, I was in water over my knees. The spur trail had turned into a stream.
Immediately after getting back to the main track, I crossed the river on a wire bridge. The flooding river was within 6 inches of the bottom of the bridge and the water was churning underneath. As I crossed, I was looking down at my feet. Suddenly the churning water created an optical illusion that the water was stationary and the bridge was moving upstream. I got vertigo and had to close my eyes to avoid falling. I opened them again and the same thing happened. I held onto the wires tighter as I was losing my balance. For the rest of the crossing, I had to look straight ahead and feel for the wire with my feet. Falling into a flooding river would have ruined my whole day. After the bridge, the track pulled away from the river and headed towards Centre Pass.
I started the steep 775 meter ascent that had ropes to help one get up some of the rock faces. The rocks were slippery and sometimes there were waterfalls coming down on top of me. It was every bit as steep as the descent towards the Loch Maree Hut. It was tough, but very beautiful. Once the steep part of the ascent ended I was back into the alpine tussock environment. There were winds of 60 km/h, the temperature was slightly above freezing, and it was pouring Buckets O' Rain. Someone later asked me, "Weren't you getting blown over carrying a pack?" I said, "Oh no. I was knee deep in mud." These were the most severe conditions I had ever been in. I've been in -40 degrees back home when I was wearing a down jacket and the rest, but I haven't been this vulnerable before. I remembered my friend Sylwia and my Mom, thinking, "I have to be careful for them." I tried to be deliberate in my steps in that if I fell and got hurt, I would have surely been toast.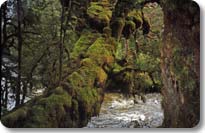 Once I crested the pass I started a descent into a valley. The weather was tough, but the setting around me was well worth it. As I descended, I started to be surrounded by rock walls on three sides. All around me were hundreds of waterfalls. Words cannot describe the sight that I beheld, though I couldn't linger for too long as every time I turned to look, I was blasted by the winds and got a face full of spray. At the top of the pass, another river, the Spey, started to form and flow down the valley. There were a few times where the track was not marked well and I didn't know which way to go. I made some educated guesses and hoped I was right. There was one time where I completely lost the trail. I tried not to despair, but under the circumstances, it was hard. I couldn't see the trail nor any markers. I backtracked and tried to see where the trail went, but ended up at the same spot, all of this was happening in the freezing rain and howling winds. I was starting to get worried. I had to make a decision and figured that the only thing I could do was walk parallel to the river and hope I found the track, though I worried about the possibility of missing the hut this way. I walked in a stream that was next to the river because it was the easiest way to get through the thick brush. The stream was a bit too forceful to walk in comfortably, but I did what I had to do. Eventually a trail marker appeared in the stream and I realized that the water was following the path of least resistance. The trail had turned into a waterway. I had to be very, very careful walking in the water as I couldn't see where my feet were going. Eventually I made it down to the cover of the thick forests. It was pretty tough as the water was still following the track, but at least I would know where I was going. I found that even though my feet were wet, they could stay warm. If I didn't have to cross a stream for a minute, the water in my boots would warm up. But as soon as fresh, cold water filled my boots...it was Freezer-Ville.
I reached the Upper Spey Hut and felt genuine relief. Today was a great walk, in spite of, perhaps because of, the adverse conditions. But as I write this I still see the glory of the Dusky. I was completely soaked and had no towel with which to dry off (I guess I forgot my lessons from the Hitchhiker's Guide to the Galaxy which says, "Always bring a towel"). I took off all my wet clothes (now I want you to all be visualizing this as I write) and jumped around the hut trying to dry off. It was cold enough that it took forever. I put on my dry clothes, lit some candles, got in my sleeping bag, and never left it until the morning. I wrote lots of letters and read a bunch. What a fantastic day.
Day Eight: Onwards and Out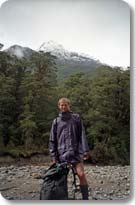 It had rained all night and was still raining in the morning. I have breakfast, eating the last of my food. I guess it is good to know that I'll finish today. I know it is futile to try and stay dry, so I put on my wet clothes. I had to do this several times during the week and it's uncomfortable to feel the wet and cold clothes draped on me, but after a minute it doesn't matter any longer. I started on the track and there was more mud and more rain, but at least the rain isn't falling quite as hard as it was yesterday. I stop and want to remove my pack, but once again my hands are too cold to get the top buckle off. I should have left the top buckle undone to start off. I guess if only my hands are cold, I can manage. There was even a stretch where the rain almost stopped. I notice that the mountains are covered in snow. It makes a beautiful sight, but I wondered how Robert is doing because I know that he is on one of those mountain tops somewhere out there. I know that I'm getting closer to the end of the track and I have ambivalent feelings about it. I'm excited about finishing, but I don't want it to end. I sit down on a rock for a while as a compromise.
As I walked, I marveled at my surroundings. I appreciated all the trees, the plants, the sky--I even appreciated the mud. I had been following the Spey River since the top of the pass and today the track continued along the river, which eventually leads to Lake Manapouri. The river was quite high, but it wasn't overflowing, which was a relief as the track sometimes dropped down into the river channel. I knew that I was nearing the end, but I wasn't quite sure when it would come. One moment I'm hiking along up a hill, the next moment I see the sign at the trailhead.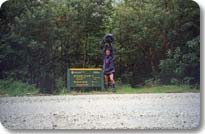 I'm wasn't sure how I was feeling, there were many different feelings. I eat four squares of chocolate and that is the very last morsels of food that I have. To have four squares of chocolate after eight days is cutting it pretty close. I struggle to get the top buckle of my pack undone and then it gets worse when I try to operate the self-time on my camera. Well, take a look at the picture to the left for more. Just after I took the pictures, the rain stops...D'oh! It had been raining for 60 hours straight.
It's a 45 minute walk to Lake Manapouri where I would catch one of the boats that cross the lake daily. There's a small DOC center where the boat lands and I went inside to look at the exhibits. A DOC worker starts up a vacuum. I'm totally jarred by the noise. Eight days of natural noises and to hear a vacuum cleaner is...just, well, just wrong! A few hours later the boat comes and I get on. I was very hungry by this time and started to feel the effects. I met a couple who commented that I look like I had been in the wilderness for a while. They're amazed at my tales of the track, saying "Wow! That must have been quite an adventure!" As I talk to them, I was lying down on a bench. I said, "I'm not trying to make you go away by lying down, just that the hunger is killing me." As the boat pulls away from the shore I look back at the snow covered mountains of Centre Pass. I feel a sense of wonder at what I've seen and at the same time I feel sadness that it's over. I think to myself, "That was...quite an experience." Eventually the boat goes around a corner in the lake and I watch the mountains slip away.
The boat docks on the other side of the lake and I chow down a few candy bars. It probably would have been healthier to have some fruit, but I didn't care at the time. I get back to the hostel in Te Anau and then it hit me. "I DID IT!" Then I really started to get excited over finishing the track. My earlier thoughts were more contemplative, but now I'm feeling something totally different. This was a sense of celebration. It was a great feeling. I meet an American in the hostel. She was one of the few Americans that I would like during the whole trip. Her name was Lisa and she was from Boston. When I met her, my hands were still cold. She held them for a bit to warm them up. It wasn't just how much warmer they got, but it was a nice gesture. The whole rest of the day I felt ecstatic.
That evening I met Elizabeth, the woman I dove with in Whangarei. She asked me about the Dusky Track and said, "I'd like to do that, but I'm not that tough and I don't want to suffer." I said to her, "Suffer? It was great!"
Final Thoughts:
Later that evening I called Gareth. He remarked, "Craig, you're not making any sense. It seems that people who are out on long tracks get that way when they get back to civilization. It takes a bit of time to get used to being around people again." I think he was right, I wasn't making any sense. The track was everything I ever wanted. Yeah, it could have rained less, but it was ok that it did rain. This area was shaped by water, it creates the lush forests and mosses and makes it so unbelievably green. Without the rain, Fiordlands wouldn't be Fiordlands. I wouldn't trade what I experienced for anything. It may sound like I use too many superlatives for what I saw, but the fact remains that every single day, every one of them, I would stand back and say, "I can't believe that I'm here." I'm going back to NZ someday and I might walk the Dusky once more to see if I can experience it in a different light. Perhaps it will be clear when I cross Centre Pass, I hear the views when it is sunny are as incredible as when it's raining. The track was everything that I could have wanted. I can't forget that feeling of wonder.
If you've enjoyed reading about this track, I've hiked the Dusky two times after this and have written about those tramps. They are somewhat more detailed and have much better pictures.. There are several other tracks that might be of interest to you and you can read about them
here
. They're all good stories, I think you'll like them.