Farewell, New Zealand:
The season was moving on and so it was time for me to move on from New Zealand.
---
April 21-23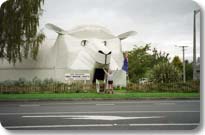 I drove from the Coromandel Peninsula to Gareth's house in Hamilton. He left a key outside for me. However, I couldn't find it and for the next few hours I became very familiar with his front yard. That evening Gareth brought me to Burger Wisconsin. I asked the attendant, "I live in Wisconsin and it's known for its dairy, not its beef. Why is it called Burger Wisconsin?" They said, "We're not really sure, but we think the owner liked the way it sounded." I guess this reason was as good as any.
Hamilton is a rather unremarkable town of 100,000 people. It's a good place to spend some time. Why? Because in some ways it's Everytown, New Zealand. As travelers, we tend to seek out the extraordinary. Many people say, "I want to experience the country as it is" and then go to Queenstown. Hamilton is an ordinary place and I don't mean that in a bad way. The people there are as kind as anywhere else. It's a town where the average Kiwi lives and goes about their daily business. Most people don't spend their days on top of a volcano or on a track in Fiordlands. Most of the time they are at home, work, shopping for food, etc. When I was in Europe, sometimes I would get off at some unknown town and look around for a few hours and continue my journey or I would get on the longest bus route in city and see where it took me before I arrived back where I started. If you want to experience NZ as it is, go to Hamilton for a day or two.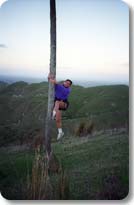 Gareth and I drove to Raglan, a surfing town, about an hour away from Hamilton on the West Coast. We walked along the shore among the rocks. I was thinking a lot about what I had experienced and also what was to come. It wasn't yet time to go home, but I knew that my time in NZ had to come to an end. The days were getting shorter and it was snowing in the southern mountains. It was time to move on. I found it pleasant have someone to be with today, but also nice to have some time to be alone and gaze out over the ocean. However, in some ways my heart just wasn't into it.
On the way back, we stopped at a small track that led us across some pastures to a hill that overlooked the surrounding countryside. In the distance we could see the plain upon which Hamilton lay. It was the last time I would stand up on a hill and look over this beautiful country. Saying goodbye is always difficult, whether it is a person or a place.
On my final morning, Gareth and I sat out on his deck and ate breakfast under the blue sky like we had so many times before. We ran a few errands in town and headed to the airport. As we drove, it started to rain heavily. I guess NZ had to give me a touch of both its beautiful sky and rainy clouds on the last day. More problematical was the fact that Gareth's windshield wipers were starting to get flaky and only worked intermittently. Even though I didn't want to leave, I also didn't want to miss the plane. Eventually the wipers started to work and the rain let up, so I made it to the airport on time. Gareth and I went to a coffee shop. We had a hot chocolate and I spent the last of my NZ money. The time came for me to get through customs so I said goodbye to Gareth. I knew that it would be a while before I would see him again, but I knew that it wouldn't be the last time.
I thought all the things that I had seen and felt. I thought of all the people I met and how many times they made me smile. There were so many good memories and I knew that I could never be the same person I once was. With a heavy heart, I got on the plane and left New Zealand.