First Track:
After arriving on the South Island, the three of us embarked on my first multi-day track.
---
January 13-16
The Marlborough Sound was nice, but other than that the ferry ride to the South Island was pretty quiet. We caught a ride to our hostel in Nelson where Sal and Gareth cooked a good meal. I met two women, Melissa and Kelly, in the kitchen when they were cooking. We shared a few laughs together until the meal was done. Sal seemed like a nice enough person, but sometimes said some really dumb things. One thing she said was that I looked like "one of those starving children in Africa." I didn't quite see what she was getting at, so I ignored the remarks.

The next morning we took a bus to the Lewis Pass area. We had to walk about 10 km down a road to the trailhead. It wasn't hard, though it was tedious. We walked to the start of the track at Lake Rotoroa and had lunch. As we sat, I was introduced to the New Zealand sandfly, a gnat-like fly that bites and is all over the South Island. They were pretty annoying and it was the first of our many encounters. The trail itself wasn't that hard, but it had many tree roots and sharp rocks on it. Our packs were overloaded, partially due to excess food, and my feet were paying the price. I'm usually in good shape, but I really needed a bit of a warm up tramp.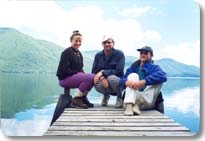 We had to be careful where we rested, as there was a severe infestation of German wasps. All of us were stung and got big, itchy welts. The tramp was starting to take a toll on us, especially Sal. We had 11 hours of hiking that day. About ten hours into the day, Sal just gave out. We convinced her to drop her pack and Gareth and I would come back later and get it. After what seemed like forever, we got to the hut. We dropped off our stuff and went back for Sal's pack. The hike went very fast since we weren't carrying much and arrived back at the hut just as it was getting dark. I think we were all glad the tramp was over for the day.
We talked things over the next day and decided that we were all too beat to continue the tramp as planned, as we were going straight over some unmarked mountain passes. We used the radio in the cabin and called for a boat to take us back over the lake. We got a ride to the main road and started to hitch. I caught a ride to Mariua Springs. I hadn't done much hitching before and kind of liked it. Sal and Gareth arrived there about an hour after I did.
While I was waiting for them to arrive I met a business consultant, Jim. He advises clients on how to improve relations within their companies, often taking his clients into the outdoors for their lessons. Gareth, Sal, and I discussed our plans. Jim was present while we were talking. Periodically he would give us some anecdotes about his clients and how sometimes they all talk at each other rather than with each other and no real communication is accomplished. I had this strange feeling that his references were an allegory for the three of us. In fact, I'm sure he was talking about us. He offered to drive us to the trailhead the next day, which would allow us time to prepare and rest. However, Gareth and Sal wanted to leave that night and Jim gave us a ride to the Lewis Pass trailhead. We had lightened our packs and I enjoyed the trail, but it was quite late when we started and we had to hike very fast to get to the hut before dark. We had the hut to ourselves for a very peaceful and relaxing night.
The next day I let Gareth and Sal get ahead of me on the track. I came across a small pond with, what else in it? A dead and very bloated cow. I've never seen an animal bloat up like this before. Travel is about new things isn't it? I even had a picture of it, but this was on the roll of film that I lost, so I can't show it to you here...Sorry.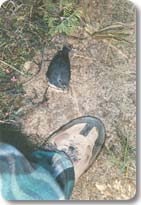 A short time afterward I was hiking through the forest and noticed a small bird following me. It landed on a tree right next to me. I continued to walk and several times it would fly after me and once again land on the tree next to me. I stopped and watched the bird. The bird was an ElGeeBee (= LGB = Little Grey Bird). I was later told the common name of this bird is the bush robin. It watched me and hopped around the ground nearby. After 2-3 minutes of checking me out, it hopped onto my boots. It pecked at the rubber sole, then the leather, next came the grommets, then the D-rings, then the laces, then the tongue of the boot, my socks, and finally the label. Then it hopped away. It came back to my boots and continued to inspect them. It paid special attention to cloth labels on my boots. It checked out my boots many, many times and afterwards would always look up at me. It was so funny to watch my little friend. It flew to a tree next to me, perched, and then flew at my pack. It veered away just before it landed. It perched again and flew towards my pack, but veered away again. I could tell that it was curious, but was still afraid to land on me. Anytime I moved my hands it would get nervous, so I kept them still. It was caught between curiosity and caution. The bush robin kept on coming back to my boots, pecking and perching and looking. I can see the missing threads in the embroidered logo on the cloth labels that the robin had pulled out. I still have those boots and when they wear out, I'll paste the labels into my scrapbook. We probably watched each other for twenty minutes, but eventually I had to go as Sal and Gareth were waiting for me. Two creatures from worlds so far apart, brought together out of curiosity, who knew a bit more of each other than when they started. I hope the bush robin got as much out of our encounter as I did.
I caught up to the others and we shared lunch in a mountain meadow. There was a small river in the valley and unfortunately, a few cows too. We hiked for a few more hours and reached the hut. I noticed Sal getting water for our dinner from the river, the same river with the cows upstream. I take water from the valley walls where cows could not pollute it, but not Sal. I asked her how long she had been getting water from such sources. She said, "Since we started. I never get sick from river water." I said, "You're not the one that I'm concerned about."
One thing I enjoy about traveling is being exposed to people with different backgrounds. Sometimes we speak the same language, but don't speak it the same way. To the British, the word 'fanny' means a woman's naughty parts. So when I spoke across a room and said, "Hey, grab my fanny pack (a waist pack)", sometimes the Brits would look at me a bit odd. To a Kiwi, 'scroggin' is sort of like granola. To me, it's an obscure and crude term for sex. So when Sal asked me, "Do you want some scroggin?" I kind of thought, "Uh....Sal, I don't think I know you well enough."
January 17-20
I was feeling much better than I did on the first day of the tramp, but the next morning Gareth and Sal wanted to do ten hours of tramping. I decided that I needed a bit more of a break and decided to go back the other way on the trail. I sidetracked up some of the hills and sat for a long time next to a waterfall where the sound nearly lulled me to sleep. On the way back I ran into another bush robin. It was more cautious than the first one, but still fun to see. I tried to hitch the 10 km to the hot springs but I was on a steep and winding hill. By the time the cars could see me, they were already past me. The hills were festooned with a delicately beautiful blue and purple bell-shaped flower. While the walk was tedious, I had the flowers to accompany me. I asked the locals, "What do you call those blue bell-shaped flowers that I've been seeing?" They said, "Oh, we call those bluebells." I guess I should have thought of that.
I set up my tent in the hot springs campground. I didn't have a camp stove, but I had some spaghetti with me and ended up eating it raw, crunching away happy as a proverbial clam. A Swiss camper said, "I can't help but noticing that you're eating dried spaghetti. Would you like some food?" Hmmm...I wonder if I should make this a strategy to get fed? All I've got to do is look really, really pathetic and people will take pity on me. Yeah, that's going to be a plan. The hot springs had been designed by a Japanese man who specialized in bathhouses. It was elegant and simple. I went into the springs and it started to rain. It was so pleasant being half in the warm water and half in the cool rain.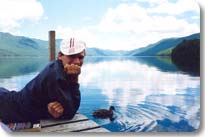 Gareth was supposed to pick me up the next morning, but he was, oh, about eight hours late. It was very boring to wait as it rained all day and I couldn't get outside to do anything. I should have sat in the springs all day but I kept thinking, "Gareth will be here any minute now." The problem was that I lost my towel and when Gareth arrived it would have taken me a long time to air dry. It was first of many towels I was to lose.
Eventually Gareth arrived with his friend Rob, whom I had met a few weeks earlier in Hamilton. We made it to Christchurch that night and stayed at Rob's place. We spent the next day mucking around Christchurch. Gareth and I went to an art exhibition and did a few other things. I kind of liked Christchurch, it has a nice feel to it. Big enough to have things to do, but not too big. I figured I'd probably have to make it back here sometime.
Early in the afternoon on the 20th I went to the outskirts of Christchurch and started hitching towards the West Coast. Back on the road once again.