Heading South:
After wandering in the far north of New Zealand, it was time to head for the South Island.
---
January 9
I went diving in the Poor Knights Islands about 20 km off the coast. I was pretty excited, as I hadn't dove before except for my training dives. I was told that there were some tropical elements to the area. I was impressed by what I saw. Brightly colored sponges and interesting fish. There were nebulously graceful jellyfish. Their delicacy cannot be understood until seen first hand. We could feel the wave surges 10 meters under water and watched the jellyfish waver in the surges. We had two dives that day and had a rest period between them. I met an English woman named Elizabeth while we lounged around.
A pod of bottlenose dolphins showed up and swam around our boat. We didn't know how long the dolphins would be staying around, so we didn't bother to put on our wetsuits and jumped in. When I hit the water, all I could think was, "Eegads this is cold!" The excitement of the dolphins more than made up for the discomfort. The dolphins would swim within a meter to check us out. Even the calves (I think that's what you call a mini-dolphin) would come right up to us. I could hear their squeals and clicks and knew that I was dealing with an animal that has a very different perception of the world than myself. Bottlenose dolphins are very large, much bigger than I was expecting, but I didn't feel any fear whatsoever to have them that close. Eventually they wandered off and we did our second dive, but it paled compared to our encounter with the dolphins. Everyone was so excited. Later on Elizabeth asked me if I wanted to go to the Bay of Islands. If she had said anywhere else in NZ, I would have gone. It was time for me to head south.
January 10-13
I caught a ride to Auckland with an apple orchard worker from Hastings named Brent. He spoke with pride of the apples he grew, "The finest apples in the world" he said. We had some good times laughing about Kiwis and Americans. Brent, like many people in NZ, wasn't particularly fond of the French. In 1985 the French government bombed the Greenpeace ship Rainbow Warrior in Auckland harbor, murdering a Greenpeace photographer. Brent told me how he couldn't pinpoint his hostility towards the French, but whenever he ran across a Frenchman in a pub, he always seemed to start a fight with him. I don't think Kiwis are automatically hostile towards the French, but if they support the government, I wouldn't be surprised if they got a cool reception.
Brent dropped me off in downtown Auckland. I had to buy a rain jacket. I somehow missed packing it. Of all the things to remember for NZ, this is one of the most important. I would soon come to learn the necessity of this piece of equipment.
I stopped in Hamilton where I saw Gareth for a bit and then went to the Waitomo caves. I had heard that they were pretty neat and I liked caves, so why not go? People had raved about the "black water rafting." It wasn't called whitewater because even if the water was white, you were in a cave and couldn't see it or so I'm told. That evening I met two Danish women, Lena and Birthe. They had a car and were going to Wellington the next day; just what I was looking for.
At the cave we put on grungy wetsuits and helmets, given our inner tubes, and hiked to the entrance. It started out kind of slow, just drifting down the river in the cave. I figured that it would pick up soon, but it never did. I was surrounded by people who were saying, "This is the greatest experience of my life!" I was totally underwhelmed by it all. It was just floating slowly on an inner tube. I don't know what I was expecting, but this wasn't it. I didn't express my opinion as everyone else was having so much fun, why rain on their party? I did like the glowworms on the ceiling of the cave. They looked like the stars above.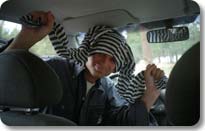 Lena, Birthe, and I started going south. The countryside was beautiful and the roads wound up and down the hills. NZ has something like 30,000,000 sheep, whatever the number, there were lots and lots of sheep that I had heard so much about. As I mentioned before I'm a picky eater and Lena and Birthe knew this. They offered me some salty Danish licorice. I figured, "How salty can it be?" The first taste wasn't that bad...then the taste hit me. It was awful. I managed to eat the whole piece, but declined a second piece. Lena said to me, "I'm surprised that you ate it. Most people can only handle one bite. Good job." It was a good time as we drove south to a hostel in Paekakariki, a bit north of Wellington. They didn't have any beds, but we were able to tent it. That evening we hung out at the hostel and celebrated Birthe's birthday. We were on the tail end of another cyclone and it was very windy, practically blowing over the tents. This cyclone thing was getting old.
I met Gareth and Sal in Wellington and we stayed at the house of Sal's parents. Sal's father seemed to be kind of interested in me (I don't mean it that way...if you want to read about that you'll have to wait until Fiji). He found it amazing that someone would quit their job and travel for an extended time. He asked, "Don't you ever think about starting a family or things like that?" I just shrugged my shoulders and said, "Huh?"
The next morning we went to do some grocery shopping. I'm a "I can survive on dried spaghetti and water for weeks" type and Sal and Gareth were quite the opposite. Later experience would tell me that we should have just taken spaghetti. Spaghetti has lots of carbohydrates, what more do you need for a tramp? I needed to buy an extra pair of long underwear. I found this ridiculous looking striped long underwear that the Kiwis wear. Looking ridiculous is better than looking plain. We caught a ferry and crossed to the South Island. It was the start of something great.