Travels with Rob and Valerie:
I met Rob and Valerie on the Rakiura Track. We got along well and decided to seek adventure as The Triumvirate.
---
March 10-11
I ate breakfast with Rob and Val and we took a picture together. I wandered off on the track by myself, as I didn't know if they wanted to be alone or not. I met up with them a short time later and we decided that we would stay together. It was a nice tramp, even though it started to rain. This is NZ, what else would you expect? We got into Oban and the three of us stayed at Anne's Place. This is a different type of hostel. It's cobbled together from whatever Anne could find. If there isn't space, Anne has a spare bedroom in her house. It works out. We met Nicolas from Switzerland at the hostel. This was someone that Valerie knew from back home and they happened to meet 15,000 km away from Switzerland. Small, small world.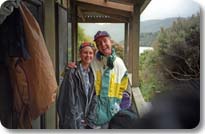 We went to Ulva Island for the day. It's a small island in the middle of Half Moon Bay, which has been rendered free of exotic species that have harmed the native wildlife in so many places. Here the native species have a chance to flourish. There are signs on the docks warning one not to allow rats onto the island from boats. We walked the trails observing the island's feathered wonders. We saw kakas (a dark colored parrot), wekas (a flightless bird that looks a bit like a kiwi), New Zealand pigeons (nothing like a city pigeon, with a very distinctive woosh-woosh of its wings as it flies), tuis, and a number of others. I had a feeling that this is what NZ was like 1000 years ago before the Maoris and Europeans came and wreaked their havoc.
That evening we met a NZ couple, Angelique and Gary. He was a professional diver working at the salmon farms in Half Moon Bay. It would not be the last that I would see of them.
March 12-13
All of us wanted to see a kiwi. We would rather see one on our own, but as a back up we made arrangements for a boat that would bring us to a beach where kiwis frequented. We would only go on the boat if our quest did not succeed. Failure was not an option.
Late in the morning we started kayaking across Half Moon Bay. It took us about 2 1/2 hours across open water before we got to the mouth of the Freshwater River. It took a little work to find the river's mouth and the last half hour was in a very shallow section at low tide, so I'm not sure if we tramped or paddled this part. The paddle upriver wasn't that difficult as the current was gentle. Shags, also called cormorants, kept us company on the way. It took us about 2 1/2 hours to get to the Freshwater Hut where we stashed our kayaks and started tramping.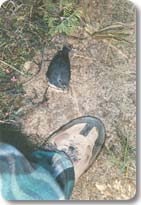 We had to keep a fast pace on the three hour tramp as it was getting late and we wanted to reach Mason Beach where kiwis awaited us. It was a fairly flat track, so it went quickly. Rob and I hiked together most of the time as Valerie and Nicolas seemed content to go ahead and speak French with each other. Rob had studied industrial design and was taking a trip before he had to get a job and sell his soul for thirty pieces of silver. I got along well with him. It's surprising how quickly you can make friends on the road. I had told the group about my encounters with bush robins and one these little guys took an interest in us that day. It checked us out as we did the same to it. Bush robins are a lot of fun.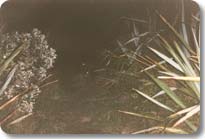 It was getting dark as we got closer to Mason Beach. We were open to suggestion as we saw kiwis everywhere. They looked suspiciously like clumps of grass. As we got closer, the kiwis would disappear, leaving nothing behind but a stationary clump of grass. Nicolas and I were out front and I said, "Kiwi!" Nicolas said, "No, that's grass." "Yeah, well this grass is moving!" Yep, sure enough, we had finally seen our quarry. Rob, not only being the hippest among us, had the coolest camera so he got a picture of it. In the next 15 minutes we saw two other kiwis. Our kiwi encounter wasn't quite as good as that of Annemarie and Klaudia, but we had seen our kiwi. The kiwi is a shy, nocturnal bird that lives at the bottom of a meter deep burrow during the day. So our sightings were pretty much as good as we could have expected.
A short time later we reached Mason Beach and set up camp. We made some vain attempt at cooking spaghetti, but it was cold. I tell you, dried spaghetti is much better than cold, cooked spaghetti, I don't care what anyone says. Well, at least we had hot chocolate that night. It was a pleasant setting and the stars were absolutely brilliant. We could see Orion and the Southern Cross and watched the red moon set on the ocean. Later on we fell asleep to the breaking waves. It was as nice a night as we had anywhere.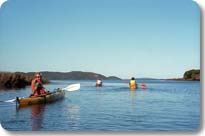 That next morning I got up early and looked around. There was an eerie feeling as I could see fog coming down the valley that we had walked up last night. Later on as the sun got higher we basked under a bright blue sky. We hiked back to the Freshwater Hut where our kayaks awaited. It was a nice, though fairly uneventful, paddle back. As we got closer to Half Moon Bay, there were an uncountable number of jellyfish in the water. Jellyfish are almost totally clear and are sort of half there and half imaginary. It's hard to believe that they are actually alive and capable of movement.
Back in town we bought some fresh fish straight off the docks from fisherman. I cooked them up and received compliments to the chef. I don't think anyone has ever complimented me on my cooking before or ever will again. We, of course, topped off the evening with a hot chocolate. It was a good little trip we had.
March 14-15
Nicolas was staying on the island, so Val, Rob, and I got up early to catch a ferry back to the South Island. The seas were a bit rough. While none of us got seasick, I don't think any of us wanted the ride to be any longer than it had to be. We started hitching to Dunedin once we got back to the South Island. We had a very pleasant day for hitching. I certainly wasn't complaining about being in the hills of the South Island on a warm summer day.
That evening Valerie and I went to see a traveling art exhibit from the Guggenheim Museum of New York City. Valerie is quite into the arts and it was nice to be with someone who could discuss at length what they thought of the exhibition. Later on that evening we went to see a modern remake of Romeo and Juliet. There were a few times when they would ask me, "What did they say?" and I didn't know myself. The dialogue was in Shakespearean English and I really had to listen closely or I would miss what they were saying. I was learning what it was like for others to listen to a language that's not their own. I can't say that I really liked the movie as the suicide at the end bothered me. My friend Jim was still in my mind.
The following day we wandered around Dunedin. We found a French bakery that met with Valerie's approval, as she is from the French part of Switzerland and knows what a French bakery should be like. We wandered down the streets doing whatever and having a great time doing nothing. Friendship is good when people can enjoy doing nothing in particular. We stopped at a cafe for a hot chocolate. We were having a great time just sitting around with each other. We said to someone walking down the street, "Excuse us, but we think we're having a Quality Moment, could you take our picture?" They laughed and took one for us. We would have a lot of "Quality Moments" together.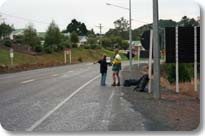 Late that afternoon we started to hitch to Christchurch. We walked up a small hill to get to coastal road that led north. Rob and Val hitched together and I walked down the road. It would be easier for them to get picked up since Valerie was female and they would say to the driver "There's my friend, could you stop?" They got a ride pretty quickly. Their ride didn't have room for me and they waved to me as they passed by. A few minutes later a car stopped to pick me up. His name was Gary and he was from Oamaru, about halfway between Dunedin and Christchurch. He said that he picked me up because he saw us on the small hill and noticed my cycling cap and knew that I was a mountain biker. He guessed that I was an American and since he wanted to go to the U.S. to ride, it would be a good idea to talk to me...and talk we did. A bit later we passed up Rob and Val but couldn't stop, as there wasn't room in the car. I waved to them as we went by. Gary and I got along very well and swapped addresses. I told him that we would probably be through Oamaru again, so he might see us soon. I caught up to Rob and Val in Temuka and we continued to hitch north together to Christchurch, arriving after dark. Our last ride dropped us off in downtown Christchurch and we got a place at your basic large, industrial-grade city hostel. Later we sampled the nightlife in Christchurch. While Christchurch isn't New York City, it certainly was a great time out with my friends.
March 16-17
After a breakfast that included, naturally, hot chocolate, we bummed around Christchurch for the day. Sometimes we were together, sometimes not. I don't know exactly what it was that we did, but we had a lot of fun doing it.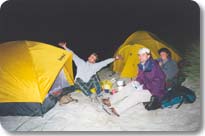 I was having the time of my life. However, I knew that my life was drawing to an end. When I was a freshman in college, my roommate Theophanis (he's Greek you know) predicted that I would die young. Actually quite a number of people have predicted that I would die young, but most of them thought it would be from one of my sporting activities. Theophanis said, "All great men die young. Look at Bruce Lee, Christ, and Alexander the Great. You're next." He predicted that the year of my demise would be 1997. You're probably thinking, "What the hell are you babbling about?!" Well, I'm getting to that. Val, Rob, and I were having hot chocolate and I told them of the prophecy. I said, "What three things would you like to do if you didn't have much time left?" It's an interesting conversation which tells a lot about someone. One of the things that I wanted to do was to write a book. I wanted the book to make people smile and be happy, but I also wanted it to make people a little sad. I don't necessarily like a happy ending to a story in that they can be too predictable. Well, that's one of the things that I wanted to do. Who knows...maybe someday. Valerie wanted to be able to stand on top of the Himilayas and Rob wanted to invent something that would change the world for the better.

Valerie wanted to do something special for Rob before he left, so we went around trying to find Rob a penguin mask. Which he would, of course, wear in public that night. We went to a novelty and magic store and cobbled together a penguin mask as best we could. Later on that night we went to a McDonalds and gave Rob his "penguin" mask. Why did we go to McDonalds? Valerie had never been to one before and wanted to try it. Since it was St. Patty's day we went to an Irish bar on the square. The three of us were talking about what we found attractive in people and who we found attractive in the bar. I couldn't find anyone who appealed to me and Rob pointed to Valerie and said that she was the prettiest woman there. I said, "Rob, you're not going to get off that easy you know." I kind of wanted to give those two their space, but they seemed happy with the three of us. Unfortunately, the Triumvirate would soon be breaking up.
March 18
About 10:00 in the morning Rob's bus came to pick him up as he had to return home. I said goodbye to him and stayed away from those two to allow them to say goodbye in their own way. Now I know that Rob will deny this as it would ruin his Cool Surfer Dude reputation, but he crossed the street to give me a goodbye hug. Rob is a warm-fuzzy, touchy-feely, sensitive sort of guy after all. You bet Rob, I'm ruining your reputation and now the whole world knows! While still having Valerie to hang out with made it easier to say goodbye, I still missed him.