Exploring Vinland:
The sagas are traditional Norse stories, some of which deal with their exploration of new lands. One saga describes a place they named Vinland because of the wild grapes that were found. This place would turn out to be the New World. So in the spirit of their far distant past, I explored Vinland with a pair of Vikings.
---
May 14
As the flight took off from Fiji I watched the lights on the ground fade away. I looked out the window and saw the Southern Cross for the last time. I had a feeling of inevitability. I was on my way back to the U.S.
The flight did have a little excitement. Just as dinner was being served, the plane really got hammered by turbulence. Four hundred dinners were nearly thrown up to the ceiling. I'll probably never see 46,000 peas airborne at the same time again. It was pretty cool. About an hour outside of Hawaii, I looked out the window and saw Orion and the Big Dipper, right side up for the first time in quite a while.
As the plane continued on past Hawaii, I started to get a sick feeling. There was nothing that would keep me from going back now. There was a glorious sunrise, but I wasn't able to enjoy it. I wasn't sure whether Shannon and Sunniva would be there, you never know about these things. Even the prospect of seeing them couldn't make me feel good about getting back to the U.S. The plane arrived in Los Angeles early in the afternoon and I quickly cleared customs. Shannon and Sunniva were there waiting for me. All those dark feelings about being in the U.S. melted away.
Norm and Amy were supposed to pick us up, but they were nowhere to be seen. I called them several times, but there was no answer. We waited over four hours at the airport, but still no luck. Normally I would have been bored at such a wait, but since the Vikings and I were together again, it didn't matter. Just before we were about to go to a hostel, Amy showed up. She sort of "forgot" about us. Yo, Amy! It's nice to be such a high priority :-). Shannon had lived in the U.S. as an exchange student and spent a lot of time at Taco Bell with her friends. We decided the highest priority of the evening must be a trip to the Taco Bell. It seemed like an L.A. thing to do.
May 15-16
We really didn't have too many plans for the day, but Norm and Amy told us about a movie that was being filmed about ten blocks away, so we wandered over there. They were on a break from shooting when we arrived and we clowned around with the crew and police officers. They were good fun and showed us around the set. Richard Dreyfuss walked by and I asked him for a picture. I'd like to show you this picture, but Shannon has been promising me a copy for 18 months. It should show up any day now. We had been in L.A. for less than 24 hours and had met a movie star. We went by a gun shop, Sunniva asked if one could walk in and buy a gun. I said, "Yeah, pretty much." This isn't the sort of thing they were used to. I told them, "We have a God-Given right to own as many automatic weapons as we want. God Bless 'Merika!" That day we just wandered and didn't do very much, but it took all day and we had lots of fun.
S&S wanted to go to Hollywood. I told them that this was their part of the trip and we would do whatever they wanted. We took a bus, but weren't sure where to get off and someone offered to help. We talked a bit and told him where we had been and where we were going. This guy asked if S&S were dating anyone. I could see where this was going. For once a guy didn't have the slightest interest in me. This was a good thing, at least from my perspective. He asked, "What do you two do at night?" They said, "Usually we sleep." Touché! He started to talk about quitting his job and coming to Arizona with us...not that we had asked him. He got off at our stop and started asking, "Are you dating anyone?" Trying to get rid of him, I put my arm around Sunniva and say, "Yes, she is dating someone." Without a pause he looks at Shannon, "How about you?" Now I know why so many women say, "Men are pigs."
We wandered around, with Shannon doing plenty of shopping. She looks so serious when she shops. We went out on a quest to see the big Hollywood sign. Why? Just because. We had to walk a long way and got lost more than once. We had a great time wandering from here to there. It isn't just the destination, it's also the journey. That idea applies whether you're going across the world or across town. One of the things I will remember most is how much we laughed together. One of them discovered my ticklish spot. Touch me on the side just above the hip bone and I jump three feet and giggle like a girl. When I was buying my pack before I left on the trip, the salesman tried to measure me for the pack size. He had to measure right at this spot and everytime he tried to measure me, I jumped and laughed. After a few tries, he gave up and handed me the ruler and said, "Here, you measure. I'm not going to." We did see the Hollywood sign eventually, but we weren't able to get that close to it. Oh well, we had a good time whatever it was.
Tickets to the TV show, "Politically Incorrect" were being handed out on the street. Shannon and Sunniva said they wanted to see a show, but I said that we didn't have time with our current plans. They looked at me with those big doe eyes and I knew that we would be seeing it and throwing our plans to the wind. The show was pretty funny and they got the signature of Al Franken, who was one of the guests. Meeting two stars in two days, not too bad. We decided to walk back to Hollywood and take in whatever was between here and there. We went into a used CD store and there was a Pee-Wee Herman doll, of whom Jim was a big fan. I immediately thought, "I have to get that for Jim" but then I remembered that he wasn't around anymore. We stopped in a supermarket to buy a few things. They got into the shampoo and soap aisle and it took them forever to get out. They had to smell every different shampoo saying, "This is an important decision."
May 17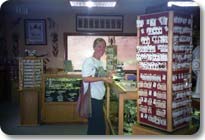 We said goodbye to Norm and Amy and rented a car. Where were we going? Why Las Vegas, of course. I wasn't very enthusiastic about this, but I did tell S&S we would go wherever they wanted. It was actually a little strange to drive on the right side of the road and it took a bit of time until I was used to it again. It was Norwegian Independence Day so we stopped to get some markers to make Norwegian flags that we put in the window to see if anyone would honk at us. Such an occasion needs to be celebrated properly, you know. We headed out into the desert toward Las Vegas. We had to do a bit of shopping and stopped at an outlet mall. This was a mistake.
For those who haven't traveled in the U.S., consumer goods are quite inexpensive and outlet malls are among the cheapest places of all. Things were 1/3 the price that they would pay in Norway. Sunniva found a big paper starfish and there was no way that we were going to let Shannon forget about the Ugly Starfish Episode in Fiji. Sunniva distracted Shannon while I snuck it back to the car. We spent a lot more time there than I wanted, but we finally escaped from the outlet mall. Unfortunately they had tasted the Forbidden Fruit of the Tree of Knowledge.
Once we arrived in Las Vegas, we drove around town a bit to have a look. We went by a casino that looked like a castle. Shannon has a very innocent way of expressing herself that is so endearing. She looked up at the castle and said, "I never thought I would be here. I'm so happy." There is something about how she said it that captured the spirit of our time together. A bit later we stopped to eat, naturally we went to Taco Bell. Someone in the restaurant noticed their accents and asked where they were from. Since we were going to the Grand Canyon, he invited us to stop in his hometown of Chloride, Arizona. I asked, "When we stop, can we borrow your four wheel drive truck?" He said, "Sure, I don't see why not." I was just kidding around, but he was serious. That's one of the things I like about small town America, people are quite kind.
At some point in the trip we all obtained nicknames. My name was Crap, which is a variation of Craig. S&S would say in public, "Hey Crap!" I would reply, "Yeah?" People would sometimes look at us a bit oddly. Shannon became Bitch and Sunniva was Slut. I'll let you figure out why.
We went to a hostel on the strip with a very grouchy attendant whose vocabulary didn't much exceed "Ugh" and "Grunt." We changed clothes and went out to do Las Vegas. Shannon & Sunniva were both wearing short skirts. I said to Sunniva, "I like your outfit." Sunniva, being the typical woman said, "I look so fat in it", which she absolutely did not. Sensing an opportunity too good to pass up I replied, "I didn't say that you looked good. I just said that I liked your outfit." It was well worth the resulting pummeling.
There are no waiting periods for a marriage license in Las Vegas and we walked past the Elvis wedding chapel. It was finally my turn to be a pig. I said, "Sunniva, now is your chance. We can get married. I can take care of us both and we can travel and have fun together for the rest of our lives. We can walk across the street and be married in ten minutes. Shannon can be the witness. Come on, what do you say?" Sunniva looks at me and doesn't say a thing for a few moments. I'm not sure whether she is thinking seriously about it or trying to figure out if I'm serious and how not to hurt my feelings (probably the latter). She says, "No, I can't." I turn and say, "Shannon, we can be married in ten minutes. Sunniva can be the witness and....." Shannon says, "If you had asked me first I probably would have said yes. But I could never be a second choice." She does think quickly on her feet. And so my one chance in life for matrimony got shot down in flames. Sigh....
We took all night to get from one end of the strip to the other, we certainly weren't in any hurry. We wandered down the strip and played the slots here and there, between the three of us we lost $25. We didn't get back to the hostel until the sun had risen. I never thought I would enjoy Las Vegas, yet we had a great time.
May 18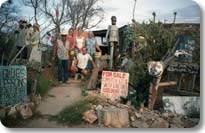 We slept late that morning and took off for the Grand Canyon. On our way out of Las Vegas, we tried to find a Dunkin' Donuts, but were unsuccessful. Sunniva had heard about Dunkin' Donuts, that bastion of Americana, and wanted to go. However, to my horror, I came to realize that Dunkin' Donuts were fewer and farther between than they were in the good old days. We were having a good time so it would take us all day to get to our destination. We stopped in the town of Chloride, which is a small town about 6 km off the highway. We met a couple who had a fairly interesting looking shop. We stopped and looked around and struck up a conversation with them. This is a couple that liked their space. They had left California in the 50's because, "It was getting too crowded." This couple was certainly not your average tourist fare. We swapped stories with them and listened to their tales of what Arizona was like 50 years ago. A good time was had by all. This was a side of America that I really wanted the Vikings to see.
We stopped at a store in Kingman, Arizona and did some shopping. I never thought that I would have so much fun in a grocery store, but I did with the Vikings. Once again they spent an inordinate amount of time in the shampoo aisle. I didn't know that body lotions could be so meaningful. One must have to have their priorities straight.
May 19-20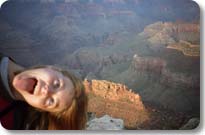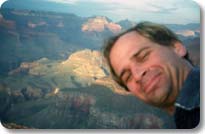 We took our time getting to the Grand Canyon and once we did, Sunniva said that anything that has ever been said about the canyon was true. It's a truly monstrous chasm in the Earth. Later in the day we hiked to an isolated overlook to watch the sunset. Most of the accessible areas of the canyon are pretty crowded, but this evening we had a place to ourselves to say goodbye to the day.
We got up early to watch the sunrise over the canyon. It was a nice sight, but surprising how many other people were up at 5:00 in the morning. Later we took a hike and sat in the glorious sunshine overlooking the glorious canyon. As we were hiking back up, I became very unhappy at the prospect of my trip coming to an end. Sunniva managed to cheer me up. She said, "Things come to an end and something else begins. That's life. Someone once told me to think of being on a trampoline when you're unhappy. How can you be unhappy when you're on a trampoline?" She really knows how to make me smile. I really enjoyed the canyon, but we also had a good time clowning around.
May 21-22
Shannon & Sunniva were curious what an Indian reservation was like. The Navajo Reservation was nearby. These are typically not the happiest places in the world. It seem like social and economic problems have made a too familiar home on many reservations, but there are signs of hope. We saw the Navajo nation flag on an equal footing with the U.S. Flag. Shannon and Sunniva seemed to like seeing that.
The Vikings saw a postcard of Monument Valley and asked, "We've seen this in the movies. Is it nearby?" I knew where we would be going next. The three of us got a room just outside of the valley. Sunniva and I placed the starfish in Shannon's bed. She was a bit dismayed, but says, "Since it's a gift, I guess I have to keep it." It was a fun night, kind of like a slumber party. I sat on my bed writing postcards to Shannon and Sunniva that I would send them a few months later. The cards started out, "Do you remember when I was writing postcards just outside of Monument Valley" You probably thought that..."
Since we had gotten in late at night, we didn't see the yard of the B&B. In the morning we went out and what did we see in the yard? A trampoline! So we hopped up on it and started jumping away. Sunniva was right, you can't help but be happy when you're on a trampoline! Monument Valley really is a pretty place and there are good reasons why the movies were filmed there. We wandered through the valley, taking our sweet time. S&S taught me how to do Norwegian folk dances among the stone towers. If someone had asked me a few months ago whether I thought I would be folk dancing in the southwestern deserts I would have said, "No, probably not."
May 23-24
We started our drive to San Francisco today. We stopped in the town of Carmel, Utah where I had spent some time a few years back. This area is known for its geological formations and rocks. We stopped at a rock shop that's a few miles away from the septarian nodule mine that I describe in the Penguin Chapter. I was 12,000 km. away from the moeraki boulders, but I was back to seeing their brethren once again. Given that there are only a few places in the world where they occur, it was strange to be in two of these places on the same trip. We spent a few hours in Bryce Canyon, which really is a beautiful park. Afterward we drove to points west, going through Zion National Park. This too is a very spectacular park, but we didn't have time so we just saw what we could from the road as we passed through. Just outside of the park S&S want to stop to...shop. After about five minutes of looking around I sat down in a chair. The owner of the shop says, "Congratulations. You lasted five minutes before sitting down. That's twice as long as most guys."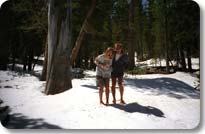 We continued our drive westward, driving north out of Las Vegas on Hwy. 395. It was one of the most desolate areas that I had seen. There were small towns of fifty people that were forty miles apart and nothing in between, not even houses. Well, I shouldn't say nothing in that 20 miles from the nearest town would be a brothel, but nothing else. Eventually we turned off 395 and head towards the Sierra Nevada mountains. We stopped at a very small casino in the middle of nowhere, just this side of the Nevada border for "business" (translated into English, that means a "bathroom break"). I got a $5 roll of quarters and told S&S that this was a gift to the three of us before we left Nevada. We played the quarter slots and Sunniva lined up three bars and hit the jackpot. It wasn't a huge payout, but it made up for all the losses that we had in Las Vegas. We put the winnings in the communal pot and continued on towards San Francisco.
Years ago Shannon was at a camp outside of San Francisco and wanted to see it again. However, this goal would have to wait as destiny interfered when we passed an outlet mall. Sigh.... So if they were happy, I was happy (well, at least to some degree). I did tell them that this was their trip and they were just taking me at my word, fair enough. So after a prolonged period of consumerism, we headed towards Shannon's camp. We really weren't sure where the camp was as Shannon only had vague descriptions. Eventually we found it and Shannon sang a campsong for her old friends. After that Shannon turned up the radio and said, "Let's cruise" and so we did all the way into San Francisco.
May 25-26
As we wandered about San Francisco, Shannon told me about a palm reader in India. The guy knew some things about her that he shouldn't have known. Shortly after we came across a palm reader and they said, "Craig, get your palm read." Normally I would have said "No!" to such silliness, but the Vikings have a way of persuading me, so the three of us went in.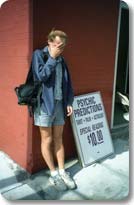 The woman examined my palm and looked deep in my eyes. Then she spoke, "You're a very hard worker." It was right then that I knew that this woman was a complete and total fraud. She said, "There are two women in your life. One of them is the more outgoing one, she will be bad for you. But it's the quiet one who will bring you happiness for the rest of your life." Well, might as well make the best of it...matrimony occupied my thoughts. I said, "Shannon, she said that it was the quiet one who would make me happy for life and that's you. We can rent a car and be married in Vegas before midnight. Come on Shannon, what do you say?" Shot down in flames again.
We passed a place that said, "See and talk to a nude woman for $1.00!" Shannon and Sunniva thought that I should go saying, "Craig, you need to see a nude woman once in your life." Thanks a lot, girls. I told them that I would go, but they had to come with me. When traveling with people, you want to do things with them. They weren't interested as they could see a nude woman by looking in the mirror. I didn't want to go without them and eventually they decided that it was important enough for me to see a nude woman that they would come with me. It's nice to know that you can count on your friends. Unfortunately the place was closed and I didn't get to see a naked woman. What was I going to say to her? "Hey, how's it hanging?"
The following day we wandered around San Francisco, doing a little of this and that. We ran across a shop that sells nothing but body lotions and shampoos. They wanted me to smear this stuff all over myself, even getting the shopkeeper to offer to mix a custom fragrance for me. I decide a mixture of Herbal Spring and Running Brook really wasn't me. Shannon and Sunniva were quite happy looking around the shop. They had finally reached the promised land! San Francisco is a really nice town and we had the time of our lives wandering and playing around. We really didn't do anything that was so spectacular that I could say "That really made the day special." Everything that we did together was fun. It really was the best of times. San Francisco is among the best cities in the U.S. It's a wonderful place for the pedestrian to wander.
May 27
Today we got into one of those stupid fights and didn't exactly get along real well. A few days ago we met a local who said, "Alcatraz is kind of touristy, but it's interesting." So we gave it a go. The impression it made on me is how horrible prison must really be--stuck in a dismal concrete box with little in the way of things to do and no freedom. I'm not sure what S&S thought as they spoke in Norwegian most of the day. I finally said, "Are we going to have fun tonight?" and we patched things up. I had planned on treating them to a special goodbye seafood meal, but the timing didn't work out. Instead we went to a concert by the group Prodigy. Oh, this was interesting. There I was in the middle of a mosh pit. After about fifteen minutes of this, my curiosity had been satisfied. It turned out to be a good evening, but this would be our last night together.
May 28
We got up early as they had to catch a bus at 7:15 in the morning to take them to the airport. The Vikings were moving on to the East Coast. It was difficult to say goodbye to them, but that's the way things go. I felt so lonely that day.
I wandered around San Francisco trying to keep my mind occupied, but it was pretty difficult. I felt like another part of my trip had ended. It wasn't just that I would be going home soon, but I missed Shannon and Sunniva so much. I walked down the street and saw a theater playing the movie "Crash." Someone in NZ had recommended this movie, so I thought I would give it a try to help pass the time. The movie is about people who are sexually stimulated from car crashes. The movie was just as dumb as the idea seems on the surface. What was I thinking? After the movie I gave my brother a call. As far as the movie, he said, "What were you thinking?"
Later on in the evening I met John. He was dealing with the unfortunate experience of meeting the woman of his dreams. She was everything that he ever wanted in a woman. The only problem was that she had a girlfriend.
May 29-June 2
I rented a car so that I could see the Muir Redwoods north of San Francisco. I wanted to spend a little time relaxing among the trees. Later on that day I drove up along the coastal highway. I sat and looked at the ocean. I live far from the sea and I wasn't sure when I would see it again. I stopped at a restaurant on the water and got a great seafood meal like the one I had wanted to have with the Vikings and thought, "Shannon & Sunniva would have really liked this."
I headed down to San Jose to spend some time with Art. I was having difficulty dealing with my trip coming to an end and I missed Shannon and Sunniva. It was good to talk to a traveler who would understand. Art has an interesting way of viewing such things in that he is very down to Earth. Every so often you want to say to such people, "Will you stop making sense?" The next day I flew to Los Angeles and met Norm and Amy. I spent the night there and on the morning of June 2, I resigned myself to the inevitable.
I took the bus to the airport. Even though I left four hours early, I still missed my plane. Los Angeles will always be Los Angeles. The day I left for New Zealand I was thinking, "I can't believe I'm going." This day I thought, "I can't believe I'm going back." Words can't describe the feelings of helplessness.
I remember getting off the plane in Madison and being completely confused. It was like walking in an alien world. It was surrealistic, as if I was only half there. After a while my friend Kendall, who had dropped me off six months earlier, arrived to pick me up and brought me to his house out in the country. For better or for worse, I was home. My big adventure now belonged to the ages.