Exploring the West Coast:
After the Lewis Pass area I headed towards the west coast of the South Island. Long coastlines, mountains, and glaciers awaited.
---
January 20-21
I was getting frustrated hitching out of Christchurch. I hadn't yet learned to be a patient hitcher, but that would come with time. When I did get picked up, one of the passengers was a Maori man who lived on the West Coast and went to Christchurch during the week to sell greenstone jewelry. He told me that his family had worked with greenstone and been making the trip between the coasts for 800 years and he was continuing the tradition. I learned much about the Maoris from his stories and his pride in his ancestors was unmistakable. He told me, "Abel Tasman tried to land but we drove him off. It was over 100 years before anyone else [Captain Cook] would try and challenge us."
I reached Arthur's Pass and got a bed at the hostel. I really liked this place--to me this was what a hostel should be. It just had a nice feel. A group of people were going out and a German woman, Bettina, asked me to go along. She asked me to tramp with her to Avalanche Peak. We returned to the hostel and met an Australian woman from Brisbane. She had never seen snow before and we invited her along on our tramp. We promised her a snowman and a snowball fight at the top of the mountain. I found it amazing that she hadn't seen snow and she was amazed that I hadn't swam in the ocean until a few weeks ago. I guess we all come from different backgrounds.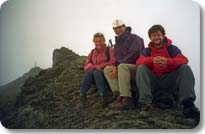 Bettina and I started up to Avalanche peak in the morning. Unfortunately, the Australian woman couldn't come as the people she was with wanted to move on. It was too bad for her. I thought it would have been quite exciting to see someone experience something for the first time that I have always taken for granted. The track up the mountain was fairly steep but manageable. It was quite a view from the top. Bettina wanted to get a picture of us with a glacier behind us, but I put it off and eventually the clouds rolled in. After an hour or so at the top another tramper arrived. He was a computer consultant like myself and we started talking shop: "Well, I think that the Ethernet protocols need to be...." There we were, on the top of a mountain in New Zealand doing techie-talk. Losers! We stopped when we noticed Bettina getting really bored. I kept telling Bettina, "The clouds will clear any moment now and I'll get our picture." The clouds never did clear and after three hours in the mist, we thought it best to leave. The lesson of the day was "Don't wait...do it now!"
That evening I met a Swiss couple, Esther and Stepan. He noticed that we both had the same type of pack, an Arcteryx Bora 70, and this started our conversation. They seemed like a nice couple and it wouldn't be the last that I would see them.
January 22
I headed for the West Coast and stopped in Greymouth. I had to buy another towel there as mine had disappeared in Arthur's Pass. I stayed at Noah's Ark Backpackers. It was a large old house with high ceilings. I went into the kitchen to cook me a "little lunch" (that's Minnesota-speak for lunch). I saw Kelly, the woman I met in the kitchen at the Nelson hostel. We talked a bit and she asked how our tramp went. She seemed quite surprised that it went well. She said, "Well that woman was just so mean to you! How could you take those remarks about looking like a starving African child?" I said, "Oh, that. I wasn't offended at all." "But she was just so mean to you." I said, "I don't think of Sal as mean, just socially inept." We both got a big laugh out of that.
January 23-24
I hitched north to Punakaiki, which was near Paparoa National Park. The West Coast is not known for its great hitching and it was a bit slow. One of my rides was from a very kind woman. She had three backpackers, three packs, two kids, and herself all in a very small car. I had one of the kids sitting in my lap. Most people go to Punakaiki to see the Pancake Rocks, and they were nice, but I was there to tramp.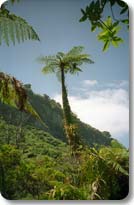 I started on the Porarari River Track. What was so striking about this track was how primitive it was. I was in a small canyon that looked like something straight out of the dinosaur books that I used to read when I was young. I don't know what it was about that place, but everything about it seemed from another era. In some places the tree cover overhead was so thick the sun could barely shine through. The track follows the Porarari River for 7-10 km and meets up with the Inland Pack Track, which is 25 km long. As soon as I crossed the Porarari River onto the Inland Track, it seemed like a different world. The Porarari River Track seemed very primitive, while the Inland Track was unbelievably green. What I remember the most was how green it was everywhere, as far as the eye could see. Lush ferns and trees...everything was green. It's so vivid in my mind as I write this. It just went on and on. Eventually the track started to follow the Nile River (no, not that Nile River, you'll have to wait until my next trip for that one). I really mean to say the track was in the river, not just next to the river. I must have crossed it 50 times that day and I often walked down the middle. Most of the time it wasn't that deep, maybe mid-calf or so, but sometimes it was deeper. There was one place where two rivers converged in a small canyon. I had to walk along the very steep and slippery rock walls, as the river was too deep at the convergence. As I climbed along the walls, I started to slide down into the river and thought, "Well, the camera is about to get dunked. I wonder how much a new one will cost?" It's funny how these things cross your mind during these moments. I managed to get a finger hold on rock and thought, "Now that I'm hanging on by three fingers...what now?" I managed to muddle my way through this with my camera intact.
When I reached the West Coast highway, there was feeling of accomplishment. It wasn't that the track was that hard, but it was a great track. There was something about the Inland Track with the colors. There were other tracks I did with as much greenery, but not quite the same vivid shade of green as this day.
I tried to hitch back to Punakaiki, but the traffic was very sparse. There were five cars in the hour I tried and it was getting dark. The hostel ran a pick up service so I wussed out and called them. The hitching on the west coast was just as tough as I had heard. The hostel in Punakaiki is nice as it is right on a wide sand beach. A bunch of backpackers had a fire on the beach and we passed the time listening to the waves.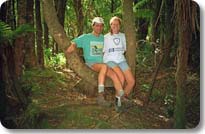 The next day I spent some time with Ronald and Priscilla, two Dutch people I had met on the beach the night before. We sat on the rocks above the ocean and watched the waves. Later on Priscilla and I went up the Porarari River Track. Priscilla entertained me with her experiences in Australia, especially telling me about the rain forests. It sounded really good and I knew that someday I would be going there. For some reason I saw the track in a different light today. How and why did I see it differently? I don't know, maybe because it was nice to do it with someone else.

January 25-26
I hitched from Punakaiki to Greymouth. The guy who picked me up worked for a lumber company. He didn't believe in viewing a tree only as lumber and spoke of the need to protect their environment. He was surprisingly enlightened. The public relations department of a company always tells us how much they care, but this guy was an ordinary worker. Maybe there is hope.
I met Stepan and Esther at the bus station in Greymouth. All of us were on our way to Fox Glacier. It was good to see them again and we spent the bus ride together talking about our feelings (just kidding). My family name comes from the Glarus region of Switzerland. When Stepan saw my name he exclaimed, "You are Swiss!" We spent the evening together at the Ivory Towers Backpackers. As I was doing my thing (which at the time consisted of hopeless attempts at cooking) I met Melissa, the other woman from the hostel kitchen at Nelson. She asked me how my tramp went. She said, "But how did you deal with that woman? She was so mean to you!" I told her how I took Sal's remarks and we both laughed. She said, "It must be great to have such a thick skin." I guess so.
I hadn't seen a glacier up close in many years and I thought that maybe it was time. We hiked alongside the glacier through some fern trees. It was quite striking to see the giant ferns right next to the glacier. I have heard that NZ had a lot of contrasts and this was a good example of it. The glacier was quite beautiful and it was a strange feeling to be standing on top of so much ice. We can only walk as fast as the slowest person in the group, which was pretty slow. A German woman, Odett, asked me if I was bored. Due to the slow walking progress, I did feel that way a bit. We ended up spending the rest of the walk and day together. We drove out of town to see Mt. Cook, the first of many times I would see this landmark, and went to Lake Matheson. This lake that can be very smooth in the morning and evening and give a postcard moment with the reflection of Mt. Cook in the mirror-like lake. That evening we talked over Mexican food, but had to say goodbye as she was going north and I was going south. Que sera sera.
January 26-27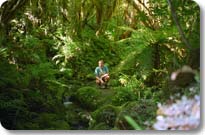 I hitched a ride to the Copland Pass Track. This track follows a river valley and eventually goes over the Copland Pass to the town of Mt. Cook. I wouldn't be going all the way, but I would see how far I felt like going. I started walking and within ten minutes I knew I was in for a treat. The forests and greenery were so overwhelming that it was hard to believe I was there. There were times that I just sat and looked around me and thought that life just didn't get any better than this. There was a spot that had a very large flat rock that gently sloped into the river. It made the perfect place to sit in the sun and eat lunch. I could lay on the rock and cool off my feet in the water. I must have stayed there for an hour, enjoying the world around me and basking in the sunshine. The first half of the tramp followed the river but later it went up into the hills overlooking the river's canyon.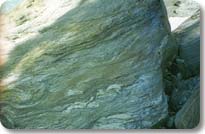 I made it up to the first hut where there were some hot springs. I was only vaguely aware of them when I started out, but it sure seemed like the thing to do. It was very nice, as there were only six other people at the hut that night and one could have the springs to themselves. I lay in the hot springs with Mt. Cook looming over me. The other people in the hut were cooking on their stoves and I, naturally, crunched away with my dried spaghetti. The sandflies go away at nightfall and there really aren't a lot of mosquitoes, so I brought my sleeping bag outside to the porch. I fell asleep under the brilliant stars of the night.
The next morning I talked to the hut warden about what was further up the pass and made the decision to head back down. Once again, the forests overwhelmed me. I was so happy just to be in them. As I got further down the valley and realized that my tramp was coming to an end I became a bit sad. It was so wonderful, but all things, including tramps, come to an end. That day I would often sit on a rock, absorbing my surroundings and happy to be alive on this Earth.
When I got back to the road I hitched back to Fox Glacier. I was picked up by some people from California who were making plans for a tour group. They said, "We'll give you a ride, but we're going to be stopping a lot." Good company and eventually reaching my destination is pretty much the reason that I hitchhike. It was time to head off for somewhere else.