The Southlands:
After the eclipse, it was time to take in some of the landscapes, flora, and fauna of the south. Oh, and see our first lemur too.
---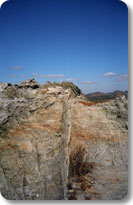 Vincent and I got up at 2:30 a.m. to catch the 3 a.m. bus south to Toliara. At the bus stop, there were only travelers waiting. The drivers were sleeping in their trucks and didn't seem interested in interrupting their slumber. Finally they got up and would drive around town looking for people, then park for a while, then drive around some more. They started picking up local people and eventually left for Toliara. The reason why it was only travelers at 3 a.m. is that the locals all know the trucks won't be leaving "on time." The ride was 200 km. but took 12.5 hours, including stopping to repair a U-joint, and was for the most part uneventful except for a guy sitting in front of me. He never shut up for a single moment and that is coming from a guy with a big mouth himself. Sheesh.

Vincent, Ralf (another guy we met on the taxi-brousse), and myself got a room together as rooms were scarce because of people moving out after the eclipse. I noticed Ralf was wearing a very dirty shirt and I said, "That really got really dirty during the ride." Ralf said, "Oh, I haven't changed it in eleven days." Why do people do that? Well, dirty shirt or not, we had a nice time out and around.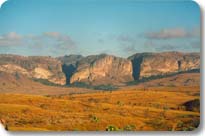 Toliara was just a stopover on our way to Ranohira and Isalo National Park, so we caught a taxi-brousse there the next day. It was 200-some km. but the road was pretty good and it went quickly. The Malagash have an arrangement for most of their national parks that requires hiring a guide. It's really not my preference as I like the solitude and often will sit for hours by myself under a tree, but they are trying to support local workers and that's the way it's done. So six travelers split a guide and did a nice, gentle walk in the park. Gentle or not, one guy was having a very difficult time walking and took every stop carefully and cautiously. Turns out he has no depth perception and walking on irregular trails is difficult for him. I closed one eye and tried to walk sans depth perception and it's surprisingly hard. You do have to give credit to our guide; he held his hand the entire way to help. He did earn his keep that day. One of the travelers I met was Mike, a guy from my hometown who had come to see the eclipse, which is what most of us were there for. It was kind of nice to meet someone from back home for a change.

On the way back, in Isalo we saw a guy entirely dressed in purple. Purple pants, shirt, socks, shoes, etc. He was sitting on the ground doing yoga on a purple cloth in front of his laundry hanging out to dry and every single piece on that line, including underwear, was purple. Hmmm…..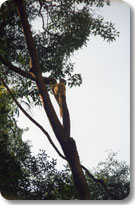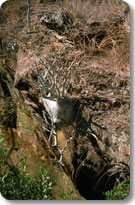 The following day we went into the park again and started hiking up Canyon des Singes. It's a very arid area but around the stream at the bottom of the canyon it's a green paradise. Over a gentle pool in the river hung moss that was dripping water. One could follow the curves of the rocky overhang by the sinuous patterns formed by the water drops. While others were running about, I sat next to the cool stream and listened to the flowing water. The guide eventually found some Verreaux's Sifakas, a type of lemur. They are pretty good-sized and a striking white color and boy, could they jump around the trees. It was a pleasure to watch them cavort in the branches as easily as we can cross flat ground.

We climbed out of the canyon and walked along the arid hilltops. The area was surrounded by colorful rocky massifs. It's a beautiful area and the wonderful blue skies capping it all made for a fine day. On the way out we saw a small tree that looked like a 40 cm. high baobab. It was called an Elephant' Foot and was it bizarre. Lemurs and trees like that? That's what you get from a land that has been separated from the rest of the world for 90 million years.

That night all us guys went out to eat at a restaurant run by a French expatriate and he was sadly similar to many other expats you run across. He rudely ordered the staff around and sat at his table acting like a gigantic ass. We sat under the TV and he turned it all the way up. We asked the staff if they could turn it down as it made conversing difficult. When they asked him, he reacted with anger and they apologized for bothering him. He acted like a powerful emperor of a powerful kingdom rather than the owner of a piss-ant, tiny restaurant. A disgusting person who back in Paris wouldn't have been given the time of day. It was kind of sad but so many of the expats running businesses there seemed to be this way. We ate our food and went elsewhere to socialize.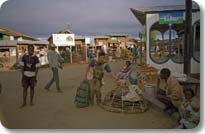 The next day I sat and waited with Vincent while he caught a bus to a town to the east. I talked with Mike about visiting a park near Fianarantsoa but I'd have to split the cost of his four-wheel drive. It was a reasonable request but more money than I wanted to spend, so we parted ways. I wasn't sure what to do next and spent another day in the area.

I enjoyed the company of the others but was ok to be alone again. I walked into the park and sat by a stream reading a book. I thought a lot about my travels and where it would be leading. Arriving in Madagascar with very little knowledge of the country, I first wondered what I could possibly do and how I would occupy my time. Now I realized that I only had a month left and it would be going very fast. Leaving Madagascar, even in a month was an unpleasant thought as it would be back to Egypt and then Europe after that. Madagascar would be the last really "new" place I'd see before returning home after spending two-three months in Europe. The prospect of returning home was starting to loom in my mind. Well, maybe so, but there was a stream and a book that demanded my attention.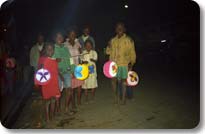 When the sun went down I returned to town which was celebrating their independence day. There are reckless celebrations with fireworks and it's not unusual for tourists in many places to get unwanted attention in these circumstances. I was wary about being a target but turns out everyone and everything was a target and the best way to hide was to be in large groups, hiding like a small fish in a large school of other fish. The children paraded around the town with large, paper lanterns and for the two year-olds, too small to hold the lanterns, the parents walked with them helping hold them up. They glowed in the dark highlighting their faces in a beautiful display that managed to be peaceful amidst the chaos. It really was a nice tradition. The next day I spent alone relaxing in a grove of trees and later returned to town for more holiday festivities of parades, speeches, cheering crowds, fancy clothes and music. It was nice to be there for Madagascar's Independence Day.