A Bittersweet Farewell:
After tramping the George Sound Track, I knew that I would, for better or for worse, be slowly making my way to leave. But in the meantime, that didn't stop me from having a good time.
---



December 3-4


The day after returning from the George Sound Track, I relaxed in Te Anau, but I knew that it would soon be time to head out for the tracks again. I talked to Les and he told me about the Manapouri tracks and I thought they would be enjoyable.

The following day I got two quick hitches to the town of Manapouri, about 20 km. to the south. I rented a rowboat to cross the river to get to the track. Immediately I was in the mossy hummocks. I wandered the trail looking up and down, left and right, forward and back. In several places I encountered groups of fantails. They are a small bird that have, well, you can figure out what they have from their names. They flew around me chirping or they would land on the nearby branches and wag their tail feathers at me. I had the definite feeling that they were showing off. I don't know why fantails do that, but I like that they do.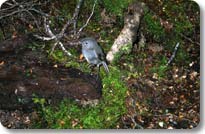 This track wasn't extreme stuff like the George Sound Track, but nice enough. As the trail went by, it got better and better. The mossy sections seems to go on and on. I walked along towards the hut where I would spend the night. I was pleased at all that was around me. I sat down to relax and who should join me but a bush robin. A pretty brave one too. He came right up to me and started pecking at my boots. Later two more bush robins joined me. They checked me out for a bit and then flew off to do "bird things." Yet the first bush robin still found me interesting. He stood on the ground next to where I sat. He kept looking at me and then pecking at my boots. Then, he would start it all over again. We spent a lot of time together. Eventually I had to leave my little friend the robin as we belong to different worlds. No, we belong to the same world, but we live in it differently. I from the world "out there." The bush robin belongs to the forest and the forest really belongs to it.

I arrived at the Hope Arm Hut on the shore of Lake Manapouri. I saw that a group of fishermen were staying there as they left their booze, nudie magazines, and cigarettes all over the hut. I have a sneaking suspicion how this evening will end up and I know that I don't want

anything

to do with it. I headed off walking to the smaller Back Valley Hut. It was so nice walking in the forest. The forest alternated between mossy gardens and deep green fern trees that were ten meters tall. I stopped and closed my eyes. Even though it was overcast, the day was pleasant. When I opened my eyes, the sun had come out and ground and mosses were dappled in the sunlight filtering through the trees. When I closed my eyes and reopened them again, the shade was back. It would continue to change like this for the rest of the day. You know, it really was a special trail. It's fairly gentle and I think that is what I was looking for this day.

I reached the hut and found that it was a dark, four-bed hut barely big enough to fit that number of people, but at least I was alone. It was absolutely overrun with mice, a dismal place—but immensely better than spending the evening with drunken fisherman. I had to hang my food by a string from the rafters to keep the mice out of it. It was ok sharing the place with the mice, they kept away from me and the rest. Everything has a right to live and it was their home after all, not mine.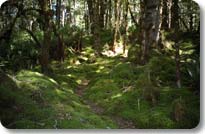 In the morning I walked towards Lake Rakatu. I sat next to the lake where I could see Mt. Titiroa, it's a mountain that looks like it's covered in snow, but is actually a light colored rock. The water in the lake looked like a mirror that reflected the nearby forest. I took the track nearly back to the Hope Arm Hut and then towards the Garnock Burn. There isn't really a track there. Instead it's a route (an unmaintained track), so I had some trouble following it. When the trail markings became questionable I choose a mossy garden, in which I sat for a long time. I didn't have far to go today, so I could take the extra time to relax. I hiked to the Back Valley hut and picked up my pack.

I slowly made my way back to the rowboat. I took the path that has a climb, but there the forests are a bit drier. I turned back after a while as I would rather be in the wetter forests covered in mosses and ferns.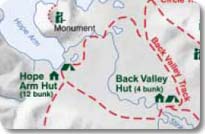 I knew I was approaching the end of the trail, so I found a lush section and sat down. I watched all the fantails around me, flitting here, fanning there. I like watching them. I knew that this might be the last time I sat among the mosses on the trail or even the last time I would do this in NZ. I was feeling ambivalent about that. I'm eager to move on, yet I still want to stay. Looking back as I write this, I should have stayed in NZ for months longer, but that isn't what happened. I continued my walk, looking at the tangled roots and rocks seemingly placed at random. A big patch of moss here, a bush robin over there, trees above, Mother Earth below, blue skies overlooking all of it. Yeah.

I got back to the rowboat and crossed the river. It really was a perfect day to be tramping. Not a cloud in the sky. It was warm, but not too warm as I was cooled by a breeze through the forest that made sure that I never became uncomfortable. I was able to spend the whole day experiencing that perfection. The Manapouri Tracks aren't ever going to be confused with the Dusky or George Sound Tracks. Those tracks are so spectacular as to be in a separate league. Few places can even begin to compare with them, but that doesn't take away from where I was the last two days. I think of the Manapouri tracks as Fiordlands Lite. It gives you a good picture of what the area is like without knocking yourself out. It stands on its own merit and it was good to have been there.

A quick hitch brings me back to Te Anau and the rest of the world or at least a small part of it. I spend the evening with a German woman, Michaela. She said she was two weeks behind on her diary as it is more interesting to meet people from all over. I think I understand where she is coming from.



December 6-8


I said goodbye to Donna, Les, and Dawn. It wasn't farewell, rather "see you again" as I know that I'm coming back some day. If there is one thing I'm certain about my life, that is it. I really didn't want to leave, but I had to. As I write this, all I can keep thinking about is how happy I was in Fiordlands. New Zealand is one of my favorite places and if I had to pick a place I like the most there, as difficult as it would be, I'd say the Fiordlands area is my favorite. I keep thinking what a colossal mistake it was to leave without going on this track or that track, but I will be back. With an empty feeling, I walked out of town.

At least I could console myself with getting to hitch again and after a few minutes, Johann stopped. He was going to Queenstown, so it would be a fairly long ride. I got along well with Johann and he told me quite a bit about Sweden. That's another place I'll have to visit some day. He dropped me off outside of town and I got another ride in three minutes from a nurse who worked all over the world on movie sets. She was going all the way into Dunedin and she dropped me off at the Octagon. This is the main "square" at the center of town and is called the Octagon as it is shaped like one. Pretty basic, huh?

I stayed at a hostel a few blocks away and met Danny. A mountain bike racer from Guernsey Island in the English Channel. A speck of land so small that bike races have laps that are under five minutes long. He tells me that you lose count of how many laps you do. I imagine so. No matter what type of cycling they do, it always good to talk to someone with a passion for riding. It's in the blood and it doesn't go away. Later I went downtown and met Potato Man. There is a small potato stand in the Octagon where Valerie and I shared a potato two years ago. I certainly had to get another potato if I was in Dunedin. The following day I took care of business in regards to going to Australia. I was ambivalent about leaving. I really wanted to get to Australia, but I still wanted to stay longer in NZ. For better or for worse, I bought the plane ticket. Later I went to the Speights brewery to pick up some goodies for my friend Nicholas. He missed Speights, which they don't have in Switzerland. They couldn't have been more helpful. "Would you like a shirt? How about a carry bag? Do you want some..."

The last thing I had to do in Dunedin was to go to Taiaroa Head where there is a colony of royal albatross. A woman who lives a very simple life of raising organic strawberries picked me up. It was a short ride, but I'm sure if we had more time together, I would have found her even more interesting. Once out to the albatross colony, I just watched them fly. I looked out over the endless ocean and watched the birds come in. I sat for quite a while, noticing just how blue the ocean can be. As a hang glider pilot, I can really appreciate how good these birds are at soaring in the breezes. They can glide like no other bird on their slender wings that are up to 3 meters wide. They are clumsy on land, but poetry in the air. I don't think I'll ever tire of watching them fly. Eventually I hitched back to Dunedin, meeting a guy who wanted to set up a private tramping track. He was quite interested in talking to me with all of the different tracks that I had done over the years. Once back in Dunedin, I spent the evening quietly, as I did most of my day.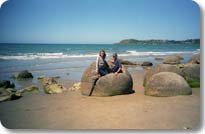 I wandered the town in the morning before beginning my hitch to Oamaru to visit friends. I arrived at a hitching point where a German woman, Anne, was already hitching. We decided to hitch together as a male has an easier time getting a ride with a female. A short time later, a guy who can only be described as "interesting" looking, starting hitching nearby us. I asked him to go hide in the bushes as three people waiting for a ride will never get picked up, so it would be quicker for all of us if he hid. He thought it a good idea, so he went into the forest and sang songs to himself. A minute later, another woman comes to hitch and parks herself right in front of Anne and me. It took a bit of convincing, but eventually she goes to hide in the bushes too. Once they hid themselves, it didn't take long to get picked up by Net Guy. He was a very fun computer consultant who had a sense of humor quite similar to mine, something not always easy to find (or tolerated). We entertained Anne with stories of the Darwin Awards (where people kill themselves doing dumb things) and other such wisdom. Net Guy was going all they way to Christchurch and I wish I could have accompanied them all the way, but Oamaru is only halfway there. It was one of the most enjoyable rides I've ever had. Sometimes I think that I should have been more free-spirited and taken the ride to Christchurch and then hitch back to Oamaru, but I wanted to make sure that I saw my friends. I guess someone hitching around NZ is pretty free-spirited, but it doesn't always feel that way.

Net Guy and Anne dropped me off in Oamaru. I went to Michael Obrien's bookshop. He makes books by hand using equipment that looks like it's one-hundred years old, actually the equipment is that old. He and his assistants are real craftsmen of the old methods that we don't see very often anymore. It was nice to meet them again and they remember Valerie and I visiting them a few years ago. Next I went to meet Des and Joan, whom I met a few years ago. They made me a nice home cooked meal and introduced me to some of their friends. Des brought me to the wool factory that he worked in. They start with raw wool at one side of the factory and emerge with the finished product at the other end. It was a very interesting place to see, but I wouldn't want to work there (or anywhere else for that matter). Des seemed to agree with me.



December 9


Des and Joan cooked a nice breakfast and dropped me off north of town. I was on my way to Christchurch. After two minutes a car pulled off the road ahead of me. It was far enough away from me that I wasn't sure if he was stopping for me or not. Besides, the guy was wearing a suit jacket and they don't stop very often for hitchers. As I walked past the car he asked me if I was going to get in or not. Mick was a landscape architect who only worked when he wanted to. We got along well and eventually I told him how I wasn't sure if he was stopping for me. Just goes to show how we can't judge people on shallow measures like appearance. Mick was in his 60's and told me that how everyone used to dress the same, and how much he likes it that people can now pretty much wear what they want. I guess I'm so used to this that it never really occurred to me, but I guess he's right. Forty years ago, I probably wouldn't have been doing what I'm doing. I told Mick that I was a bit sad as this was my last day hitching. In fact, Mick was going all the way into downtown Christchurch, so it was my last hitch period. I was really going to miss standing on the side of the road with my thumb out and not knowing who would pick me up next.

I looked around downtown before I headed off to find Rob. He is a friend of Gareth's whom I met when I was last in NZ. I wasn't sure where I was and approached a guy in a tie and very cool shades. Before I could ask him he said my name, it was Rob. He brought me back to his house and we went out to mountain bike ride in the hills above the city. Rob arranged for a ride with several of his friends. Nothing like a good ride to console me about missing hitchhiking. I thanked Rob for bringing me out on the ride and he thanked me for getting him motivated to get a ride organized. Yeah, a good time it was.



December 10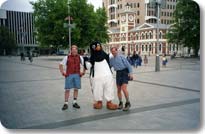 Rob dropped me off downtown and I left my backpack in his car where I would pick it up before I left for the airport in the afternoon. I wandered into Cathedral Square and saw a guy dressed in a penguin costume. Now this was someone I had to meet. He was giving out free samples for a snack company. He got to dance around and make people laugh. You should have seen how the children flocked to him. After that, it was off to meet Gary. A few years ago Gary gave me a ride when I was hitching out of Dunedin (at the same place I was hitching with Anne). He stopped when he recognized I was a mountain biker because of how I was dressed. It was good to see him again and it was as comfortable being with him as the last time we saw each other. Gary is really into the outdoors and it's certainly something we both share. He introduced me to his dad who had worked in Fiordlands and was familiar with the George Sound area. I spent the afternoon with him and suddenly realized I was late for getting to the airport.

I hurried across town to Rob's work and found out that Rob had gotten called out on an emergency. He left the keys to his car, which contained my backpack, with a co-worker. The co-worker left for the afternoon (with the keys) without telling anyone. Now I was in a real pickle. They managed to contact the co-worker, but I had missed my bus. The secretary ordered an airport taxi for me. I said, "Please don't do this, it isn't necessary." She said, "It's already done" as she handed me a company charge slip to pay for the ride. "Have a nice trip" she told me with a smile as I walked out to the street. That's what I like about the people of NZ, always pleasant, to the very end.

I really like the Kiwi people. I think they are the nicest in the world. I sort of think of them as stuck in a time warp, maybe a generation or two behind the rest of the western world, but I mean that in a good way. They are very friendly and still have a certain trust in people. How many other places do single women pick up male hitchhikers? I find them to be kind no matter where I go. During the last month, I only met one unpleasant person. Now I know that the Kiwis might look at their coworkers and neighbors and wonder how I can think this, but this is my experience. They are pleasant, helpful, have a sense of humor, and don't take themselves too seriously. To me, these are marks of a decent society and a decent people.

When the taxi came, he passed me right up and didn't really notice even when I walked up to the cab. When I got in I asked him (with a little smirk), "I bet you weren't expecting someone who looks like a vagrant on a call to Tonkin Taylor Engineering?" The taxi driver said this wasn't so, but I knew it was and I was ok with that.

I arrived at the airport and checked my backpack. I wandered over to the Antarctic Museum next to the airport. About a year ago I had some dealings by phone with Shirley, the giftshop manager. I met her and she said, "So you're Craig!?" She was quite interested in my travels and how I race mountain bikes wearing cycling tights adorned with penguins that she had sold me. She gave me a ticket to the museum. I had a look around and let time slip by. Once again, realizing that I was late for getting on my flight, I hurried back to the airport terminal. As much as I didn't want to leave, it was time to go. I got on board and met Michaela, the woman I spent time with in Te Anau.

The plane flew west over this magic land. It was very, very hard to leave, but not as hard as it was to leave the first time. The two situations were very different. My first trip to NZ was the greatest experience of my life. This was a different experience, fantastic in every way, but different. I guess I consoled myself in that I still had a lot of travelling in front of me to look forward to, whereas when I was leaving last time, I was slowly heading towards home. I had made a decision that I would spend no more than thirty days in New Zealand and I stuck to that. As I flew out of the country, I realized what a big mistake that was. At the end of my travels, I would come to think of this decision as the biggest mistake of the whole trip. Yet at the time the decision made sense. So it goes.

This country is one of the most amazing places on the face of the planet. I'm so happy that I got to return there for a second time and I know that it won't be the last time I go there. It makes me happy to be in a place where I can hitchhike anywhere I want to go. I like the barren, windswept mountaintops and the lush, wet valleys. I like the blue skies and ocean waves. I like the endless vistas and the moss covered tree that is right in front of me. I think the people are among the most pleasant and the land heartbreakingly beautiful.

All these thoughts crossed my mind as the plane flew west to another place that I would come to love. I looked down and saw the Alps. I didn't get to see them very much as it quickly clouded up. I just smiled as I knew that underneath those clouds lay something beautiful.