Hitching Around:
The first thing I did after arriving in New Zealand was that I started to hitchhike. I spent a few days hitching around the North Island and then headed south. Once there, I walked a track and yes, did some more hitching until I arrived at my final destination of Fiordlands. This chapter isn't your typical travel story. It's not so much about what I saw, but who I met on the road.
---



November 13-14


I landed at the Auckland airport and looked for my friend Gareth, but he wasn't there, so I had to hitchhike right from the airport. I was a bit pessimistic about getting a ride. I had set a goal for myself where I wouldn't spend any money on transport. I would walk or hitch or do whatever--anything but pay. It wasn't a matter of money, it was just something I wanted to do. After 35 minutes I got a ride from three Indian guys who made me laugh as we rode along. There aren't a lot of places where you can get a ride right out of an international airport, but New Zealand is one of them. They gave me a ride to a motorway where it took me two minutes to get a ride. Three Maori (indigenous NZ people) guys welcomed me to their country and gave me a ride to the south. After a fifteen-minute wait, a guy in a construction truck stopped. He had to repack his truck so that I could fit in, apologizing the whole time about it. It's part of what makes hitching fun. After that ride, it took me two minutes to get another one. Two women who were on the way to visit a relative in a nursing home stopped. They were going to cancel their visit because I was with them and I had to talk them into not doing that. Even then, they repeatedly asked me if it was ok. I told them that I was in no hurry and once again, it's part of the fun. They drove me right into Gareth's hometown of Hamilton and even bought me strawberries. What more could one want from a day of hitching?

I arrived at his house and greeted my friend who saw me off from my last NZ trip. He seemed a bit distant and told me that he was too tired to pick me up from the airport. I spent the evening with him and his wife Claudia. We had a nice time and perhaps my feeling that he was distant to me was mistaken. I've spent some good times at his home and it was good to be back.

The following morning Gareth and I went to town to do a few things and he said that I would have to leave tomorrow as he wanted to spend time with Claudia. I was really surprised by this. He asked me if I was hurt and I told him I was. I live halfway around the world and who knows the next time that we would cross paths and it seemed strange being asked to leave less than 24 hours after arriving. I guess people have to follow their own path. Later in the afternoon we went to the West Coast to an immense beach on which we were the only people. There is a hot water volcanic vent somewhere in the shallows. We could detect its sulfurous smell, but couldn't quite seem to find it. We had to console ourselves with some fine red snapper on the shore. Later that evening, I got a call from a Dutch friend, Rob. He is someone I traveled with on my last trip to NZ. It was good to talk to him and it brought back so many memories of my last trip. It was a weird, though pleasant, feeling to be back in this country.



November 15


I did some shopping before meeting Gareth for lunch. I guess we came to an understanding of sorts, but I was still hurt. I walked to the outskirts of Hamilton to begin hitching. A guy at a gas station saw me walking with my pack and asked where I was going. He told me to hop in and off we went. His name was Renick and he was the happiest guy in the world. He couldn't have been more pleased to be exactly where he was, even if it was Highway 3 going south out of Hamilton. He told me about some of the fishing he had done in fiords of the South Island (where I was heading in a few days). It was a real pleasure to get a ride from him and it was too bad that it was only a 30 km. ride to the town of Te Awamutu. Less than a minute later I was picked up by a civil engineer named Karen, who told me how roads were built, and gave me a ride to Kihikihi. I started to walk to the edge of town where I could find a better hitching spot, but I was picked up by Yates after less than 100 meters of walking. He gave me a 20 km. ride and when I got out of his truck I noticed a car about to turn onto the road. The car, driven by Mary and her son, stopped to pick me up before I had to walk a single step. They gave me a ride of 30 km. to where they had to turn off the highway. I started to walk, hoping my hitching luck would hold, but it didn't.

I walked quite a bit during the wait and got to see the green, rolling hills of central NZ. It took about fifty minutes to get a ride, but even that isn't that long of a wait on some days. A woman, Eltje, stopped to pick me up. She was cyclist, so we had plenty to talk about. She was from Germany and visited NZ on a vacation, got married, and decided to stay. She drove me to the town of Te Kuiti and told me exactly where to hitch, "Beyond the bridge, but don't go up the hill" she said. I followed her instructions and got a ride from a pleasant couple, Don and Nancy, in less than three minutes. They drove me to a point where the highway splits. Three minutes later, Neil stopped to pick me up. He was somewhat gruff with a voice of gravel, but pleasant in his own way. He gave me a ride through the scenic countryside along with a discussion of politics. We could see Mt. Taranaki from far, far away. It appeared massive and beautiful and in a day or two, I would be climbing to the top. He gave me a ride to the town New Plymouth. I didn't know where I wanted to be dropped off, so I picked a backpackers at random and he drove me right to the door.

The man who lived next door noticed me poking around and told me that the backpackers was closed and offered me a ride to another one. His name was Tom Clow and he was a clown ("Just add an "N" to my name and you have 'Clown'" he told me). When I say he was a clown, I don't mean in a personal, figurative sense, rather in a literal sense. You know, red ball nose and funny socks sort of clown. I mentioned that I was a serious bicyclist and he brought me to his garage and showed me his cycling creations. One of the bikes had a bed frame welded into the middle. He cut up several bikes and created bikes made for two, some of them designed to ride extra high off the ground and others extra long and all sorts of things. All of them were of his own design created out of old bikes and a welding torch. He told me how he likes to make people happy. I related to him how I dressed up like a lobster and made people laugh and I think I understood how he felt. We talked about funny stuff for quite a while before he gave me a ride to a backpackers. It was a nice backpackers, but it all paled beside the great day I had hitching. It reminded me of how much I like the Kiwis (New Zealanders).



November 16-17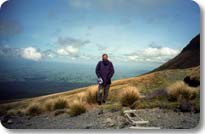 I took off on my hike up the 2500-meter tall Mt. Taranaki. It's not the highest mountain, but it's striking in that it's a perfectly shaped volcanic cone that rises straight out of a flat plain. The day was blustery and cold and the higher I climbed up the loose slopes, the colder and windier it got. Eventually the clouds settled in on the mountain. Every year, someone dies on this mountain and with the clouds, I wouldn't have been able to see any incoming storms, so I turned back. I met two women who made it within fifty meters of the top, but turned back as it was getting too icy. They showed better judgement than I probably could have mustered.

In the morning, I was eager to get out hitching again. It's not only where you go or even the journey, it's also about how you make that journey. At this point, it was about seeing the countryside but also about meeting the people. I just like to hitch. You never know who will pick you up and every single person I've met had something interesting to say. In that spirit, off I went.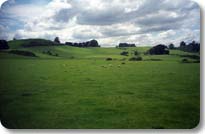 It took me a few minutes to get a ride from Christian. He was a tramper (NZ term for a hiker) and told me about some of the tracks that he had done. He dropped me off in the town of Eltham where I was picked up by three people. They mentioned that I looked very fit. "How do you stay fit? Do you eat healthy?" I said, "I had two bananas and strawberries for breakfast." "We had battered fish! Think that might be part of the problem?" they replied. A national election was coming up and one them said, "The party that I'm voting for is trying to legalize marijuana. Even the Bible says that you should partake of the herbs of the Earth." I looked at her with a sly smile and asked her, "Exactly how many other passages in the Bible can you quote?" All she could do is manage a sheepish grin. Her friends got a big kick out of that.

After that it didn't take long to get a ride from Larry. It was a tad crowded and it took some effort to keep my feet out of the cat box with my pack on my lap. His stated destination came and went and I experienced one of the rare times that I felt fear when hitching. I became a bit more concerned when he turned down a small road. What was he up to? I asked him where he was going and he said, "Oh, sorry about that. I'm retired and I really don't have any place to go today so I thought I would keep giving you a ride. I'm just heading down to my house to pick up a few things." His home was a small shack on a farm. He lived a simple life and seemed content with it and made sure to introduce me to his dog. He then drove out of his way to Palmerston North. On the way, we stopped at Ohakea air force base. Larry is ex-military and likes to watch the planes. We saw the entire fighter wing of the NZ air force (all five of them, 60's vintage at that) practicing. Between the tarmac and us was a short fence that said, "Entrance strictly forbidden." I don't know how serious they were about this as the gate was similar to the gates in many people's gardens. I mentioned to Larry about the type of security they have around air bases in the U.S. He told me that Ohakea had short wire fence around the base, mostly meant to keep the sheep off the runways.

After Larry, I was quickly picked up by Toby, an officer in the NZ army. He had done some peacekeeping in Papua-New Guinea (one of my future destinations), so he had many stories to tell. He drove me to the outskirts of Napier. Sticking to my goal of not spending money on transport, I had a long walk to the city. I asked someone how far it was to the center. "Hop in." she responded.

I stayed at the Waterfront Backpackers where I met Anne. She smiled at me when I arrived and I liked her smile. We talked very late into the night and went out and sat on the ocean. We talked of history, of nature, of all sorts of things--all to the background of the breaking surf. I really enjoy this travel thing and I really enjoyed my time with Anne. It's so rare that I meet someone like her back home.



November 18


I wandered around Napier, enjoying the unique architecture. It's a nice town that was rebuilt in the Art Deco style after being devastated by an earthquake in 1931. Afterwards, I said goodbye to Anne and began the long walk out of town to a hitching spot. It took me about ten minutes to get a ride from Nathan who was on his way to Auckland. He drove me to the Auckland/Gisborne split in the road. After that I was given a ride by a woman who told me about Maori day care. It only took me a few minutes to get picked up by two happy guys, Ray and George. We shared some laughs as we drove along the twisting roads up to Raupunga. They reminded me of Renick in that they too seemed pleased to be exactly where they were.

After that, Peter drove me all the way into Gisborne. When Peter first saw me he was passing a truck and couldn't stop. He drove down the road until he found a safe spot to turn around. He actually came back to pick me up. Not something that most people would do. He showed me around Gisborne and drove to a hill where we could overlook all of the town and the sea. He then drove me to the outskirts so that I would have an easier time hitching. After that Kalarni gave me a ride of about 15 km, it took me a minute or two to get a ride from Frank. He was an auto dealer who outfitted cars for the handicapped. I told him I was surprised that he stopped for me, as I had never been picked up by a person wearing a tie. We hit it off immediately. We drove through deep, beautiful valleys and he offered to drive me all the way to Hamilton, but I would have gotten into town too late to call Gareth, so he dropped me off in Tauranga. He didn't know where to drop me off, so I just picked an area. I stopped at a gas station and asked if there was a backpackers nearby. The attendant said that it was far away, so he recruited two customers to give me a ride. Once again, Kiwi hospitality at its best. I really didn't do much today except for hitching, but that is what I wanted. I met some great people and saw some beautiful country. What more could you want?

November 19
I had a long walk out of Tauranga to get to a good hitching point. The backpackers offered to drive me to the hitching spot, but I would have to pay the $2 for a bridge toll. It was a nice offer, but I wanted to stick with my goal of only free transport and walked. I had to walk 9 km. (and sometimes one wonders if it is worth it for $2) to where the road splits. After the split, it took me less than a minute to get a ride. Once people knew which direction I was going, it didn't take long.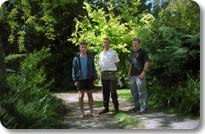 This ride brought me into Te Puke, where once again I stuck out my thumb. Two guys passed me up giving me a signal, pointing to the left, which usually indicates one is going to be turning off the road shortly. Actually they meant to indicate that they were pulling off the road to pick me up, so I walked right by them where they had pulled off for me. They took a side road, saying they wanted to stop for some tea. I thought it a bit different, but it was ok. Pete and Max introduced me to their father Collin when we arrived at their house. They got out some food and made me lunch and showed me around their place. They bought their house very cheaply as it was moved from another farm. In fact they had to cut the house in two before they moved it and they showed me the seams where it had been patched together. The four of us spent many hours talking the afternoon away. It felt like I was with old friends. Max created art and showed me some of his work. They asked if I wanted to spend the night there as I had been there 6-7 hours already, but I said that I had to get moving, so they brought me back to the road. They owned a fruit orchard and before I left, I received a tour of the grounds and was given a whole heap of fruit. In the morning I had decided that I wanted to get to the South Island as soon as possible and this is why I wanted to move on. I regret doing that and once I left, I wished I had spent more time there. Those three guys were really great. When travelling, schedules can be a real bad idea. I guess we live and learn. Before they dropped me off, Peter and Max told me that they had picked me up as they said I looked "mature." I tried to discover what they meant by mature. Did they mean "mature" as in I looked wise or "mature" as in "you looked too old to carry that pack in the hot sun and we thought we would help you out because it looked like you were about to keel over" sort of mature? I never did find out.

It took me less than ten minutes to get a ride from Ian. I found him a pleasant conversationalist and he told me that I would do just fine hitching anywhere in NZ saying "You have the perfect personality for hitchhiking." Yeah, that's a compliment. After a brief wait, I was picked up by Michael. He was a serious hunter and knew about George Sound (an area I was going to visit). He was a part-time writer who gave me some lessons in Maori. I was picked up a short time later by Steven, another serious hunter who also knew of George Sound. He made some suggestions of areas that I might go hiking and of ecological issues. His truck was loaded down with gear as he was on a hunting trip. He was running late to meet a friend and apologized for having to drop me off outside of the town of Taupo. It was only a few km. walk so I told him it wasn't a problem. It was too short of a distance to hitch, so I walked.

A woman named Dinis stopped even though I wasn't even hitching. She said that she would drive me to a backpackers. She apologized to me saying, "I usually would put you up for the night in my house, but my husband is out of town and…" I told her, "It's ok. You don't have to apologize for that." The backpackers was just down the street from her house and she asked me to come over for breakfast in the morning.



November 20


I went over to Dinis' house and she cooked me a fine breakfast. She got her car out and showed me some of the local scenery. Afterwards, she dropped me off outside of town so I could continue my journey to the south. There was a group of motorcyclists riding south and just behind them was Jill, who stopped to pick me up. She had done a lot of hitching herself, including on a cotton truck in Afghanistan that never went faster than 10 km/h, so she always picked up hitchers. We had some great conversation including a bit of good-natured verbal sparring. She picked up another hitcher who when asked his opinion said, "It's quite interesting to just listen to your conversation, besides I couldn't keep up with you two." After the ride with Jill, I got picked up by Richard. He was a Chinese man from Jamaica who was living in New York City. He had quite an interesting story and drove me all the way into Wellington. I did some shopping in town and in the meantime, it started to rain. I asked someone where the ferry terminal was and they ended up giving me a ride there rather than letting me walk in the rain.

Even though I was determined not to spend any money on transport, I had to pay for the ferry. There simply was no way around this one. I met the group of motorcyclists that I had seen near Taupo. I was goofing around with them and one of the riders, a very attractive blond woman in black leather, said to me, "I didn't get a good look at you on the road. I'll give you a ride

anytime

you want." I probably should have said or done something…but I didn't have the foggiest idea what.

I also met an Australian couple from Adelaide. We were talking for a while and I asked, "Do you guys ever box kangaroos?" He rolled his eyes as if to say, "What do you think we are?" I said, "I know that you don't do it as a regular matter, but does it ever happen?" His wife piped in, "Actually there is Max. Our neighbor has raised a kangaroo named Max from birth in his backyard and he does box with him. Occasionally Max gets too enthusiastic and gives him a kick, leaving Mike with bruises. So we do box kangaroos." They told me that if you were to box with a kangaroo that wasn't tame, it would kick the crap out of you. I couldn't wait to see Australia.

When the ferry docked in Picton, I made my way to the Juggler's Rest, a wonderful hostel run by juggling fanatics, with nightly juggling and fire-eating lessons. The juggling lessons bring people together as they try to work it out and everyon has a good time. It's a small, homey place, with plenty of places to lounge around and beanbag chairs on the floor. They didn't have a TV--which is one of the best decisions that a backpackers can make. Juggler's Rest would be the best place that I stayed at for the entire three years.



November 21-23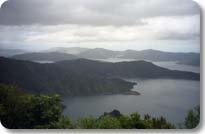 The Queen Charlotte Track was my reason for being in Picton. After catching the boat across the Marlborough Sound, I began the trail by climbing up the muddy and somewhat slick hills. This isn't anything that I couldn't handle, and certainly not anything like I knew I would be facing in the weeks ahead. The forests were pleasant and I had nice panoramas of the water and shoreline. It started to rain, but once again, nothing that I couldn't handle. I got a place to stay for the night and met a nice couple who ran the lodge. They had just taken over the place and I talked with them about our family's experiences when we ran a resort. I had a room all to myself, well, not quite by myself. I did have a curious mouse to share it with, but that was ok with me.

It was sunny and clear when I left in the morning. I had a lot of climbing to do that day, which is what I wanted. Later in the day, it clouded up. This would turn out to be a good thing in that it helped to keep me cool on the climbs and there wasn't much water to be found on the track. The forests were nice, but the highlights of the day were the many views of the Marlborough Sound far below. There were many islands and inlets that I looked at from on high. I arrived at the Cowshed Bay campground at around 8 p.m. and was greeted by the very pleasant campground hosts. I had been on the track for almost ten hours. It was good to know that I could be tramping for an entire day without tiring at all.

The next morning I met a German woman on the trail. We walked together, but she was tired and her feet hurt. Whenever her feet would start to hurt, she would ask me to tell her a funny story to keep her mind distracted. Sometimes I couldn't think of a good story, but we would talk and before long, I would think of another funny story to tell her. It was nice to walk the Queen Charlotte Track, but just as important is that it was a warm up to tramping the George Sound Track down south in Fiordlands. If I could feel strong the whole way and know that I hadn't lost any of my fitness in the last month, I would be ready to go. After today, I could say that I felt not just good, but great, and I was ready for a tough track.

I took the boat back to Picton and returned to Juggler's Rest. I had a pleasant evening of watching everyone juggle and sitting around with the other travelers. I met a guy who had tramped the Dusky Track and wanted to do the George Sound Track, so we talked of Fiordlands. I stayed up long past the time that everyone else had gone to bed, enjoying the quiet. I often stay up late or get up early for this reason. I really came to like Juggler's Rest.



November 24-26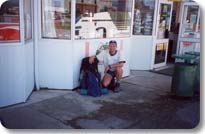 I would be heading south in the morning and see where I would end up. It took me over an hour to get a ride out of Picton. I was picked up by a father and daughter in a beat up yellow car. It's the sort of car that you see coming down the road and you know that regardless of how long you've been waiting, this is the car that will pick you up. They gave me a ride to Bleinheim. I walked 6-10 km. out of Bleinheim before I got a ride. Some days hitching are harder than others. Dean, a flooring contractor who lived near Christchurch, picked me up. I was surprised to get a ride from him as he was driving a large work truck. These trucks usually don't stop (due to insurance regulations) and he told me that he didn't usually pick up hitchers, but today he made an exception in that he thought I would "have an interesting story." So we drove for a few hours telling each other interesting stories. He drove me south of Christchurch to a good hitching spot and we said goodbye. It only took me a few minutes to get a ride from a Scotsman who came for a visit many years ago and decided to stay. He told me that he could only give me a ride for 30 km., but he didn't like passing up a hitcher. So he gave me a ride to Dunsadel. It was only a brief wait to get a ride from a very tough looking sheep shearer who was covered in tattoos. He looked a bit intimidating, but was friendly as could be. He drove me to Ashburton, but couldn't drive me into town as his license had been revoked. The local police knew him by sight, so he dropped me off just north of town.

A few minutes later, Ray picked me up. He was only going to Timaru, about 75 km away. I mentioned that I might stop there for the evening, or try to hitch to Oamaru. He said, "You'll make it to Oamaru tonight." When we got close to Oamaru, I mentioned that I might try to get to Palmerston and he said, "I think you'll make it there tonight." He did this a number of times and I finally asked, "Why do you keep changing your how far you're going?" He said, "You seem pretty cool. I don't tell a hitcher how far I'm going, I only tell them I'm going to the next town so that it is easier to get rid of them if I have to. One time I was going to be driving all day and I picked up a guy who was going to the same city. This guy turned out to be a complete nutter who thought he was a dog. He barked and said he needed to go the veterinarian to get his fleas treated. Now that was a

long

ride. Now I tell people I'm not going far and see how it goes." He liked me and he was going quite far south that night. We drove on through the night and had good time talking and stopped at his brother's house. He offered to put me up at his house for the night and we didn't arrive until 2 a.m. It was nice to stay in a house for the night.

In the morning I realized that I was in the town of Kaitangata. I had covered a lot of ground yesterday, about 850 km. Ray offered to let me sleep late and have his wife bring me back to the main highway, but I didn't want to impose on her, so I got up at 5 a.m. and went with Ray on his way to work. He dropped me off on the road to Te Anau. Seeing signs for the town of Owaka brought butterflies to my stomach as it brought back so many memories of the time that I spent in the Catlins with Valerie two years before. We had some really special times there and I wanted to go back, but without her, it wouldn't have been the same.

It took me over three hours to get a ride as I was hitching at sunrise and there wasn't much traffic, but still, the hitching really stunk that morning. I was eventually picked up by Grant. He asked me if I could drive as he was quite hung over, which was the primary reason he stopped. Hey, whatever it takes to get a ride. He was on his way to Invercargill where there was a conference on, of all things, a change in the liquor laws. He dropped me off in Clinton where I got a ride from Bernadette, a school caretaker from Gore. She said that she picks up hitchers even though sometimes "my heart is in my throat." I told her not to worry about me as I was "relatively harmless."

After she dropped me off, I stood by the road hitching in Mossburn near a field, in which were many newborn lambs. They jumped around and played with each other and enjoyed the start of their lives. Absolutely adorable. A short wait later I was picked up by a woman who worked at one of the lodges on the Milford Track. The accommodations sounded positively decadent, nothing like what I was expecting on the George Sound Track. I think I'll stick with the way I am on the tracks. She gave me a ride all the way into Te Anau.

I had spent a fair amount of time in Te Anau and the people who ran the Te Anau Backpackers remembered me from a few years back. I met Les and Donna at that time and got to know Dawn who worked at the desk. They said it was nice to see people returning. I had to say I felt the same way. I like it there and it's a comfortable place to pass the time.

The following day went by quickly as I prepared for George Sound, arranging a boat, an emergency beacon, and so on. The last few weeks had seen severe flooding in southern NZ, a place that gets more rain than almost anywhere else in the world. The Department of Conservation warned me, "No one has been on that track for weeks. It could be completely flooded or washed out. You might be stopped by slips (landslides), or you might have to sit in the first hut the entire time if the track proves unpassable. Do you understand this?" I said, "I've been looking forward to this for years--nothing can stop me." And so I went.