Lukim Yu Bihain:
This is "Goodbye" in Pidgin. The last months had been a wild time but my visa was running short.
---

The boat arrived in Lae at 10 a.m., many hours late, but did you expect anything else? I dreaded the PMV ride to Madang and it was every bit as awful as I feared. I was worn out from the ride and faced another full day of poor roads. Well, at least the scenery was nice and we only got two flat tires that day.

I checked into the guesthouse and met Saimon, a high school principal. I was pretty miserable, but he made the day better. Funny how that works out. I had the feeling that I was losing the plot as far as traveling went and had really lost direction. Also, the "It doesn't work" aspect of the country was starting to take its toll and was sometimes losing patience with that.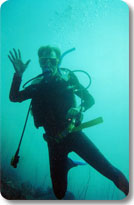 I tried diving in Madang and both days it was lousy at best, little in the way of pretty corals and fish. None of the diving in the country was enjoyable; a big disappointment. Upon returning from the last day of diving, I had a woman begging me in the streets. It was quite a surprise as panhandling isn't the norm. I was begged less in the last two months than I was in a day (and everyday) in some countries and PNG is poorer than the others. Jack, from Haus Poroman, said to me, "People here don't like to sit around with their hand out." On a one-to-one basis, that certainly is true.

Ralf from Wewak mentioned that there are only 3000-5000 tourists a year in PNG. Most of them go to resorts which they basically don't leave. That leaves limited numbers of independent travelers and as such, you can go places where few, if any, have gone. It also means that the Papuans really don't view tourists as exclusively an income source as they do in some countries. There were a few people who tried to cheat me, but far less than most places. It's kind of refreshing.

I think the best part of Madang was meeting Paul and Kira. He was hard of hearing and she was a teacher skilled in sign language. They were working on programs which would help deaf people. Something that, due to economic considerations, is sadly lacking. It was nice to spend the evenings with them. I mentioned how often noise make sleeping difficult for me. Paul said, "I just turn off my hearing aids."

We sat in the park and watched the flying foxes hanging upside down by the hundreds. As dusk approached, they would gather up in large flocks and fly over the park. Kira looked up and said, "I hope they don't poop on us." Ten seconds later…they did. I know that flying foxes are fruit eaters because the big splot on my leg was filled with seeds.

I wasn't up to a PMV ride to Goroka, so caught a flight and Robert picked me up. We spent the day together, often watching rugby. He is from Australia, after all. In the evening, he relinquished the TV so that the downstairs neighbors could watch Xena: Warrior Princess. The show was every bit as painful as I imagined but they hooted and hollered the whole hour. I spent the next day goofing off in Goroka while Robert was flying. I was supposed to fly to Port Moresby the following day, but didn't feel like dealing with that and spent another day with Robert. I tried to buy some more supplies for Mengino but once again, the credit card system was down.

We went out to eat in the evening and he discussed security. He had a hefty metal door on his house and within a few days of moving in, someone tried to break it down while he was inside. When called, the police didn't want to come out and help. He hired a security guard and his house was broken into several times. The burglaries stopped when he fired his security company. Go figger. He mentioned that they had a very substantial parcel of pot sitting in their hangar that they had picked up from the highlands. They notified the police, who were waiting for someone to claim it. It was from Maimafu. Somehow that wasn't surprising.

On my final day in PNG, I once again tried to buy supplies for Mengino and still, the credit card system was down and I didn't have enough cash. To the end, PNG faltered. I think they should adopt as their motto:



Papua-New Guinea: The country that doesn't work


I don't mean to be harsh, but it's something that frustrates the Papuans to no end also. I heard many people say something similar to, "I wish the Australians were back. Things worked better. The roads, the schools, the electricity was better. We didn't have control of our government then but we don't have control of our government now either." When the subject came up, only one person I met said that he was glad they were gone. I pass no judgment on either opinion, but that is what people said to me. However, it's impressive how resourceful the Papuans are and they keep going on.

I said goodbye to Robert and he flew off to the highlands. The airport terminal was crowded and there was a problem with one of the planes, so two planes that were supposed to be leaving that day were down to only one. There was a crush of people to get in line for the remaining plane and there was no way I would be able to get on. Well, in most places that would be the case but the Air Niugini workers pushed their way through the crowd and escorted me to the front of the line. I still have problems with this rock star treatment…but I guess not enough to refuse and learned not to fight it, just go to the front of the line.

The plane flew over the gorgeous highlands with its endless ridges that went to the horizon. I was going to miss those ridges more than I could know. After landing in Port Moresby, I took a bus downtown to the main post office to try to track down a package which had been in PNG for weeks. On the way back, I saw a post office in Boroko (a suburb) and stopped just in the off-chance it was there. The package was there, no one knew how it got there, just that it was there and that was good enough. PNG was PNG, to the very end.

I was going through my diary and noticed that Air Niugini had given me 64 days on my ticket and my visa was only for 60 days. PNG is very strict about this and 500 kina fines result. When I approached the immigration officer he was sleeping. He awoke as we approached and smiled at me and said, "Hi! Did you enjoy your stay here?" He was so busy asking me about where I had been that he just stamped the passport. Maybe that legendary PNG "efficiency" isn't all bad.

At the departure gate, I met two missionaries who were also on their way to Cairns, Australia. Real old school hard-line bible-thumpers. One of them mentioned that witches should be killed. Our conversation went as follows:

Me: By witches, do you mean Wiccans?
Him: Mmhh.
Me: Do you mean spiritually killed or physically killed?
Him: Executed.
Me: So you're saying that all Wiccans should be killed?
Him: Absolutely.
Me: Is this God's work and commandment?
Him: It's our duty.


(my goal was to get him to repeat himself several times and make it abundantly clear exactly what he was saying and he repeatedly stated these actions to be proper)


Me: Funny you should say that. We're both on our way to Cairns and the woman I'm meeting there is a Wiccan. We'll be staying at the Esplanade Hotel and I have an idea. Why don't we split a taxi and I'll bring you to the room and you can kill her. There might be some legal consequences but hey, they'll be nothing to compared to the eternal rewards that will result. I'll bring you to our room and you can kill her. It's your duty isn't it?

With that, he went "Harumph" and turned around and didn't speak to me again. I can't say I was bothered by the end of that conversation. Good riddance. He is the perfect example of why many people, myself included, despise many missionaries.

On the flight to Cairns, the sunset was absolutely beautiful. The sky was afire with orange and yellow, capped by a midnight blue. Above this was the deep black of the night sky with a single brilliant planet shining. It was a good way to end my time in PNG.



Epilogue:


If asked to summarize PNG, it can be done in a single word: Wow!

Well, maybe a single word and punctuation.

It was one of the most incredible travel experiences I've had. Actually make that one of the most incredible experiences, period. There really weren't a lot of expectations but it was way different than anything imagined. Before leaving, people asked what I would be doing in PNG and I'd say hiking but the opportunities went far beyond that and involved learning about peoples' lives more than anticipated.

It's hard to think back of the looking out over the highlands and seeing those endless ridges and wanting to be back there so much. The same goes for the warm ocean waters. I miss the friendliness of the people and not knowing what I'd be seeing next. As far as traveling goes, it was one of the best decisions I've made. There are so many people, events, and places that will always remain in my memory.