Mt. Wilhelm:
Mt. Wilhelm is the highest place in PNG. Whether or not I actually went to the highest place wasn't important. On the other hand, if it's nearby, Why not?
---

Near Kundiawa, one could catch the first glimpse of the tall, jagged mountains above. These were way beyond the typical hills and ridges in the highlands, these were hard-core mountains. Seeing the high mountains of New Guinea was a priority of mine and these definitely fit the bill.

The road was basically a four-wheel drive track all the way to Kegsugl. Some of the bridges were pretty dodgy. Some had stones between boards that lie across the bridge to keep the wood from sliding around and before crossing passengers would check to insure the rocks were properly placed. On other bridges, it was simply a few planks lying lengthwise over a steel frame and I helped the driver get aligned on the planks. Upon arrival, I went up to Betty's Place which is a nice, comfortable guesthouse nestled in the hills.

At 6:30, Betty turned on a generator and the evening was wiled away reading books and relaxing. I met Somo, a guy who was working on an electrical line survey, so that Betty and the other locals wouldn't have to use a generator. I took the next day off to relax and procure a "guide" named Thomas, and have a look around the area. I wasn't entirely certain he was really a guide. He was supposed to be a "ranger" but wasn't sure what that meant and guessed he would have to do. I spent a good part of the day with Michael, a local student studying chemistry and commerce. He seemed very interested in the rest of the world and took in any science knowledge that I could pass onto him, constantly asking questions. He showed me a large group of people who had gathered. They were holding court. There aren't buildings with a marble fašade and judges in robes, just people sitting on an unused airstrip.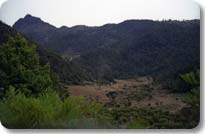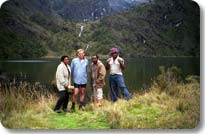 The next day my "guide" and myself were off to a hut on a lake where we would start our climb of Mt. Wilhelm. Somo and his wife would be walking with us, although they would be doing a different trail the following day. The climb wasn't that hard and parts of the forest resembled those of New Zealand. The similarities ended when we reached the lake. We were at 3000 meters on the equator, meaning the sun was beating directly down and there was little shade. We white guys don't always fare so well when the sun is so harsh.

In the evening, our group was joined by Kalli, a friend of Thomas, and we sat around the fire. They told me about the OPM, a group fighting the Indonesian occupation across the border in West Papua. Kalli was an orphan whose parents were killed in the fighting. Thomas' family adopted Kalli and they now call each other brother. The guys told me about "bride price" which is the practice of giving gifts and money to the family of the bride. It consists of pigs, a substantial amount of money, bird of paradise feathers, and other traditional gifts. Bride price can be a genuine burden on some men, but it's part of their culture. All the guys agreed with the statement, "You have it easier, all you have to do is a give a ring." I smiled and replied, "Uh...sometimes."

I wore my long underwear to bed as I didn't want to dress in the cold of the middle of the night. We woke up at 1:15 a.m. so as to see the sunrise on the summit and ideally see both the northern and southern coasts at the same time. Within fifteen minutes we were on the trail by the light of Thomas' lantern.

We climbed gently past another lake and waterfall and then started a steep climb of about 45 minutes. We looked up at the brilliant stars and could only see the massive ridge by where the stars weren't visible. It was an exhausting climb grabbing onto clumps of grass in spots and the altitude was taking its toll. We nearly crested the ridge when Thomas said, "We're on the wrong trail." I looked at him in disbelief and said, "Oh." The ""guide"" (yes, a second quote mark is getting added) seems to have lost his way. We trudge down the ridge and he found the correct trail (hopefully).

We started to climb again and there were many shooting stars, including a fireball which left a sparkling yellow and orange trail. The air was so clear and crisp and the peaks, near and far, were visible in the starlight. I kept asking, "Is that Mt. Wilhelm?" and for what seemed forever, the answer was, "No, it's behind that ridge (or peak)." The altitude was tiring for sure.

Periodically, the breeze blew ever so gently. It was chilly, but not so much that we had to wear gloves or hat the entire time. We went through a narrows in the rocks, which caused the breeze to blow a little harder and it blew out the lantern. He asked, "Did you bring matches?" It was starting to look like the """guide""" wasn't completely prepared. We used a small flashlight that I brought along. As we got higher, the ground scintillated beautifully with frost and ice. I wondered how much higher we had to go.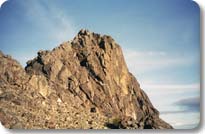 Looking to the east, we could just see, barely, a hint of light and realized we wouldn't reach the summit by sunrise. Eventually we could turn off the flashlight but still couldn't see Mt. Wilhelm, but the peaks were now all jagged and rocky and I sensed that we were getting close. We followed a ridge and finally could see the summit. We walked behind the conical peak and had fifty meters to go up. We stopped to rest as the air was thin and I was exhausted. I motioned for Thomas to lead the way to the top but he said he was tired. He wasn't tired, he wanted to make sure that I was the one to reach the top first. You know what, I'm going to remove a quote-mark and make him a ""guide"" again, it was a nice gesture. The top was 4509 meters, the highest I had been at that time and the highest point in PNG. It was worth it.

Earlier as the sun rose, the sky was the most delicate pink but was now a fiery orange and yellow. The mountain tops were stunning and we could see forever. It was a downer that there were thick clouds a thousand meters below us, so we couldn't see the coasts. Oh, but it turned out to be ok.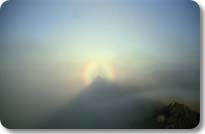 There is a natural phenomenon called a Brocken Spectre. If the sun is shining down upon the clouds and if something gets in between the two, you can get a circular rainbow surrounding that object. We could see the shadow of Mt. Wilhelm upon the clouds as well as our silhouettes. Surrounding the mountain top was a circular rainbow and when we waved our arms, the shadows of our arms swept the rainbow like the hands of a clock! I had never seen something like that before and I have to say, it's one the coolest things I've ever seen. You know, that put me in such a good mood, I'm going to take off another quote mark and make Thomas a "guide" again. I don't know how big our shadows were on the clouds, but if I had to guess, we were 100 feet tall. Seeing what we did, we certainly felt that tall.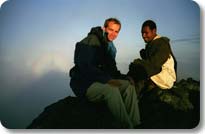 We spent about 45 minutes at the top and the sun got higher in the sky and warmer. The way down was much easier than the way up. Usually it's easier going up, but the altitude changes that around. On the way down, we met Kalli, and how different things looked. That second lake with the waterfall was surrounded with near vertical cliffs and the views, well...the word "forever" comes to mind. We stopped at the hut and rested for an hour. I didn't want to rest too long as hiking in the mid-day sun isn't an appealing prospect. So the three of us continued down to Kegsugl. It was worth every step to the top and seeing the circular rainbow, made it ok that we didn't get to the top when planned. Thomas wasn't such a bad guide after all.

I spent the rest of the day and the following day relaxing, having a look around and reading (Betty has some great books). The evening was spent with Betty, Somo, and his wife and every minute was enjoyable. Betty is a former stewardess for Air Niugini and sounds like she is working hard to help the people of the area, setting up a fish farm among other things. She's very friendly and interesting and should you want to see Mt. Wilhelm, it's a great place to stay. Somo invited me to visit in Moresby and if I made it there, I certainly would.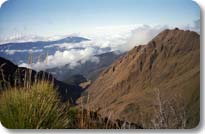 After relaxing for another day, it was off to Goroka, the capital of the Eastern Highlands. I caught a PMV down to Kundiawa. The driver tried to charge me a high price, I said, "Nope, that's a tourist price, we both know that." Everyone laughed and the driver knew he was caught. You can't blame him for trying and actually, I ended up liking him. He sat me next to him so that he could ask me questions, he was very curious to hear of my home. He mentioned how people didn't have ambition, only working 3-4 hours a day and relaxing for the rest. He felt they needed to do more to get ahead and emphasized how important it was that his kids got educated. "I don't want them to fall behind." he said. That certainly wasn't the last time I heard such a discussion. It seems that there are many people who are ok with a lack of "progress" and others who are not.

Eventually we reached Kundiawa and I caught another PMV to Goroka and stayed in the Lutheran Guesthouse. My travel book said that Goroka was the "prettiest in the highlands." That really wasn't saying much. Yes, it's nicer than Mt. Hagen, but certainly not pretty in a European city sense, but it wasn't a horrible place by any means. A day was spent taking care of miscellaneous business and trying to determine what to do next. I settled on Crater Mountain, where I would be doing a four day walk around the mountain...or so I thought.