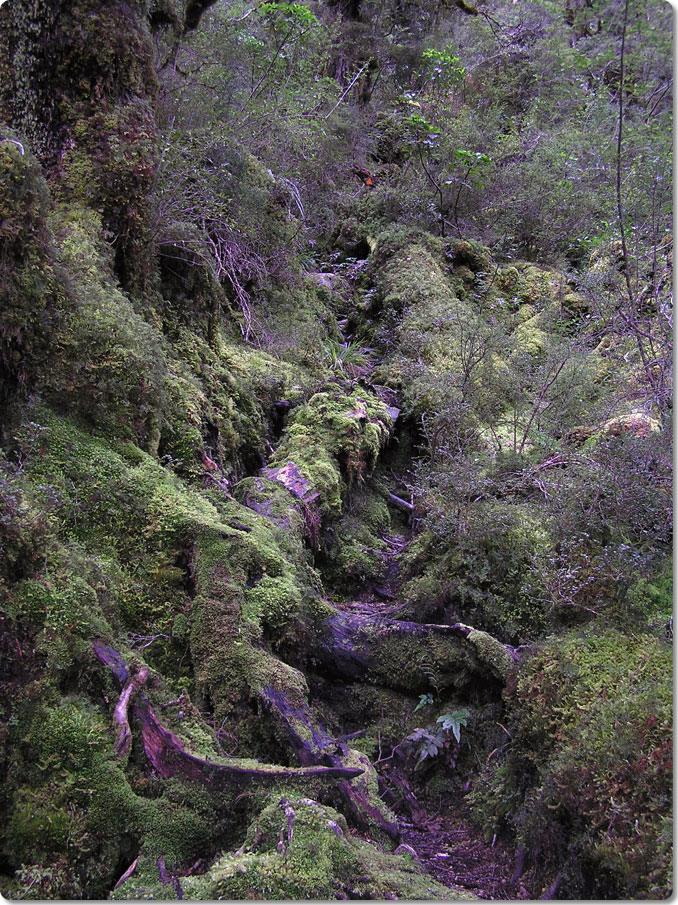 You've gotten descriptions of the track, now you have a picture. This is very representative of what a significant part of the trail is like. You can tell both of these pictures are of the trail as you can see a small orange trail marker in both of them (look hard for the picture above!). There are sections that are harder and other sections that are easier. If someone were considering tramping the Dusky and they weren't willing to walk long sections that look like this, I would advise them against it. I've emphasized the need to be careful on the track, especially if a person is alone. There aren't many people on the track, sometimes only a dozen at any one time. If you are by yourself and get hurt late in the afternoon, it's probable that no one is going to find you. One needs to be careful about a long fall down a cliff, but also the track can be treacherous and if you stop paying attention for even a moment, it is possible to break an ankle with the tricky footing and then having to hobble several hours to a hut. Imagine walking this in cold weather, in a torrential thunderstorm, with high winds, and with everything slippery from water and mud. Then imagine it turning into a stream with very cold water flowing profusely down the track. This has happened a number of times in my Fiordlands tramps.

It's not that these types of tracks are impossible or only for superheroes; rather they are for well equipped and experienced people who know what they are getting into. The first time that I tramped the Dusky, two parties had to have a helicopter to take them out. Alistair, the rescue worker, tells me that 1% of the people need a rescue. That may not sound like much initially, but imagine if every time your drove a car you had a 1% chance of needing a fireman rescue your sorry backside. One would begin to think of driving as an extremely hazardous venture, which coming from a cyclist...it is! These tracks bring me great pleasure (as I'm sure you've read about ad naseum :-) and a part of pleasure is the wild and rugged terrain.

Below is another picture of the track. Again, pretty common stuff. It's not unusual to have these sorts of obstacles on the climbs too. Oh yeah, great stuff.