North To South:
Well, the long awaited adventure had started. I hitched from the north of the country to the south, doing tracks along the way. A major part of the trip was hitchhiking and that's what this chapter is mostly about. There will be lots of tramps in the south, but first you need to get there.
---



Hitching in the North, January 22


It was off the plane and my friend Gareth wasn't there. I had to decide: hitch north or south? North it would be. I walked out of the airport and stopped at a nearby gas station to make a hitching sign that said, "North of Auckland" and the attendant couldn't have been more helpful. It was good to be back in NZ. A truck stopped even though I didn't even have my thumb out yet. He offered me a ride to the center of Auckland, but I really needed to get north of the city.

Within a few minutes, three people stopped but could only get me to city center. Nice of them to see if they could assist. Two minutes later, George stopped and said that he could get me where I needed to go. George was an immigrant from Taiwan who didn't understand English well and dropped me off in the Auckland suburbs, far away from any highway. There are worse spots to hitch, but it was hard to think of them at that moment.

I walked around looking for options and came to the conclusion: There were none. I asked a guy where I was and how could I get somewhere...anywhere else. He said, "I think you'll find that things have changed in the last few years and you'll find hitching very difficult now." I smiled and said, "I'll do fine." It wasn't a good spot at the moment, but things would be better soon enough. He told me of a bus line that led to a motorway entrance about six km. away.

I had made a vow not to spend any money for transport and would hitch everywhere. It was about 3:30 in the afternoon and it was getting too late to walk to the motorway.,. Within a few hours of landing and this goal had already been missed. I was pissed. Well, at least the bus driver was a jovial fellow and we both laughed at the situation.

The motorway entrance wasn't a good place to hitch, but within 1-2 minutes Michael stopped. He said that he couldn't get me north of the city, but he could get me across the Harbor Bridge and to a better spot to hitch. He asked me about my time in NZ and I expressed my frustrations with Gareth and George but didn't want to be negative. Michael said, "Get it out, let it all out now! You'll feel better." "Yeah, I'm pissed off! I asked him very clearly and still he dropped me off in the middle of...." and vented a bit. He commented, "You're still smiling, so it can hardly be a bad mood." He was right and things were already starting to work out.

He stopped at another motorway entrance. While it had more traffic, it was trickier to find a good spot to hitch as several roads converged. I walked around without finding a good spot, but did see a police officer on a motorcycle who was stopped near a sign that indicated no walkers on the motorway ramp. I asked him, "If I walk past that sign, but not onto the motorway itself, is that illegal?" He said, "If you were a Kiwi (a New Zealander), we would give you a $500 fine, but usually just give tourists a warning." I said, "Does that mean I could go there as soon as you leave." He looked at me as if he was staring at a complete idiot and to be fair, he kind of was. He was subtly telling me "Don't talk openly about it, just do it." and was thinking, "Ach, this guy isn't terribly bright." He said, "Tell you what we can do..." So he makes a call on his radio and bids me goodbye. I shook his hand as he left for his act of kindness. Five minutes later, a patrol car picks me up.

He said, "That's not a safe spot for either you or the people picking you up. We don't want to see any of our tourists get hurt." We talked of rugby and the Kiwi love of sport. He gave me a ride about 15-km north and said, "Sorry I can't go any further, this is the edge of my district but is a good place for a ride." I told him it was plenty far and thanked him. My faith in New Zealand was restored, actually, it was never gone.

It was only a few minutes when two women out shopping picked me up. It was good to be in a country where two women would pick up a male. They said, "Oh, you look harmless. Why wouldn't we stop?" I've always tried for that rough-and-ready, slightly-bad boy sort of look but always seem to fail miserably. If it gets quick hitches, it's ok. After that it was five minutes until a guy with dreadlocks in an old, crappy hitcher-friendly car pulled up. It's the sort of ride you see at a distance and think, "Yep, this is the one." He went out of his way to drop me off at a good hitching spot.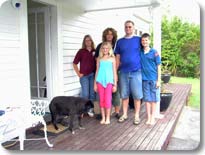 Two minutes after that I met Doug and his son Alexander. They asked how my stay in NZ was and I told them about the ups and downs of my short stay. Doug said, "It's getting late and if you would like to stay at our house, we have an extra room." I told him I really wanted to get to Whangarei. I started to think that's the reason I hitch and a few minutes later very sheepishly asked, "Is...that...offer of your house...still...open?" "Of course." he replied. When we arrived at there, his daughter, Brittany, looked at me and said, "Mum, Dad picked up a hitchhiker."

It was a nice hobby farm nestled in the hilly countryside. The air was fresh and still, a nice place to spend the night. Doug cooked some supper and was apologetic as their kitchen didn't smell so good as an animal had died underneath the house. He paid Brittany to crawl underneath to get it, but she couldn't reach it; I understand she got to keep the money. It was a pleasant evening and Doug and I stayed up until 2:00 a.m. yakking. It was awfully good to be back.



January 23


Doug gave me a ride out the main road in the morning. He dropped me off at a dairy where he picked up some milk. Before he returned with the milk a minute later, an older couple picked me up. They told me they never like to leave a hitcher on the side of the road. They dropped me off at a fork in the road. One way went north and the other went west to the coast. After a few moments of thought, it was hitching further to the north. I don't know why, but it seemed like the thing to do at the moment. A couple parked at the turnoff saw me and gave me a ride. They worked at an organic farm and I told them that back home we would have called them "granola crunchers," they seemed to like that. They dropped me off at a long, straight stretch of road, which actually isn't such a good place. Cars were moving fast and tended to bunch up and are too close together to easily stop. How long did it take? I don't remember, but long enough to have to put on sunscreen. Jim and Tamar, a young couple, stopped and gave me a ride to Whangarei. I had a few other rides and reached Paihia, which was as good a place as any to stay for the night.



January 24



The second car out of Pahia, driven by a couple of loggers, stopped. They had to move their chainsaws to make room. They stopped at a few out of the way places that I would have never seen on my own and were really interested in traveling New Zealand and asked me where to go and about how to backpack. It was a long ride and they dropped me off between towns. Twenty minutes later, a young couple and their daughter were my next ride. The three of us talked about hitching as he had done quite a bit of it, introducing his wife to it by hitching to Wellington at the other end of the island. They couldn't have been nicer and drove me into the hills to an excellent hitching place. People had to slow down around an uphill curve and had a good spot to pull off and if it took a while, the views of the harbor below were stunning.

Olaf, a German studying law in Auckland, stopped shortly after and we spent the day together. We would stop here and there and saw the giant kauri trees. Olaf told me of traveling Iceland and some of the dishes that involved rotted fish and sheep's head that he had difficulty eating. I introduced him to the term, "choke it down." We stopped at a restaurant that wasn't very good. He said, "It's hard choking it down." The two of us dilly-dallied across the hills and he said he could take me all the way to Auckland, but I stopped in Te Hana and see Doug and family.

They seemed happy to see me and I spent the time watching the Simpsons, playing a game with Brittany (who beat me most of the time), and spent time late into the night with Doug. He's an intelligent and thoughtful person and that's good. Yeah, it's always a good day hitching.



January 25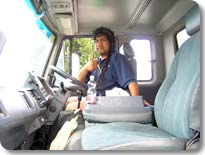 I spent some time with the folks in the morning but the time came to leave and Brittany walked with me to the road, which was a nice touch. EJ and Anne carted me away. They were a Maori couple who loved Motown and played some good music. They gave me a ride south of Auckland. From there, it was 15 minutes for Kevin to stop. He was driving a delivery truck and was a happy guy with nothing but good things to say. He drove me all the way to Hamilton and asked me about traveling the South Island as he hadn't been there yet. He said he would drive out of his way to get me to the road to Whatawhata (about 10 km. outside of the city). Once there he said, "Oh, might as well bring you to Whatawhata." Once there, he offered to bring me right to the house of my friends, Gareth and Claudia, but I wasn't sure exactly where it was.

I asked directions at the BP roadhouse and the attendant, Simon, asked if I could wait a few minutes for him to get off work and he drove me right to the house of my friends Gareth and Claudia. I met Gareth 13 years before in Italy and he now had a five and two year old and a newborn. I spent time catching eels with the older boy, Teo, and the two year old, Sebastian. In the evening, I would be talking with Gareth and Claudia and periodically they would lapse into domestic talk. Things had changed quite a bit since Gareth and I had first met many years ago.



January 26


I spent the morning with the family but around noon, headed to Wellington at the south end of the island. Hitching generally went pretty well and I met some nice people. The most notable was a guy who was a big supporter of george bush. I've only met a few Americans overseas who would admit to supporting him but this was the first non-American supporter I have ever met or even heard of. At first I thought he was kidding but once I realized he was serious, I made sure not to offend my host. A Kiwi supporter of bush, go figger?! After several rides, I reached Wellington late at night and took the first lousy place I could find to stay. No biggie, tomorrow it was onto the South Island.

The ferry ride to the South Island through the Marlborough Sounds was pretty, as always, and I spent the night in Picton at Jugglers Rest, which is one of my favorite backpackers in the country. They used to have juggling lessons every night, but the jugglers had moved on. However, it's still a great place and I did a few walks in the hills outside of town. I did want to be ready for the toughest tracks that NZ could dish out.



January 28


Hitching out of Picton is usually pretty slow and today was no exception. A veterinarian surgeon picked me up and gave me a ride halfway to Nelson. He had worked for the Bin Laden family in Saudi Arabia. "Nice people" he said. I asked what was the most exotic animal he had operated on, which was a tiger. "How did you know what to do if it was the only tiger you've ever worked on?" "Oh, it's nothing but a big cat." It was only a short wait to get picked up by Larry, a happy man with a gentle sense of humor and a refreshing laugh who dropped me off in Renwick. Twenty minutes later Graham stopped. He went 15 km. out of his way and dropped me off by some nice trails near the Pelorus River. Graham had lived in Australia for some time and it was interesting to hear him talk of his time there. I spent seven months in Oz and his tales of the country brought me back to the days where the outback was a daily companion.

I hiked down the trails to a waterfall where I waded into the water. It was pretty cold and swimming wasn't the order of the day. After hiking back, it was a 30 second wait. I saw a couple look at me and look at each other and nod their heads and a ride was assured. They were extremely low on fuel and concerned about running out. They said, "We picked you up because you looked fit enough to help push."


They brought me into Nelson to meet Gary, whom I had met eight years prior and yes, we met when he picked me up hitchhiking. It was good to see him again. He's an interesting person who has a wealth of experience in the outdoors. Nice guy too. We did some bike riding and spent time outdoors. It's always a good time with him.



January 31


Eventually it was time to go to Arthur's Pass. It took a while to get my first short ride and after that, Kerry picked me up for a very long ride. He sold jewelry on the beach in Hokitika. He had just gotten custody of his 14 year old daughter and was an active parent for the first time in his life. I didn't ask too many details, but she sounded like a handful for him. He dropped me off at Kumara Junction, which leads to Arthur's Pass. It was getting late and the scouting for a campsite was beginning. I gave it five more minutes and just as quitting time arrived, Graham stopped.

He was a retired airline pilot who been all around the world. A fascinating man with many well-formed opinions. A true pleasure to converse with. I wished the ride had lasted longer but we finally arrived in Arthur's Pass in the pitch black night. It's rides like these that make hitching so great. Can't wait for another day on the road!



Howden Track


Headed out of Arthur's Pass to the Howden Hut and was picked up by Owen, an Ozzie working in the area who was going to be tramping the Milford Track and had a lot of questions about Fiordlands. He was nice enough to drive three-km off the highway to the trailhead.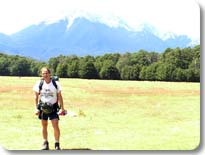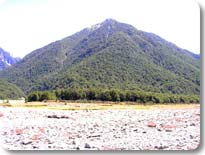 The first part of the track was through sun-dappled forest which opened up into a large river valley. The track was down in the floodplain of irregular rocks surrounded by tall mountains. There was a fence line with numerous animal traps and many, many more traps along the trail. On the track was a DOC worker who explained that this valley was one of three valleys in the world which had the Orange Bellied Parakeet. They had set up what's called an inland island. If they trap intensively along the head of the valley and along the river, they can keep out introduced pests, such as stoats, and protect the parakeets. The surrounding mountains are too tall for the pests to cross, so as long as they can protect the open end of the valley, the parakeet can live unmolested. It's a sad story that has happened in so many places in NZ and around the world. I wish them well.

I continued to walk the flood plain, periodically going back into the forest. It was a pleasant, sunny day. The mountains covered in green contrasted wonderfully with a brilliant blue sky. There were a few creek crossings but nothing too big. Later in the day there were plenty of birds surrounding me in the trees, including parakeets, but I couldn't be sure it was the rare orange-bellied ones or not. I arrived at the Howden Hut and had it to myself. The solitude was....wonderful!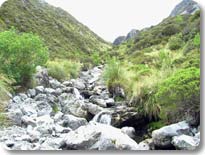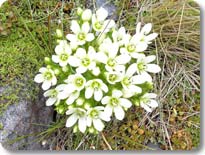 The next day started promptly with a steep climb. It was very hot over the bare rock without any shade, but once at the top, worth every drop of sweat. The track turned into a route (unmaintained track) and on a climb up the next valley, the route disappeared. It was slow going through the scrub, much of it spear grass. What is spear grass like? Its name says it all. I set a limit that if I didn't reach the pass within a certain time, I would turn back. Unfortunately the time ran short and safety dictated a return. It's ok, I knew how far back it was and could relax when the spirit moved. I sat on the rocks and watched the keas (an alpine parrot) and lower down in the valley, the bush robins would follow me along the track. I made the decision to return to where I started and the following day I took my time as the day was glorious. Summer at its finest, I tell you.

Once I got back to the road, a helicopter pilot, Jules, picked me up. He had hitched all the way up the African west coast. He told me about a particularly bad hitching spot. While the first car picked him up, it took four hours for that car to arrive. Though, it wasn't a bad spot due to the time, rather he was standing next to a sign that warned of lions in the area. Another pilot brought me into Arthur's Pass and I spent the day on some short hikes.



South of Arthur's Pass


It didn't take long to get a ride from Ray, an Israeli who was so laid back about things that he wasn't bothered in the slightest when he swerved all over the road, whenever looking for a music tape. I volunteered to find them for him. He dropped me off at Kumara Junction and it was few minutes until Darryl picked me up. He was a helicopter pilot who knew Jules from the other day. He explained how important it is to secure the landing zone for a helicopter. One time someone didn't secure a sleeping bag and it was sucked up into the rotors causing him to crash and slide down a mountain. He dropped me off in Hokitika where I saw a guy in the hitching spot out of town. He had been there a couple hours so I gave him a few pointers about where to stand and how to make your bags look smaller and the like. "The sooner you get a ride, the sooner I can get one" I told him. Within fifteen minutes he was gone. After that, it took a disappointing hour (but hey, the day was pleasant) to get a ride from Nichole, a woman who emigrated from Holland. I had a few other rides that day on my way to Fox Glacier, including one where upon hearing my accent, the driver asked me, "Did you vote for bush?" When I said no, he said, "Good on yah, mate. Hop in!" I stayed at the Ivory Towers Backpackers and the owner remembered me from eight years ago, my first trip to NZ. Kind of nice to be remembered...I think.

I hitched to Wanaka and was picked up by an American traveling through the country working on organic farms (WWOOF if you're familiar with it). He had been in Fiji and told me of his difficulties in getting past being a backpacker. "I felt like someone always wanted something from me." he commented. (He made me realize how lucky I was for the experiences with my friend in Fiji.) He was going to the Copland Track (a favorite of mine). I wished him a good tramp and continued south to Wanaka.

Wanaka was a base for a few days. I really didn't like the town much anymore; it had changed in the last ten years. More people and more upscale, but such is the way things go. It was a place to do some day hikes and make sure my body was ready for the Dusky Track, which was coming up in a few weeks.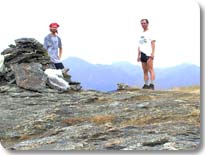 I met a Canadian, Sean, who was hitching and tramping and we did some day walks together. I really enjoyed his company. He's very relaxed and down to earth. I usually prefer to hike alone but it's good to have someone to walk with sometimes. Hitching to one of the tracks, a guy passed us up and returned five minutes later. He said, "Sorry I couldn't pick you up earlier, I had to drop my wife off at home first." He drove us ten-km. down the road, completely out of his way. That's COOL!

On our last night in Wanaka we met a European guy who said, "I hear that Canadians don't like Americans." Sean replied, "Yeah, Americans are fat and narrow minded. They think they know everything and..." He went on listing a number of stereotypes. I wasn't offended in the slightest as Sean was kidding (I think). The European then asked me, "What do Americans think of Canadians? I said, "We....don't....think of them."

The next morning, Sean and I were out hitching and a BMW 760, a car the price of a typical NZ house, stops...No way! The drivers were two guys in their early twenties. I look at them and again think, "No way!" They were from Birmingham, England, traveling around the country. Either they were drug dealers or their families had LOTS of money. But either way, nice guys. I'm not a car fan, but it did ride nicely. We got another ride from a German family into Queenstown. Sean stopped there and I continued on into the mountains to the small town of Glenorchy. The Greenstone-Caples track awaited.