Arriving in New Zealand:
My first experiences in this far off land.
---
December 22
The flight was, well, just a flight. No 500 lb. person sat next to me. No kids throwing up or peeing on me (though more on that one in the Fiji chapter). I arrived at 6:00 a.m. and got through customs quickly, but Gareth wasn't there. I walked out of the terminal and was immediately struck by what I saw. I saw trees that were unlike those in the U.S. They reminded me of something in a Dr. Suess book. I knew that I wasn't in Kansas anymore. I waited for my friend and then I waited just a bit longer...then longer still. Soon the excitement of arrival gave way to boredom.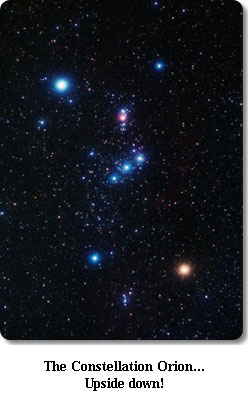 About two hours later Gareth arrived and we drove to his home in Hamilton. Gareth likes old things. His house is decorated in a 1930's motif. His car isn't much different. Gareth drives a 35 year old car that may or may not have brakes. This fact plus that I've never been in a place where they drove on the left side didn't exactly inspire confidence. We would come around a corner and see a car coming towards us while driving in the left lane. It takes a while to get used to this. We stopped at a veggie stand and talked to the attendant. After that I knew that the Kiwis I had met in Europe were the same as the people that I would meet here.That night Gareth and I went for a walk on the river. Gareth was talking about his relationship to the Universe or something deep like that. At that moment I looked up at the stars and saw Orion's belt. I said, "Yeah, whatever Gareth...look! The Constellation Orion is upside down!" I knew that NZ was different than home, but it didn't strike me that I was in the Southern Hemisphere until now. This is what I remember the most about arriving in NZ. Orion is something that I've seen since I was a small child and for the first time in my life it was different. That was the moment that I knew that I was very, very far away from home.
December 23-24
I spent the day wandering around Hamilton. I'm a serious cyclist and I noticed that bike shops often had lawn mower shops attached to them (or vice-versa). This is a combination that I hadn't seen before nor really understood. I was surprised when I saw a water bottle from the bicycle shop Cronometro. This is a small shop back home in Madison, Wisconsin that has a tendency to sell defective goods and then charge extra to fix the problem. Ah, yes, so good to drift back home again.
On Christmas Eve Gareth brought me to see some friends at Bethels Beach, east of Auckland. His friends were a family with three kids. They seemed pretty nice and were quite well behaved, even the kids. They had a papaya tree in their back yard and picked one for me. I hadn't eaten a papaya before. There aren't fruit trees at home, so to go in the backyard and pick a papaya is, at least to me, different. I've even heard that oranges grow on trees, but I'm sure this is just a rumor.
Later we walked through the forests to get to the beach. I liked the forests and they were only a taste of what was to come. It was a beautiful dark colored beach surrounded by cliffs. Gareth swam in the ocean and Bria, one of the kids, went surfing. I wandered down the beach and got a kick out of seeing the tidal pools holding the various creatures of the ocean.
We got back to the house and had a bit of time before the bonfire and dinner in the evening. The family wanted me to try marmite, which is some sort of dark brown yeast extract that many Kiwis seem to enjoy. They spread some on bread for me. I smelled it before I ate it. I usually smell my food first, as I would like to think I have as much sense as a dog, which also smells its food first. It was completely revolting (I use this word as the Kiwis have a propensity for it). The family asked me to try it saying that it "tastes better than it smells." They were completely wrong. Gack! No more marmite for this boy.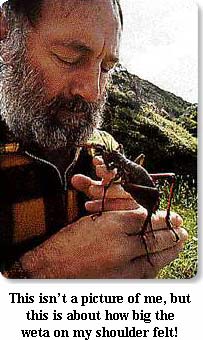 We went down to the beach for the bonfire. I've had a fairly limited diet and there are a lot of foods that I haven't tried. "If I haven't tried it, I don't like it" is my motto. When some of the kids found out that I hadn't tried many of the foods present, they made it their mission to introduce me to them. They would run and get some food and watch me try it. Then run and get a different food. I had several samples that were waiting to be eaten and a 10 year old girl was watching me. She said, "You haven't finished your plums. I'm not leaving until you do."One of my goals in New Zealand was to see a weta, which is a really big bug. A few years ago I saw a picture of a weta holding a carrot it was eating. I don't mean just eating the carrot, I mean holding it. When Kiwis heard that I wanted to see a weta, the response was a quizzical, "Why?" I just wanted to see one. Gareth was standing next to me as I was sitting on the sand. He goes, "Ah! A weta!" and brushes it off of him onto me. It was pretty big as I could feel part of it on my shoulder and part of it on my neck. I, of course, jumped about three feet and brushed it away. Later on someone brushed a weta off their hand onto mine. I, of course, once again, jumped three feet and brushed it away. While I didn't see a weta, I sure got to feel one.
In some ways I wasn't very happy the first few days. I didn't know why, perhaps because I didn't know what to expect, but that was the way I felt. However, I knew that it was a healthy thing to get out of my home country. I had some vague ideas for future trips, but I knew that I would have to go abroad more often. If nothing else, getting to Europe a few weeks a year would be a good idea. A seed was planted...
December 25-26
On Christmas day Gareth's family came over. We grilled steaks and I sat in the shade beneath a tree to stay cool. It seemed really strange to me since I've always had a white Christmas, but here I was wearing shorts. Gareth's niece and nephew, ages 12 & 14, gave me a small introduction to cricket. It seemed like a pretty silly game, but then again most games are kind of silly and you just enjoy them. They asked me many questions about the U.S. They were curious about the wildlife of Minnesota where I had lived. She said to me, "Sometime I'd like to smell a skunk." As one who has smelled fresh skunk I said, "No, you really don't."
We wandered on down towards the river for a walk and later on I met Rob from Christchurch, whom I would meet again in a few weeks. I think I prefer a white Christmas to a warm and sunny one, but it was nice for a change. While people back home might dream of a sleigh ride on Christmas Eve, the Kiwis seem quite content to grill steaks and go to the beach. I guess cultures adapt traditions to fit themselves.
The day after Christmas is known as Boxing Day. The name has something to do with boxes used to collect coins or some such mish-mash. I never really understood Boxing Day. I think it's just an excuse for a day off, so that is exactly what we did.