E Noho Ra, Te Waipounamu:
This is Maori for "Goodbye, South Island." I had the time of my life in the south. However, the time came to head to the North Island.
---
April 3-4
It took about 20 minutes to get a ride north out of Christchurch. The driver warned me when I got in, "This will be the worst ride you've ever had." His truck rode roughly, made a lot of noise, and we had to drive with the windows partly open, though I forget exactly why. It was either the car filled up with a gas smell below 50 km/h or we got exhaust inside above 50 km/h (I think the latter). He was a cook in Kaikoura and I reached my destination in one ride. Kaikoura is quite a nice place, with snow capped mountains just off the sea. The clouds obscured the mountains when Valerie and I were here, but today I saw the town in all its glory.
I went on a whale watching tour. I saw three sperm whales as they were resting on the surface between dives that went down thousands of feet to feed on squid. Whales are certainly not something I get to see every day. Not everyone saw the whales as a number of people had their heads between their knees and seasickness bags at the ready. One Norwegian woman looked particularly bad. The next day I saw her and said, "You look so much happier than yesterday." I wasn't sure whether she was going to hit me or smile, but the smile prevailed. For the rest of the day I hung out in Kaikoura. I sat on the deck of the hostel and watched the sun set behind the mountains. I thought of Valerie and how much she would have liked it. I missed my friend a lot.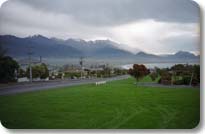 The next morning I got up early for a dolphin swim. I didn't go with Valerie the other day since I had swam with dolphins in Whangarei a few months back, but after seeing how happy she was, I thought I would give it a go. The dolphins in Kaikoura were dusky dolphins, which are much smaller and more playful than the bottlenose dolphins in Whangarei. They would swim in circles with us, going over and under us. The captain said that as long as we entertain the dolphins, they would play with us. It really was true. I was swimming underwater and three dolphins were no more than a meter away as the four of us swam in circles. I remember that we looked into each other's eyes. I don't know what the dolphins were thinking, but they were thinking something. They were obviously intelligent animals.
I decided to keep hitching north that afternoon. As I walked out of town I passed up another hitcher. He wavered in his walk, had a ponytail down to the middle of his back, and wasn't wearing shoes. He didn't turn around so cars could see him, but walked down the road with his thumb out. I didn't judge him negatively on his appearance, but thought that he might have trouble getting a ride. I was a block past him when I turned around and saw him getting picked up by a camper van. This surprised me, as they usually aren't good rides. The camper van stopped to pick me up too. I understood once I saw the driver. He had green hair! Not the usual person driving this type of vehicle. Just goes to show not to make too many decisions on a superficial basis. The other hitcher was going to see his family in the North Island. He had been hitching the previous day and was in a serious car accident in which he lost his shoes. He wasn't concerned about his shoes, he was just happy to still be alive.
The camper van took me to Picton and from there I got a ride towards Nelson. The driver told me which road to take. While he told me the quickest way by car, there wasn't any traffic on the road, so hitching was a problem. I walked a mile back to the main road and tried hitching there but I had no luck. It was getting dark and a small bus stopped at a gas station. I asked if I could get a ride to Nelson with them. They enthusiastically said, "Good on yah...we're 13 pissed Kiwis!" It was a party bus for a softball team from Wellington having a weekend away from home. Everyone was enjoying themselves. They made sure that I was well stuffed with potato chips and kept offering me beers. I tried to explain to them that I didn't drink, but that only brought more beers coming my way. It was quite a fun ride to Nelson.
April 5-7
I sat out under clear skies and had breakfast with the other backpackers. I even met an American that I liked, Shomir of Podunk, Indiana (I said that I would mention you Shomir!). I caught a ride to the Abel Tasman Coastal Track in Abel Tasman National Park. I really wanted to see the park with a kayak, but couldn't find a partner. The kayaking folks say that going solo isn't safe...Safety, Shmafety... that safety thing is for sissies anyway (Umm...just kidding Mom). I would walk the track instead. It wasn't a difficult track, but it was nice. I especially liked the sections along the ocean and it was a good feeling to sit on the seashore. I arrived at the Anchorage Hut and, naturally, had some dried spaghetti and slept on the porch. The hut warden said I was the first person who had ever voluntarily slept outside. Seeing the stars that night only reinforced my reasons for doing so.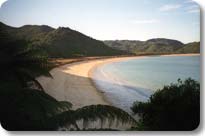 A boat picked me up from the hut and I went swimming with fur seals. It was really magical to see them. I've always liked how seals swim. I think they are the most graceful creatures in the ocean. The seals would come face to face with me and have a look. Seals have the most beautiful, big brown eyes. I should probably say that to a woman instead, but I've never met a woman who has the same brown eyes as a seal. Even the pups would come right up to me and their eyes looked even bigger than the adults. I'm pretty impressed at the commercial operations in NZ. They seemed to respect the environment and the animals in it. They didn't harass the seals, but sat off the shore and let the seals make the choice whether to come out and play. Seals are one of the creatures that I'm glad are on God's blue and green Earth. I continue walking the track and I met about five different people who said, "I wanted to take a kayak, but couldn't find a partner." D'oh!
I sat on a tidal flat for a while and let some birds called oystercatchers entertain me. Shortly after that I reached the Awaroa Hut. There was some good company from other backpackers and a really great hut warden named Dave. We kept each other entertained late into the night. The hut warden amused us when he told us about his job. He would tell stories that started with, "I couldn't believe it. One time there was someone who..." That night I slept outside with a candle burning next to me and drifted off under the Milky Way.
I had to get up at 4:30 a.m. in order to cross the 1 km. wide tidal flat in the dark while it was still low tide or else wait until the low tide in the afternoon. Dave set up two lanterns about five meters apart saying, "As long as you keep these lanterns lined up as you walk across the flat, you'll be able to find the track on the other side." Four other people and myself started walking. The tide was coming in as we crossed and by the time we had crossed, our boots were wet. We could stand there and watch the tides come in, it was that fast. I walked with the others for a while, but stopped when I reached one of the beaches that faced the east. I sat down and took off my boots so that I could feel Mother Earth beneath my feet (I guess if I was really a nature boy I would have taken off all my clothes and rolled around in the sand, but I didn't do that). I sat and watched the sun rise. The sun's rays were coming from behind a cloud and I just looked and looked and looked. I guess I was having what Rob would call a Quality Moment. I felt like I belonged right where I was, there was no place better to be. I thought of all the people I had met in the last few months. The sunrise made me feel so good and the only thing that could have been better is to be sharing it with my friends. I have no idea how long I sat there and took in the world...it doesn't really matter does it?
I liked the track, but it wasn't quite as good as Fiordlands. If I had done the Coastal Track before the tracks down south, I would have been more impressed, but a few weeks in Fiordlands makes one jaded. I debated whether I should go for a fourth day or not. I get to Totaranui (where buses to Nelson stop) and think it over. I looked in my pack and discovered that a large water bottle had completely emptied inside. It probably would have helped to put the cap on properly. My sleeping bag, diary, letters, clothes, everything was totally wet. I was using a pack liner so no water could drain out and it made sure that everything was evenly and equitably soaked. That pretty much made the decision for me. I met up with the people that I had been with earlier that day and broke out a big Cadbury bar with cashews and shared it. One woman was going to be going on for another day and I gave her the remaining 2/3rds of the bar and said, "Enjoy your tramp." She looked at me with a happy expression, "All of this for me!?" A little chocolate can be really nice when walking.
From what you've read so far, what do you think of me? Here are two pictures from the track. Which one captures me better? Please be gentle :-)

| | |
| --- | --- |
| | |
| Proud and confident. Fearless World Traveler and Friend of the Penguins. The perfect travel companion. | You look pretty confused about things. It's hard to believe that you can tie your boot laces, much less finish a tramp. No wonder everything in your pack got wet! |
I headed back to Nelson and stayed at Dave's Palace hostel, it was a nice place and we had a good group of backpackers assembled there. I typically remember 3-8 dreams each night. When I'm traveling with someone, it isn't unusual for me to dream of them every night. This was the case with Valerie too. That night I went to bed a bit early and the bed next to mine was empty. I dreamed that I was in the hostel bedroom and a small blond person was tucked into the bed next to me, which in my dream was Valerie. We talked together and hugged each other good night. When I awoke from the dream, there really was a small blond person tucked into the bed. It was exactly what I saw in my dream. I became horrified at the thought that I might have been sleepwalking and really did try and hug this guy! In the morning I asked him, "Uh, did I, um, ah,wake you up last night...by any chance?" He gets an uncomfortable look on his face but says no. I was quite relieved and tell him why I asked. It made for some good laughs at the breakfast table.
I was going to hitch from Nelson to Picton where I would catch a plane to the North Island. However, it started to rain so I took a bus. Hitching in the rain really doesn't bother me that much, just that drivers are reluctant to have a soaking wet hitcher and backpack in their dry car. On the bus there was a couple that I kept looking at and they were looking at me funny. Finally the woman says to me, "We met on Stewart Island." It was Angelique and Gary. We talked during ride and she gave me her address in Whitianga in the Coromandel Peninsula. I told her I'll be sure to stop by in a few weeks. Later that afternoon I went out to the airport and caught a plane to Wellington on the North Island.
It was a strange feeling to leave the South Island. It felt like a part of my trip was over. It was both sad and difficult. There was a feeling of inevitability inside and I couldn't change that. I had so many good times, met some great people, and saw many things that could never be forgetten--and now I was leaving that place. It was one of the greatest times of my life. There was nothing stopping me from returning to the South Island, but I knew that I couldn't.