Prologue:
So how did I end up in New Zealand?
---
December 13-20
When I graduated from college with an M.S. in computer science and art, I had a number of art history classes that exposed me to the art treasures of Europe. When I finished with school, I knew there was no future for me in work, so I traveled. I spent about four months in the southwestern U.S. doing a lot of bike riding, in fact bike riding all day long. I would often sleep without a tent when I was in the mountains and deserts. One night I was sleeping in the scrub outside of Gunnison, Colorado. I woke up in the middle of the night and looked up at the stars and thought to myself, "I've never seen a cathedral. I'm going to Europe." After returning from this trip my parents asked me if I was ready to work and I said, "Nope. Going to Europe." And so I went for 9 months.
In Europe I met a number of Kiwis (New Zealanders) and liked every single one of them. I became friends with a Kiwi named Gareth and we spent a couple of weeks together in Italy and Greece. He's an artist, so we had plenty to talk about. He invited me to visit NZ. Over time I started to hear people talk about NZ. I've met people who have been to Italy and France and say, "It was ok" but I've never heard anyone say that about NZ. It was pretty clear where my next trip would be.
The decision was made to leave late in 1996, but as the time approached I started to waver about going. One night, I had a dream about being in prison. My hang gliding friends said, "Let's make Craig's first day in prison a good one!" and they threw a softball game for me. This wasn't to my liking and I ran back to my prison cell...which turned out to be my cubicle at work. I ran outside and climbed a tree and wouldn't come down for anyone. Finally a talking giraffe came by and coaxed me out, letting me climb down his neck. The giraffe lay down and I rubbed his belly. He said to me, "You know, I have the best job in the world!" And so went my thought processes. Finally my friend Sylwia, whom I met traveling in Poland and has an extraordinary ability to persuade me said, "You've always been happy when you travel. You'll be happy again. Just go." The decision was made and she would turn out to be more right than could have been imagined.

I was working on a contract programming job and talked to the people at work about taking a few months off starting in December. They said, "December would be a good time to take a few weeks off." I replied, "You don't understand, we're talking about a few months." Turns out they really didn't understand. When the time came for me to leave they asked, "Why didn't you tell this to us?" My reply was, "I did!" I don't think it really sunk in that someone would actually leave a good job to travel. I booked my tickets for December 13th. On the 12th I got a phone call, "Is there anything we can do to make you stay?" I thought about saying, "An additional $25 per hour will do it", but told him, "It's too late now. I've moved out of my apartment, my flight is booked, and I leave in less than 24 hours."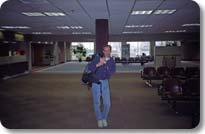 My friend Kendall brought me to the airport. At 9:30 a.m. I flew out of Madison, Wisconsin and my adventure started. I wasn't really that excited about leaving and was just thinking, "Whatever." I couldn't figure out why I wasn't more excited. I spent the weekend with Norm and the Amy, whom I knew from college, in Los Angeles. We went out and did what cool people in L.A. do. Just as Norm had told me, L.A. had a different feel than most big towns. I'm certainly not the most adventurous person when it comes to food and Amy introduced me to quiche. While she was cooking the stove shorted out, creating an electrical arc that blew a whole in the pan and started a fire in the kitchen. Later Norm hit a pole with the car and I ended up feeling queasy after eating the quiche. The food wasn't supposed affect me until getting overseas. It wasn't the best day for anyone.
I went to visit a college roommate, John, in San Francisco. It's a nice town. In a lot of ways, it's what every big city should be and has a nice feel to it. I also went to San Jose, about an hour south of San Francisco, to see Art. We met in the Normandy region of France during my Grand Tour of Europe and we've kept up over the years. It was good to catch up with an old friend and talk of our dreams of travel.
On December 20th, I took off for the San Francisco airport to fly to L.A. where the NZ flight departed. I actually started to feel a bit of excitement today, but not as much as expected. Getting to the airport took longer than planned and the ticket line was very long. All I could think was "I'm going to miss my flight." and was starting to get worried, as there were absolutely no seats with Air New Zealand for several weeks. I talked to the person managing the lines and she said, "Go ahead and announce your plight to the people in line and see if you can go ahead." Everyone in the line agreed that I could go ahead, except for some numbnuts two people ahead of me. There really is such a thing as justifiable homicide.
The 6:00 departure time came and went and visions of my trip going down in flames were in my head. I got lucky when my flight departed late. I got into L.A. with little time to spare. Norm and Amy were waiting for me. It was a nice goodbye before leaving for whatever lay beyond.
When I arrived at the gate and saw the 747 through the terminal windows, I got a little jolt inside. I was actually leaving. I got on the plane and was off...