---

In the spring of 1996 I headed off to the American west. I planned on doing some skiing in Colorado before heading to the southern part of Utah to go mountain biking. I also like to spend time rock hunting when I'm in Utah. I consider Utah to be one of the most beautiful parts of the entire world. There are regions where you can stand on the edge of a 1000-foot deep canyon overlooking the Colorado River in 95-degree heat and turn around and see a 12,000-foot, snowcapped mountain. I ended up near the town of St. George, Utah. Someone suggested that I go to a small recreational area called Red Cliffs just north of town.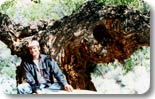 Red Cliffs has some old Anasazi Indian ruins and some canyons (naturally they are made up of red rocks) and trails for walking. One of the trails follows a dry streambed. I went up the trail and came around a corner in the rocks. When I went around the corner a most surprising sight greeted me. A giant cottonwood tree, over six feet in diameter. It was a very unusual shape. Instead of growing tall like other cottonwoods, this tree was shaped like a "T". The massive trunk that split into two large branches about ten feet above the ground. One of the branches was about three feet in diameter, the other one about half that size. It never grew tall, but it did grow wide. It was springtime and the tree was covered in fresh leaves. I walked around to the other side of the tree and saw that it had a hollow in it. Not a small one, rather one big enough to fit a whole family into it.

I don't know what it was about that tree, but it had a certain presence. It was a comfortable spring day and I decided to spend some time sitting on a rock near the tree. I really enjoy nature in all its forms, but for some reason, this tree was drawing me near. No, I didn't wrap my arms around it and hear it speak to me or lay my hands on it and commune with the ancient spirits, but I did want to sit near it. I have no idea how old the tree was, but it was old. I thought of all the time that it had been growing . Think of all the people who have passed by this way and the cottonwood was still there. So many changes in its lifetime (now remember, I didn't say I was talking to it or nuthin'), but this was a survivor. The biggest of the other trees in the area were no more than 18 inches in diameter, this tree was so far beyond all of the others as to be beyond comparison.

I sat nearby and daydreamed. Then I would walk around a bit. Then I would come back and sit a while longer. I didn't have a camera that day, but finally two women came by and I asked them to take a picture of the tree and me. I spent many hours hanging out and enjoying that pleasant spring day. Eventually it grew late and it was time for me to go.

I spent some time in the area collecting rocks and hiking around. I met someone who worked in a national park. After talking together for a while and learning of my interest in rocks, he suggested that I should try to meet Herman Pollock from the nearby town of Tropic (kind of a strange name for a place in the desert, but that's the name). He told me that Herman had a small museum and was very knowledgeable about the local geology. I called Herman and made arrangements to meet him.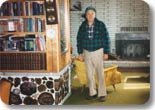 The next day I arrived in Tropic and went to Herman's house. He greeted me at the door and shook my hand. He said to me, "Young man, are you a Mormon?" I replied, "No." He said, "Then sit down." And he proceeded to tell me about the Mormons. Utah is the stronghold of the Mormon religion and in the smaller towns, the vast majority of the people are of this religion. I really wasn't familiar with the Mormons and Herman told me of their beliefs. He wasn't pushy about it and actually, I found it interesting to learn. Herman gave me a book of Mormon, as he does to all his visitors, and asked me to read the Book of Nephi, which I said that I would.

Herman brought me to his little museum that he had in a building behind his house. He showed me all of his rocks and told me the stories behind them. Herman had done some of the original geological surveys of the numerous state and national parks in the area. He was a repository of knowledge. He really is a nice guy and seemed quite happy to have me there. I spent the afternoon with him and we talked of many different subjects.

When the time came for me to leave, he asked me to come back again. He said, "It's a little early in the year as there is still snow at the higher altitudes, so I can't bring you fossil hunting. But, when you come back, we'll be sure to go out and find some fossils, ok?" I enthusiastically said that I would return. "Be sure to read Nephi and we'll talk about that." "You bet." And we said goodbye.

A few months later, the pictures the two women took arrived in my mailbox. It brought me back in time. I don't know why, but it made an impression on me. Maybe I can appreciate the adversity that the plants in the desert live through. Water is scarce, yet they survive. Maybe I appreciate the old age that trees can live to. Whatever it was, I didn't forget that day. I didn't know exactly when I would be back, but I knew it would happen, sooner or later, but it would happen.

In the spring of 1999, I was back to the west. Once again, I ended up near St. George to go riding. I met a Mormon family from northern Utah and told them about the cottonwood tree and Herman. The father said, "Yes, I believe I've heard about that brother who has given away ten to fifteen thousand Books of Mormon." Later that day I headed to Red Cliffs. I wanted to sit under (and in) the cottonwood tree once again.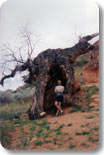 I rode my bike to the trailhead and started to walk. I was getting excited about seeing the tree again and hurried up the trail. I recognized the large rocks on the trail and knew that the tree was just around the corner. I hurried up to the tree and immediately noticed something wrong. There were no leaves on the tree. I thought that maybe it was too early in the spring for the leaves. Yet the other trees in the canyon were covered in green. The big cottonwood tree was dead.

I don't understand why, but it left me sad. It had lived for so many years, but now the tree was gone. Nothing lives forever. I took a closer look and noticed that there were a few brown leaves still on the branches. It must have died in the winter, shortly before I arrived. Even though it was dead, I still sat next to the tree and let the day pass. I would much rather have the tree alive, but I could still appreciate it as it still had that presence.

I wanted to see Herman again and I had read the Book of Nephi in preparation, so I gave him a call. His son answered the phone and told me that Herman had died. I really didn't know what to say to him other than what I thought of Herman. I told him I thought he was a nice person and how the people from northern Utah had heard of him. We talked a bit about Herman and his son said that he had lived a long full life. It felt strange when I got off the phone.

I thought of all the years that the tree had lived. I thought of all the people that Herman had met while giving away his books. I tried to picture some of the wild things that Herman must have seen during his surveys. Now both of them were gone. I lost two friends that day. They both lived long, full lives.